An apparently drunk college student belligerently demanded macaroni and cheese from his school cafeteria. In a nine-minute viral video, he was not only denied service but was eventually tackled to the floor after becoming physically violent. In the end, he was taken out of the student union in handcuffs.
"Just give me some f***ing bacon jalapeño mac 'n cheese,"  the kid, identified as Luke Gatti in police reports as noted by the Hartford Courant, said to a man who appeared to be a manager at the University of Connecticut student union.
"I just denied you service. You can't come in here with an open bottle of booze, dude, think about it," the manager said, tapping his head. "Think!"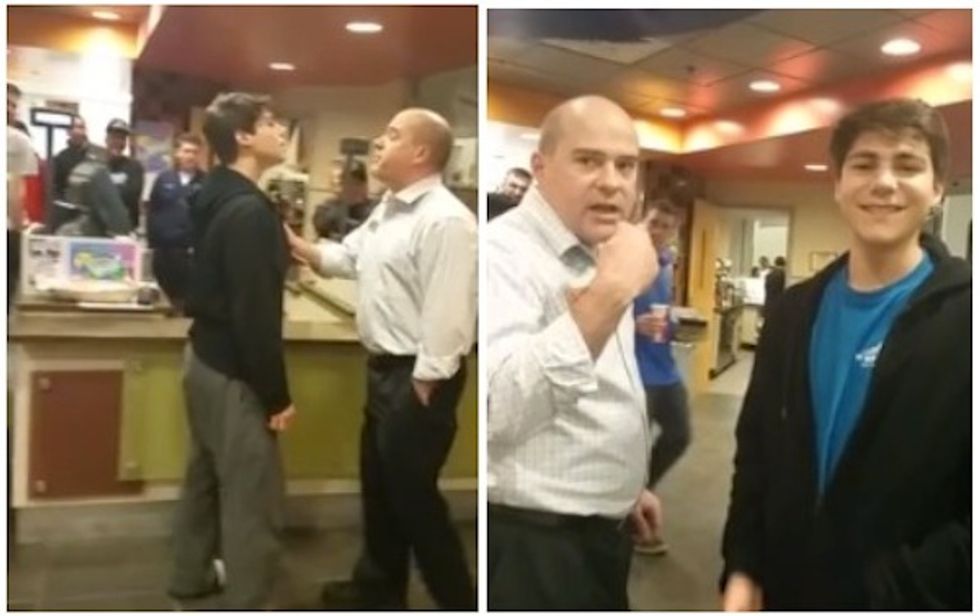 Image source: YouTube
Now, time to poll the crowd.
"Ask anybody here. Is he welcome to walk in with an open bottle of beer?" the manager asked in the video, which was posted online Monday but actually occurred Sunday night.
Well, two can play at this game.
"Hey, uh, can I have beer in here?" Gatti also asked other diners.
His fellow students said no.
Gatti, who then revealed that he was 19 years old, tried another tactic for a moment: manners.
"Please, just let me get some mac and cheese," he pleaded. "I'm very hungry, man."
"You are not welcome here," the manager told him though. "You have booze on your breath. You told me you are under age. I just saw you with a bottle of booze, you just drank it right in front of me. Add them up, one, two, three, four, five."
The exchange went on with the student telling the manager "this will be posted and you're going to look like a f***ing tool."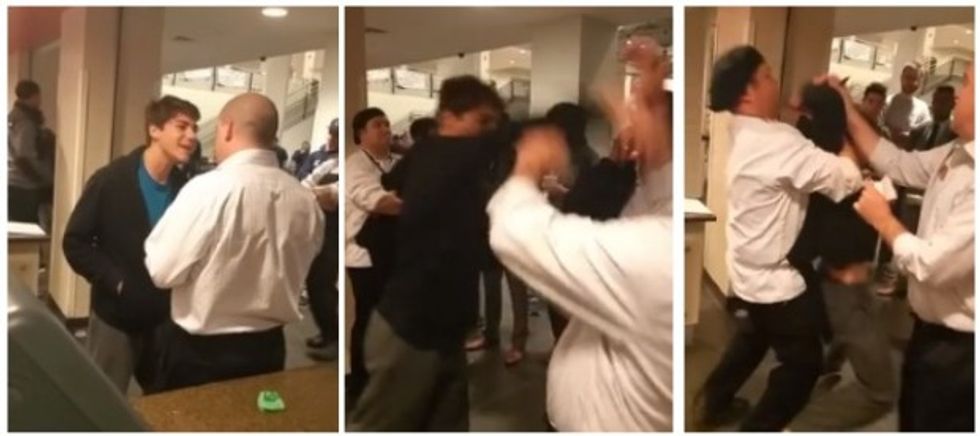 Image source: YouTube
The kid went on to say that the police would not come to arrest him because "it's a f***ing joke and your job is a f***ing joke."
The, the student made the even bigger mistake of pushing the manager. Someone quickly jumped in between Gatti and the manager. Gatti tried to wrestle this other student and that's when a female cook got involved, strongly ordering him outside.
"Try Subway. You're not welcome here," the manager advised Gatti as he continued to argue for his mac 'n cheese and taunted them to call the police.
"This is so surreal," a spectator said in the video in disbelief over the situation.
Gatti pushed the manager again a few moments later and a male cook grabbed him from behind and tackled him to the ground.
"I told you, you don't touch my boss. Stay down," the cook said.
"I was just trying to get f***ing food," Gatti said.
"You don't do it by assaulting people," the cook replied. "You are going to jail."
After eight excruciating minutes, the University of Connecticut police arrived, and put Gatti in handcuffs.
"I am absolutely fudged," Gatti said.
Watch the whole video that captures nine minutes of the incident (Content warning: strong language throughout):
According to the Hartford Courant, Gatti was charged with second-degree breach of peace and criminal trespassing. His bond was set at $1,500.
UConn spokeswoman Stephanie Reitz would not speak to the newspaper directly about this case, citing privacy issues, but said, generally, that "any UConn student found to have violated the provisions of the Student Code may face penalties imposed by the Division of Student Affairs that range from probation to expulsion."
(H/T: Mediaite)