Opponents and supporters of "campus carry" offered vastly different opinions on the issue during a public forum at the University of Texas on Monday. On August 16, licensed gun owners will be able to carry on college campuses in Texas.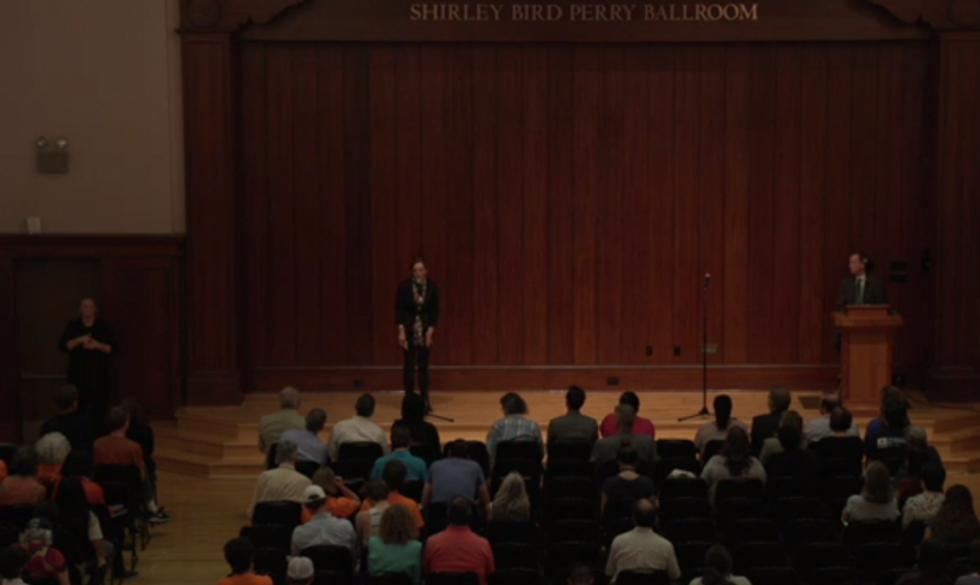 UStream Screengrab
One pro-gun mother stepped up to the microphone and cited President Barack Obama as the best example of "how to stay alive." Anti-gun advocates likely didn't enjoy her speech.
"I want to look to the example of someone who, I think, does the best job of staying safe on a day to day basis," Scarlett Clay, who is a mother and a UT staff member, said. "I'm speaking of our very esteemed President Barack Obama."
"How does he do it?" she continued. "He wears, of course a bulletproof vest; he drives a Cadillac with military-grade 8-inch doors on the side, and he has armed guards with him at all times — those are armed guards. So does his lovely wife, Michelle…as do Malia and Sasha."
Clay also argued that Obama and his team of security would not "lock up their guns" if they visited the University of Texas campus.
"What I would submit to you tonight is that my daughter's life, the life of your families, is not any less valuable," the mother said. "I believe very strongly that to stay safe we need to be able to defend ourselves."
In her closing point, the mom advocated for CHL holders to carry firearms on campus "without limitations." While public colleges and universities are legally prohibited from opting out of campus carry, administrators can enact some rules and regulations.
Watch Clay's brief speech below at the 37:55 mark:
---