Sen. Marco Rubio said Russian President Vladimir Putin will continue his push to drive the United States out of the Middle East because of how weakly President Barack Obama is viewed overseas.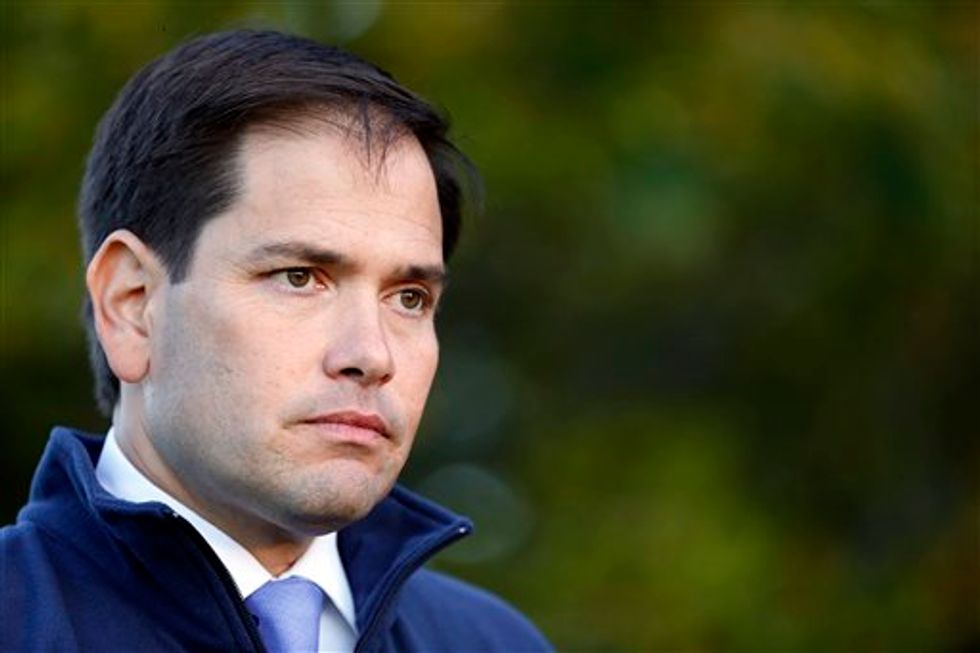 AP Photo/Jim Cole
Rubio, whose predictions during the second Republican presidential debate about Russia's next steps in Syria came true, told Glenn Beck in a radio interview aired Wednesday that Putin's goal "is to continue to drive us out of the Middle East and reposition himself as a geopolitical force on par with the United States."
Beck said Rubio should take a "victory lap" for accurately predicting Russia's airstrikes in Syria during the debate back on Sept. 16. Rubio prognosticated that Russia would conduct the airstrikes not just to target Islamic State fighters, but to help "prop up" Syrian President Bashar Assad.
"Here's what you're going to see in the next few weeks: the Russians will begin to fly combat missions in that region, not just targeting ISIS, but in order to prop up Assad," Rubio said during the debate. "He will also, then, turn to other countries in the region and say, 'America is no longer a reliable ally, Egypt. America is no longer a reliable ally, Saudi Arabia. Begin to rely on us.'"
Rubio told Beck on the radio that "you're going to continue to see more of those things."
"So you're already seeing more and more of that, and I think unfortunately we were right about that, and we're going to be right about it in the future because this president is weak, and he's seen that way by adversaries," Rubio said. 
U.S. officials said Wednesday that since Russia's air campaign has begun, at least three American predator drones have been intercepted while flying over Syria by Russian fighter jets. The jets have not attempted to shoot down the drones, but have elected to fly intercept tracks in order to make their presence known.
According to the latest Public Policy Polling survey released on Tuesday, Rubio is in third place among Republican presidential contenders with 13 percent. Leading the GOP contenders is business tycoon Donald Trump with 27 percent and retired neurosurgeon Ben Carson second with 17 percent.
Complimentary Clip From TheBlaze TV
[mlbvideo content_id="520164483"]
The full episode of The Glenn Beck Program, along with many other live-streaming shows and thousands of hours of on-demand content, is available on just about any digital device. Click here to watch every Glenn Beck episode from the past 30 days for just $1!