Dothan, Alabama, City Commissioner Amos Newsome was arrested Tuesday after police say he physically assaulted a local television news reporter.
Newsome was being asked by WTVY-TV reporter Ken Curtis about a number of voter fraud convictions that possibly helped get him re-elected in 2013. Pressure had been building in recent weeks for Newsome to resign because of the controversy.
"Do you have any plans to resign," Curtis asked Newsome, as the 82-year-old Democrat put his hand out to push the reporter back. Newsome dismissed at least two previous questions from Curtis, saying "excuse me" as he kept walking.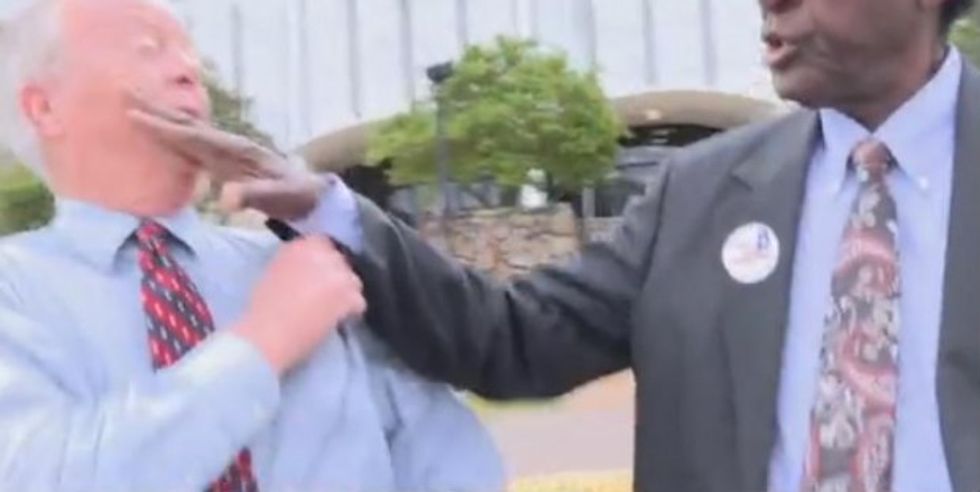 Image source: WTVY-TV
"Sir, you can't do that," Curtis said as he kept following Newsome through a parking lot.
"Would you be willing to resign if it would mean a better deal," Curtis asked as the two approached a parked van.
The city commissioner responded by pointing his finger at the reporter, saying, "Let me tell you something." Moments later, he told Curtis to "get," and struck him in the face twice, according to the station.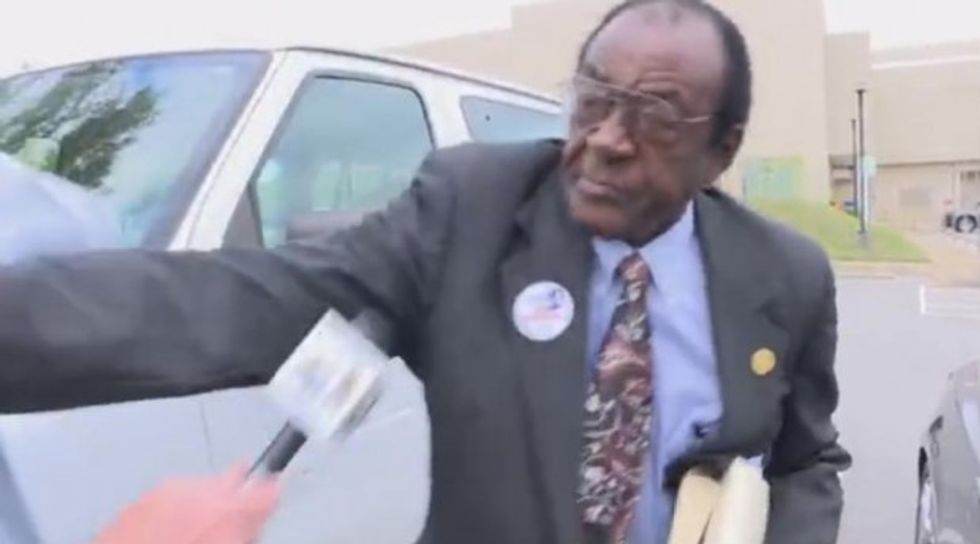 Image source: WTVY-TV
The camera then showed Curtis with blood on his face.
Newsome was arrested for third degree assault just hours after the incident. His bond was set at $500.
WTVY-TV general manager Spencer Bienvenu issued a statement on behalf of the station afterward, condemning the "public assault."
"WTVY is extremely disappointed and horrified by the actions of Dothan City Commissioner Amos Newsome for his unwarranted physical attack on one of our employees," Bienvenu said. "We understand that holding political office can be stressful, but that never warrants unwanted physical contact, let alone an open, public assault."
Newsome won re-election in 2013 by a mere 13 votes, winning 119 of 124 absentee votes. An investigation resulted in the conviction of two people for voter fraud, including Newsome's girlfriend Olivia Reynolds. One more person has since pleaded guilty to misdemeanor charges in connection with the case and a fourth person faces three counts of absentee ballot fraud, WTVY-TV reported.
(H/T: Mediaite)
–
Follow Jon Street (@JonStreet) on Twitter