When a self-described white supremacist, who had already tried to establish an all-whites town (but failed), recently set his sights on two other towns, one came up with a plan.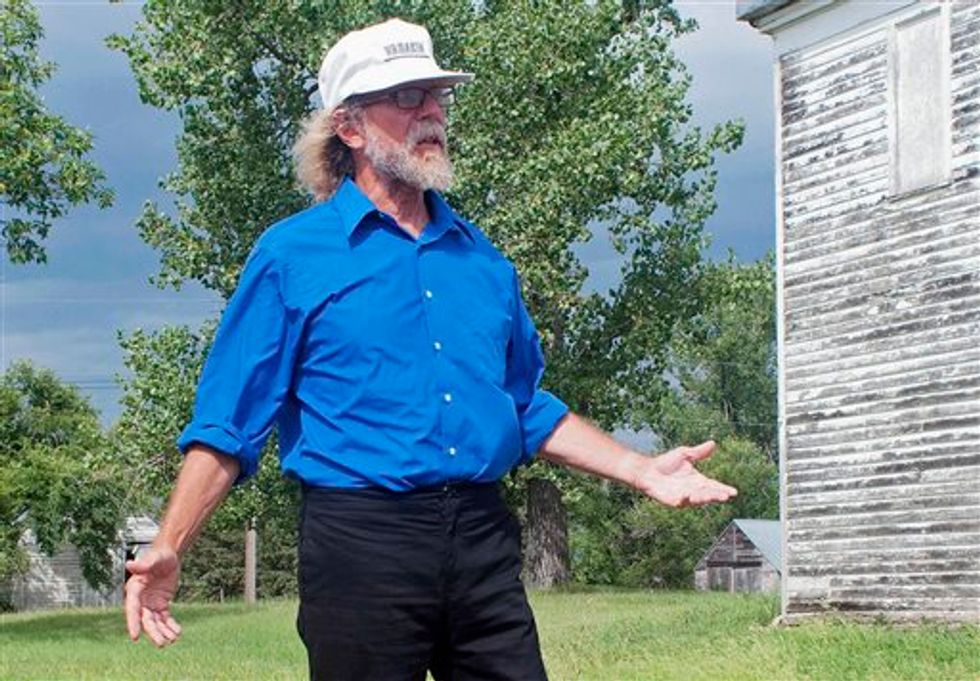 In this Aug. 26, 2013 file photo, white supremacist Craig Cobb stands in an empty lot he owned in Leith, N.D.  (AP/Kevin Cederstrom)
This past summer Craig Cobb, who has been described as an "itinerant neo-Nazi," raised money to buy property in Antler, North Dakota. That town, knowing Cobb's history, plucked up all the available property instead, but now finds itself in an financial pickle.
Antler is not far from Leith, North Dakota, where Cobb a couple of years ago tried to start a neo-Nazi community. Though some supporters of Cobb's actually moved to Leith, they were met with strong resistance and Cobb no longer owns property there. In 2014, he served a stint in jail, unable to make bail and pleaded guilty to a felony charge of terrorizing and five misdemeanor counts of menacing for four years of supervised probation, according to the Southern Poverty Law Center, a nonprofit civil rights advocacy organization that has a lengthy chronicle on Cobb's history as well as a slew of the hateful things he has said.
Living outside of Antler, which has a population of about 20 people, Cobb told WDAY-TV in June that he is a "zealot" and asked "the people of North Dakota, do you deny that whites are under attack and that this is not organized, and premeditated and institution backed?"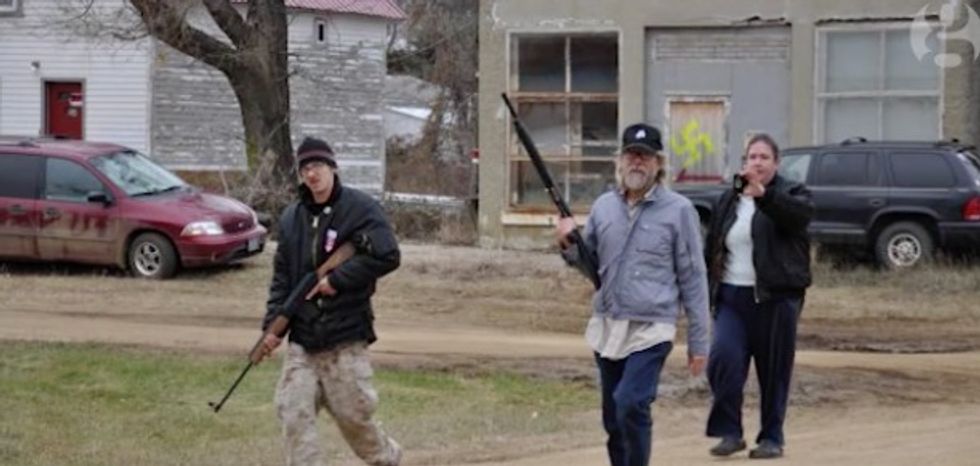 Craig Cobb and some of his supporters in Leith, N.D. (Image source: The Guardian/video screenshot)
In a separate article, WDAY reported that Cobb had plans to name the town "Trump Creativity" or "Creativity Trump," in honor of the New York businessman and GOP presidential candidate Donald Trump.
In an effort to prevent its small town from experiencing what Leith went through, KXMC-TV reported that officials an Antler were signing papers this week to buy 21 lots that Cobb had his eye on.
"Nobody really wanted him in town so the city pursued the vacant lots that he was interested in and we bought them," Mayor Bruce Hanson told the news station. "We spent just about all of our operating money doing so. We're a small town. We have a $20,000 annual budget."
The lots, in total, cost almost twice that budget, according to KXMC. So, to make up for it and to pay for maintenance of the land and buildings, a city council member started a Go Fund Me page to raise the money. With an initial goal of raising $50,000, slightly more than $5,000 has been donated to Antler since the campaign was started on Sept. 22.
Cobb, Hanson told the news station, still lives outside Antler in Sherwood. He added, "I hope he stays over there or goes someplace else but I don't know who you'd wish the guy on."
And it looks like Cobb might have plans to move onward.
Late last month, the Grand Forks Herald reported that he had purchased three properties with delinquent taxes during a sale by the Webster County Sheriff's Office in Nebraska. Red Cloud, where two of these properties are located, held an emergency meeting after learning of the sale.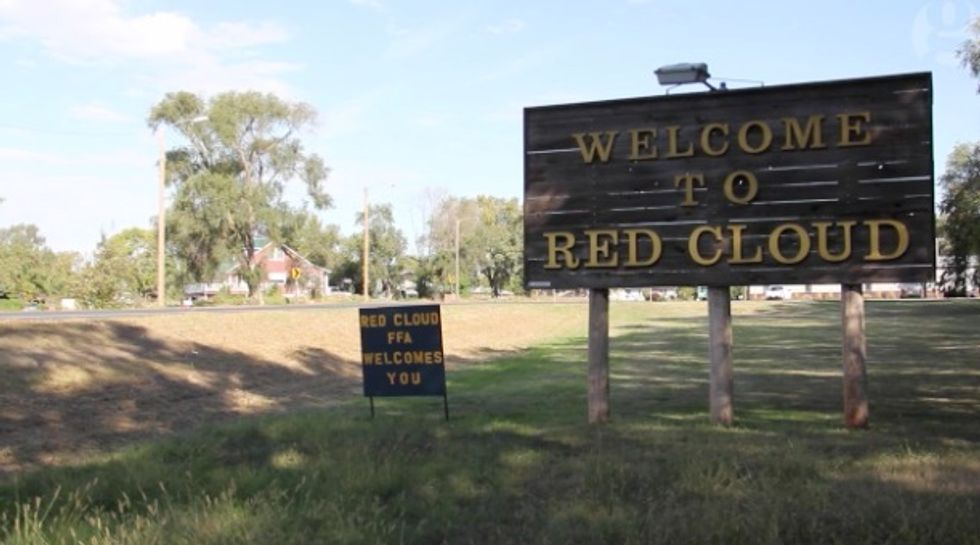 Image source: The Guardian/video screenshot
"I don't want my kids to grow up seeing that kind of hate," resident Mike Goebel told the newspaper.
The Guardian reported Wednesday that many people in the town would not comment on the record for its story, fearing Cobb.
Watch the Guardian's report:
The Grand Forks Herald reported that the property sale still has yet to be confirmed by a district court judge. Webster County Attorney Sarah Bockstadter told the newspaper that the property can be redeemed or a higher offer can be made in court.
According to the Southern Poverty Law Center, Cobb was banned from Estonia for 10 years after being "found guilty of endangering public security, public order, public safety, moral standards and health." From there he moved to Canada in 2010 and was soon arrested for promoting hatred. With dual citizenship between Canada and the U.S., he next moved to Montana and went on with his plans to create a "Little Europe." The Canadian government has a warrant out for his arrest after he failed to appear in court, the law center stated.
(H/T: Gizmodo)