From Georgia to Michigan to Ohio and Massachusetts, billboards are popping up around the country showing a police badge and the tagline "Blue Lives Matter."
The play off of the Black Lives Matter movement though has some activists upset.
"I think in some aspects it's shameful that the brand is being co-opted, but once again it was never meant to say 'only black lives matter,'" Darel Ross, co-executive director of LINC Community Revitalization Inc., told WXMI-TV.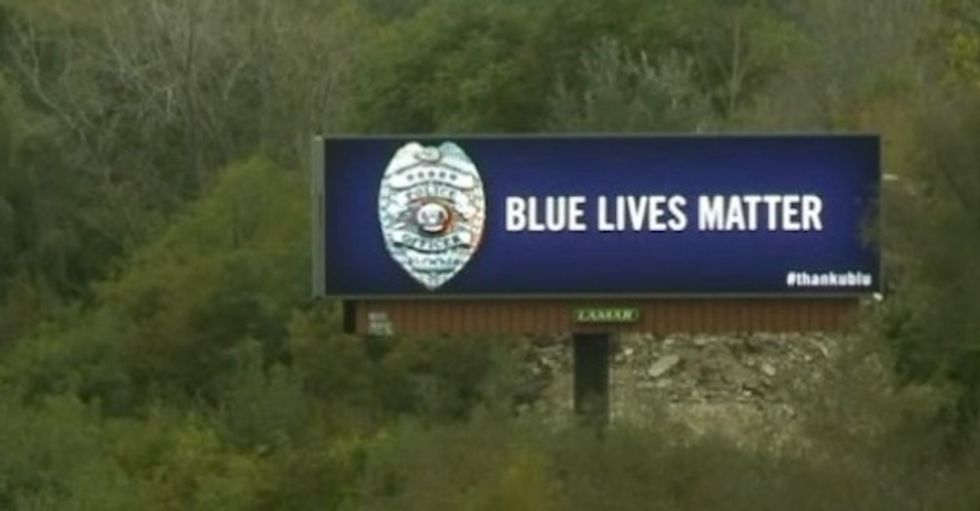 Blue Lives Matter billboards sponsored by the company Lamar are popping up around the country. (Image source: WXMI-TV)
Ross went on to explain that the phrase Black Lives Matter "was simply to call attention to a unique set of circumstances that was happening in the black community; and to any way undermine that, or belittle that, ultimately in no way shape or form adds to the relationship between police officers and the black community, or the community at large, because most people get it."
Cle Jackson, president of the NAACP chapter in Grand Rapids, Michigan, told WXMI he understands what Blue Lives Matter is trying to do, but added "I think you have to be a little more intentional when doing that, if you really are trying to improve the relationships between communities across this country and law enforcement."
Watch WXMI-TV's report:
Lamar, a Louisiana-based billboard company, is supporting the Blue Lives Matter campaign by using the design as filler space on its otherwise empty billboards until Nov. 6, Carrie Jacobs with the company told the Savannah Morning News.
"At Lamar Advertising Company, we are proud to support law enforcement," Lamar Advertising Vice President of Governmental Relations Hal Kilshaw said in a statement. "We're using our digital billboards to voice respect for police officers across the country who put their lives at risk every day to keep the public safe. This is our way of saying thank you."
Law enforcement support the message overall with some caveats.
"I would have to support it, with the caveat that all lives matter," Garden City Police Chief David Lyons told the Morning News, adding, "Here in Garden City we try to treat everybody fair and the way we would want to be treated."
Grand Rapids Police Department Sgt. Terry Dixon sees it the same way.
"Our law enforcement officers, they matter, but at the same time we also recognize and we know that every citizen that walks here in Grand Rapids, their life matters. Every. Single. One," Dixon told WXMI.
On a smaller level, a Green Bay, Wisconsin, woman has been creating her own ribbons and car magnets to support Blue Lives Matter.
While the Black Lives Matter movement was prompted by the death of Michael Brown in Ferguson, Missouri, and other recent officer killings that some feel highlight racism within the force, in recent months, there have been targeted attacks on law enforcement officers as well, prompting movements like Blue Lives Matter and All Lives Matter.