The head of the Christian group that organized the now-viral "Bring Your Bible to School Day" responded to atheists and secular critics who have derided the effort, questioning why they "fear" the sharing of ideas.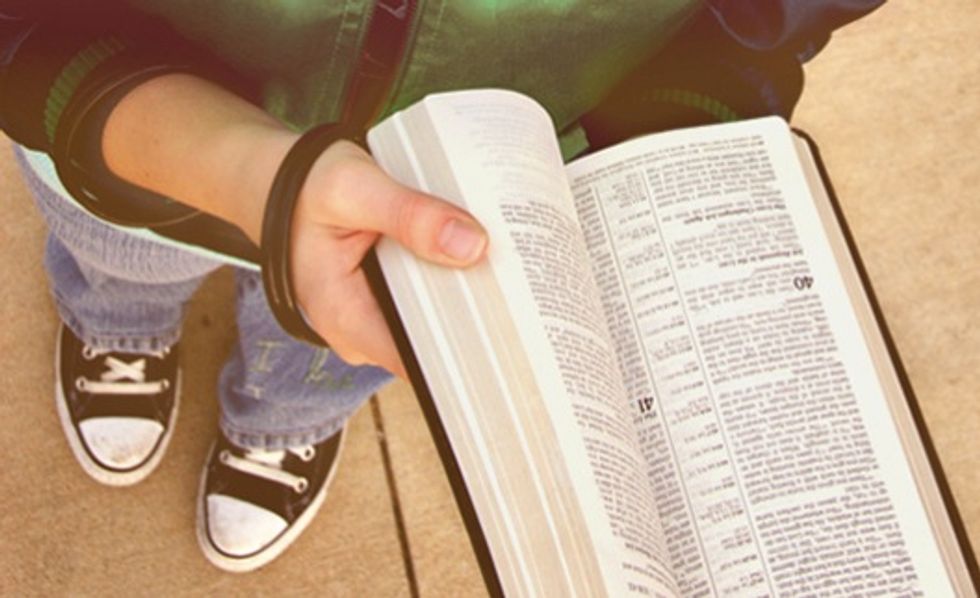 Bring Your Bible to School Day
Focus on the Family president Jim Daly told TheBlaze on Friday that the annual effort was launched in 2014 to help young people unashamedly share their faith.
"I think that there's been so much intimidation in the culture toward people of faith — and particularly Christians," Daly said. "[We thought] this would be a good level-headed way to exercise a right that's there."
After social media was flooded on Thursday with images of young people taking part and bringing their Bibles to school, many critics lashed out, claiming that Christianity is the majority faith and that the event was a misguided effort that cut out non-Christians.
Many of these individuals said that Focus on the Family would have never tolerated Muslim kids bringing copies of their Korans to school in a similar fashion — but Daly pushed back against that accusation.
"I think it would be great if they set a day where people can bring a Koran to school," he said, affirming that there's nothing to fear when it comes to students sharing their religious views with one another.
Daly said that he was somewhat perplexed by those individuals who were specifically infuriated over the effort to encourage children to bring their Bibles to school.
"Why do we need to fear students expressing their faith or expressing their interest in the Bible? The Bible's been with us," he said. "Originally, the education system used the Bible as a book to teach children to read and write and for moral guidance."
The "Bring Your Bible to School Day" effort, he said, is completely voluntary and student-led.
"Why would that be harmful? This is what America's about," Daly said. "In the end, when we have shootings and all the others things occurring in schools today, wouldn't it be nice to provide moral insights about life?"
He continued, "We're not thinking clearly as adults in this culture."
Daly did say that he believes that it is fair to be critical of those who overuse the "persecution card," noting that he believes that what's happening to Christians and other minority groups in the Middle East at the hands of the Islamic State truly counts as persecution.
#bringyourBible 2015 @BringYourBible during #freeReadingTime today! pic.twitter.com/nuOzbGz14n

— LoveALo (@LoveALo) October 8, 2015
My first period with their bibles! So proud of my school! #BringYourBible#nationalbringyourbibletoschooldaypic.twitter.com/JDZA6qZBsX

— Niki Warren (@WarrenNiki) October 8, 2015
"Heaven and earth will pass away, but my words will never pass away." Luke 21:33 NIV #BringYourBiblepic.twitter.com/8xowkUtulN

— Mary (@edwardsm_4) October 8, 2015
That said, Daly believes that there is a "subtler persecution" that sometimes permeates U.S. culture when it comes to religion.
The 2014 "Bring Your Bible to School Day" attracted an estimated 8,000 people, based on the individuals who signed up on the organization's website and downloaded associated resources; this year's event is likely to have passed 140,000, Daly said.
--
Front page image via Shutterstock.com.