A University of California, Los Angeles fraternity and sorority threw a Kanye West-themed party that has incited protests decrying the "ignorance and racism" of the event.
According to the Daily Bruin, the public university's student newspaper, Sigma Phi Epsilon and Alpha Phi threw the "Kanye Western" party during which students reportedly wore baggy clothes, plumped lips or came dressed as a member of the Kardashian family. The student newspaper reported that some students were seen with charcoal on their foreheads although it appears several students also dressed up as "gold diggers" in light of West's 2005 hit song.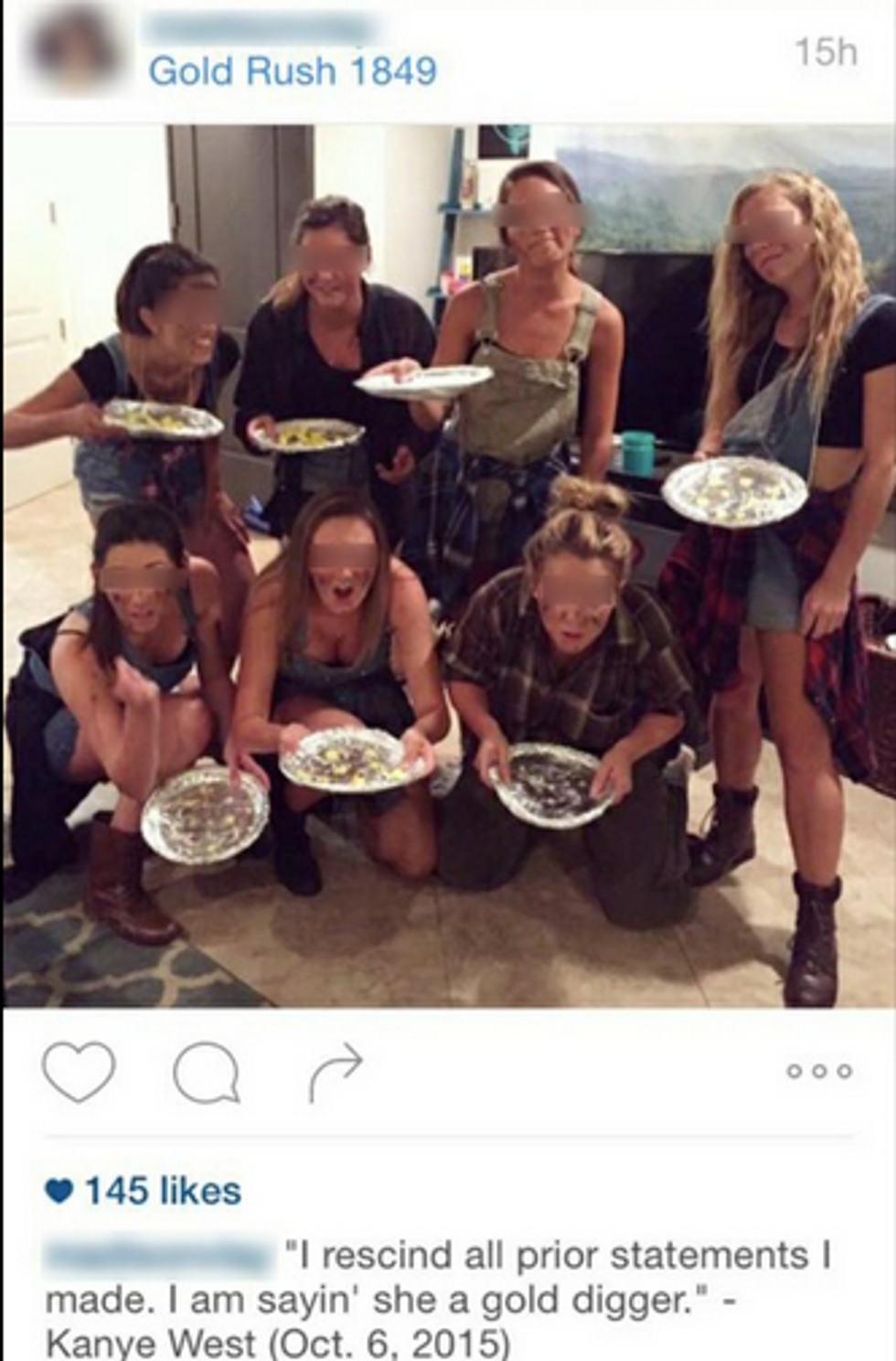 Image via Twitter @MarioFOXLA
After the party, however, several students held protests and chanted "black Bruins matter" and demanded an apology from the Greek organizations. According to the Los Angeles Times, students stormed a university official's office in order to prompt a response from the institution.
Jerry King, vice chancellor for university's Office of Equity, Diversity and Inclusion, reportedly told the crowd of students Thursday — some of whom held signs that said "our culture is not a costume" — that UCLA officials were working to address their concerns.
"It's one thing to suggest you are actually focusing on one celebrity who is African American, it's another thing to take it as a license to perform every attribute, every stereotype, every grotesque minstrelsy that you see," King said.
The College Fix reported that around 400 students protested the party on UCLA's campus Thursday with chants of "black Bruins matter" and "for shame." One speaker at the protest likened the party to that of the deaths of Freddie Gray and Michael Brown.
"Everyone keep in mind that simply because I go to one of the top ranked institutions in the country, doesn't mean I'm any farther away from ignorance and racism as anyone else," UCLA student and member of the Afrikan Student Union Kelsee Thomas said in a statement on social media, according to the College Fix. "They just hide it behind frat/sorority themes, anonymous postings, and micro-aggressions."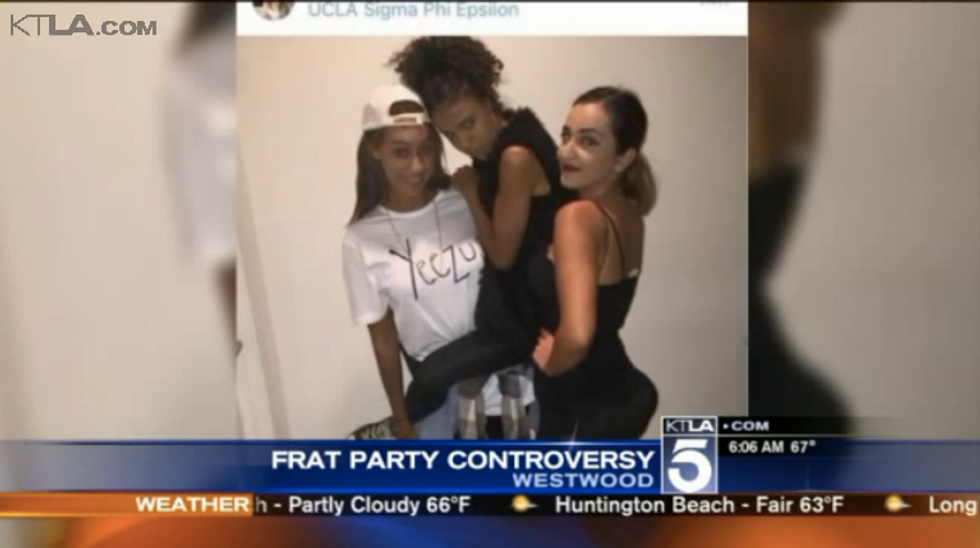 Image source: KTLA-TV
While a student told KABC-TV that the party included students in blackface, The College Fix reported there haven't been any photos to support that claim.
"While we do not yet have all the facts, the alleged behavior is inconsistent with good judgment as well as our principles of community," UCLA said in a statement obtained by the LA Times. "We remind students that while they are free to celebrate in ways that draw on popular culture, their specific choices can cause harm and pain to fellow members of their community. Put simply: Just because you can do something, does not mean you should."
UCLA also announced that Alpha Phi's social activities have been suspended pending the investigation. Sigma Phi Epsilon's national chapter said the fraternity has also suspended activities at its UCLA chapter.
"Building diverse and inclusive communities is core to our identity as an organization, and we have zero tolerance for racist behavior," Sigma Phi Epsilon's spokesman, Beaux Carriere, said in a statement. "Sigma Phi Epsilon will continue to work with the university and UCLA community to investigate these claims and hold students accountable for any inappropriate behavior."
The UCLA frat & everyone else who joined them at the "Kanye Western" party should be ashamed! #BlackBruinsMatter#BlackLivesMatter

— Nicole Marie (@nicole_a7) October 8, 2015
.@UCLA students occupying the Chancellor's office in Murphy Hall in solidarity w/@BlackBruins#BlackBruinsMatterpic.twitter.com/YAenJSLGam

— Chloe Pan (@chloeqpan) October 8, 2015
Party SMART this weekend!!!! REMEMBER: Culture is NOT a costume. #UCLA#kanyewestern#BlackFace#AlphaPhi#SigmaPhiEpsilon

— Jess (@SenoritaJess) October 10, 2015
Watch footage of the students' protests courtesy of The College Fix below.