When "Meet the Press" host Chuck Todd asked Democratic presidential contender Sen. Bernie Sanders point blank if he was a capitalist, the Vermont senator had a straightforward response — no.
Todd pressed Sanders on his political philosophy during Sunday's NBC show as the self-identified socialist has taken up the word "progressive" during his presidential campaign.
"Then the other day I noticed you said, 'you know what, don't use the word socialist. I'm going to say I'm a progressive,'" Todd asked Sanders. "Are you pushing back on that idea or are you going to embrace, 'I'm a European socialist?'"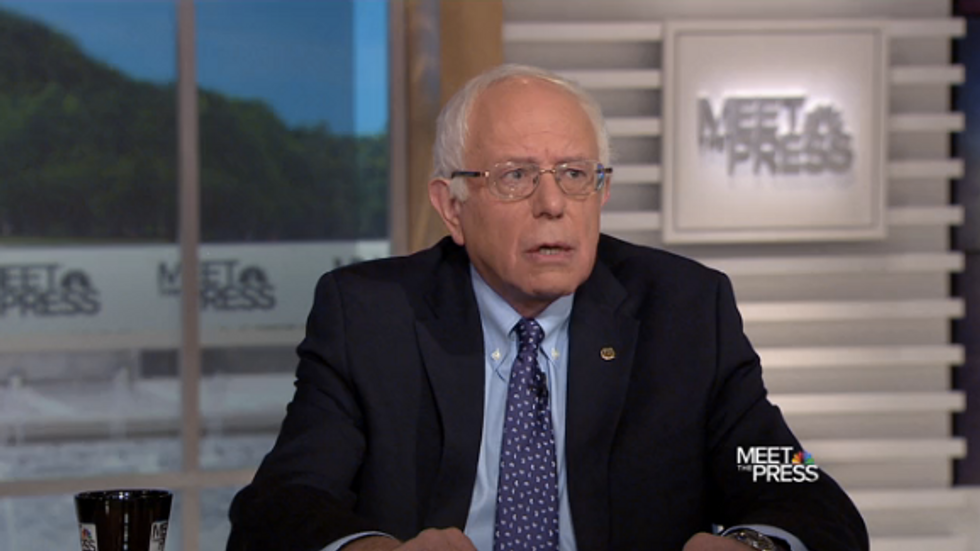 Image source: NBC News
Sanders denied that he's "pushing back" on socialism and tried asking if the Sunday morning host asked Republican guests if they were capitalists.
"Yeah. Are you a capitalist?" Todd retorted.
"No," Sanders said. "I'm a Democratic socialist. But what I mean is I've been elected as an independent throughout my political career. I'm running now in the Democratic nomination process."
Sanders contended that he would support the Democratic presidential nominee even if that was not him.
Sanders also differentiated himself from President Barack Obama during his interview when he said he would be able to make progress with a GOP-controlled Congress unlike Obama as his policies, if elected, will bring hoardes of "young people" demonstrating outside of the U.S. Capitol. Sanders also said Obama is a very "decent guy" who thought he could "sit down with the Republican leadership and work out some fair compromises."
"The truth is, number one, they never had any intention to compromise," he said. "But number two, more importantly, you have to be prepared to mobilize people, to take on these big money interests."
Watch Todd's full interview with Sanders below.