The University of Toronto is reducing the number of dormitory gender-neutral bathrooms after showering women reported seeing cellphones reached over stall dividers in apparent attempts to videotape them.
The two incidents occurred last month in Whitney Hall, a dorm at U of T's University College which houses 250 students, Police Const. Victor Kwong told the Toronto Star. No culprits have been found.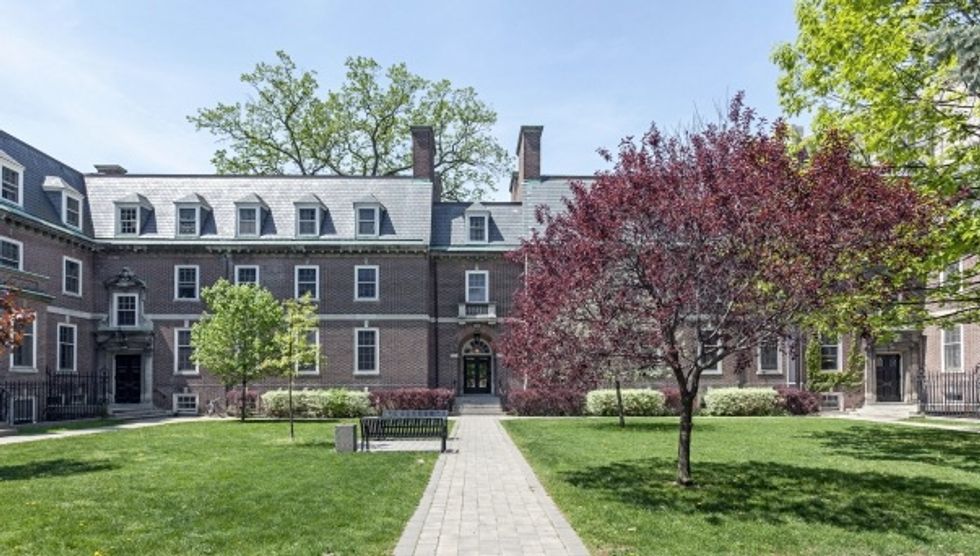 Whitney Hall (U. of Toronto website)
Melinda Scott, dean of students at University College, told the student newspaper that some dorm bathrooms now will be women-only or men-only for "those who identify as men and those who identify as women," the Huffington Post Canada reported, adding that at least one gender-neutral bathroom will remain on each dorm floor.
"The purpose of this temporary measure is to provide a safe space for the women who have been directly impacted by these events and other students who may feel more comfortable in a single-gender washroom in the wake of these incidents," Scott added.
More from Huffington Post Canada:
Gender-neutral washrooms exist in order to give transgender people a place where they feel included, and where they won't be misgendered, says U of T's Washroom Inclusivity Project.

Transgender people, it said, might not be comfortable in specifically "male" or "female" washrooms, and may worry that they could be "misgendered" by other people.
One Whitney Hall resident told student newspaper she was disturbed by the reported incidents of voyeurism and their outcome.
"I think it sucks that there are going to be people that don't feel safe in Whitney now," Melissa Birch told the paper, "and that we can't have an inclusive environment."
(H/T: The Christian Post)
—
Follow Dave Urbanski (@DaveVUrbanski) on Twitter