When a sole protester showed up to picket outside of an Ohio mosque over the weekend, conversations started off somewhat heatedly, but the situation ended on a surprising note: she ended up hugging a Muslim woman and reportedly went inside to learn more about the Islamic faith.
The incident, which was captured on video, reportedly unfolded outside of the Noor Islamic Cultural Center in Dublin, Ohio, on Saturday night.
While it ended on a positive note for both parties, it began with the protester — who held signs opposed to Shariah law and Islam — clashing with a male Muslim, repeatedly lambasting Islam and telling him to walk away from her.
"Get thee away from me, Satan, then!" the woman shot back at the man, who approached her to dialogue, with the two proceeding to go back and forth over her opposition to Islam.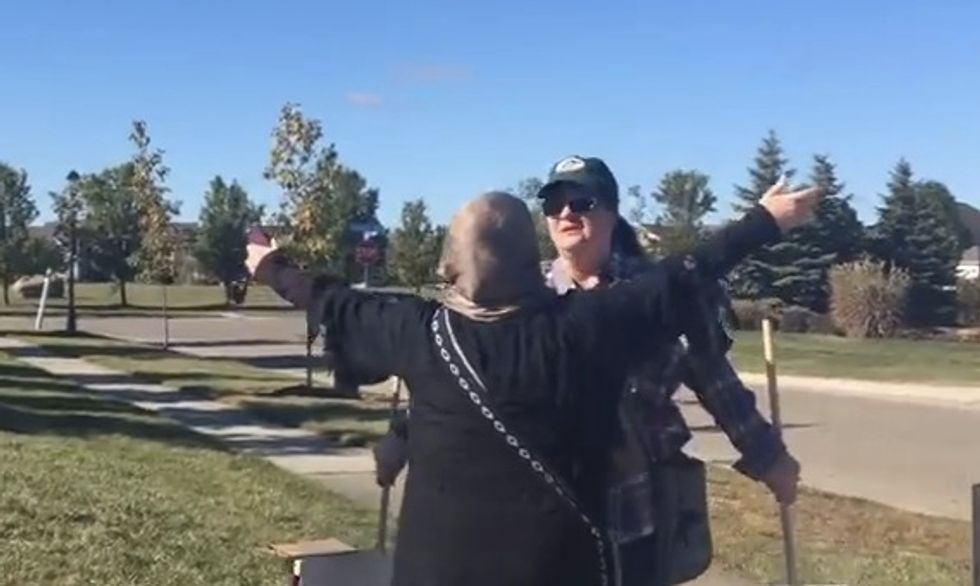 Mikhah Ben David/YouTube
But at one point, the conversation softened and the protester began having more pleasant interactions with Muslims and others who had assembled in support of the mosque.
A Facebook post by a woman named Cynthia Eugenia Cox DeBoutinkhar claims that the sole protester outside of the mosque was named Annie, with DeBoutinkhar recounting how she decided to approach Annie and ask for a hug in the midst of her one-woman protest.
"Something came over me and I went up to her and asked if I could give her a hug. I wouldn't let go of the hug," DeBoutinkhar wrote. "I felt her body go from tense to soft and I asked her to please come inside with me. She was actually AFRAID! I asked if I look scary to her. She said I didn't. I promised her I'd stay right by her side the whole time."
Annie agreed to go into the mosque and DeBoutinkhar accompanied her, as a crowd applauded after she entered.
Watch a 48-minute video that documents Annie's protest and her decision to walk into the mosque (caution: strong language):
"The mosque president personally greeted her and welcomed her, offering her food and drink. I joked that I'd taste it for her first," DeBoutinkhar continued. "I asked if she'd like a tour and to my surprise, she agreed. First we went in the ladies room and I took off my hijab so she could see that I'm just a normal person under my scarf. I put it back on and I gave the tour."
From there, DeBoutinkhar said that Annie began to ask questions and spent hours speaking with her and others at the mosque about Islam, the Bible and a plethora of other subjects. Then, Annie stayed to watch how Muslim women pray.
"When she left, I gave her a hug and asked her to please stop getting all her info from Fox News and Donald Trump (who she greatly admires)," DeBoutinkhar wrote. "She smiled."
(H/T: Raw Story)
Follow the author of this story on Twitter and Facebook: