Rep. Jim Jordan (R-Ohio), chairman of the House Freedom Caucus, told "Fox News Sunday" that the conservative caucus is open to Rep. Paul Ryan (R-Wis.) as the chamber's next speaker. However, he issued a warning to whoever ultimately wins the job.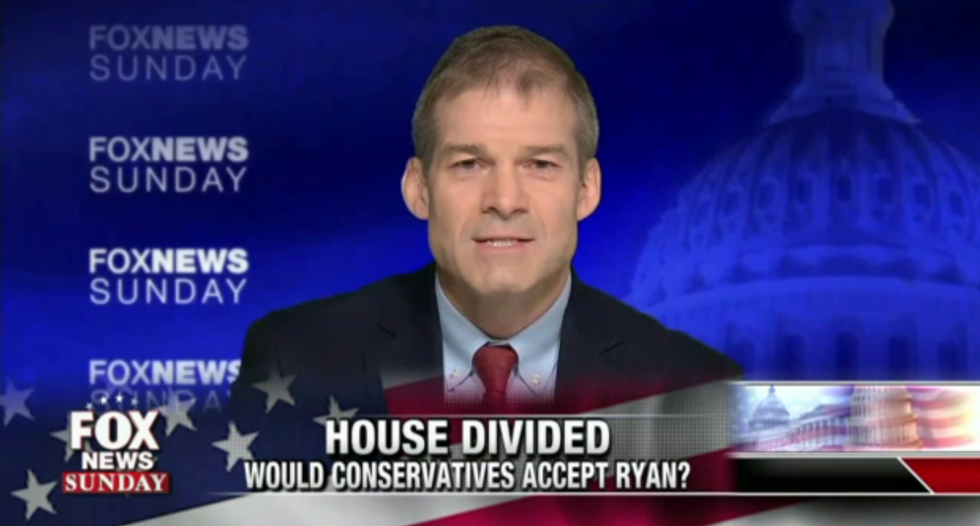 Fox News
"No more business as usual," Jordan said.
The Ohio Republican alleged that current House Speaker John Boehner removed conservative Rep. Tim Huelskamp (R-Kans.) from assignments on the Budget and Agriculture committees in 2012 when he took a stand against GOP leadership.
"Here's the interesting thing, kicked off the Agriculture Committee and he's got a PhD in agriculture policy," Jordan said, adding, "that's the kind of stuff that has to stop."
"This place has got to change," he added.
That being said, Jordan argued the House Freedom Caucus is willing to "compromise" with other members of Congress.
While the conservative coalition has just roughly 40 votes of the 218 needed to elect a new House speaker, it's enough to merit serious influence over the vital decision.
Ryan has so far declined to run for speaker despite a growing chorus of lawmakers urging him to run.
---