Moderator Anderson Cooper opened the first Democratic debate of the 2016 campaign season by confronting frontrunner Hillary Clinton on her constantly evolving political stances.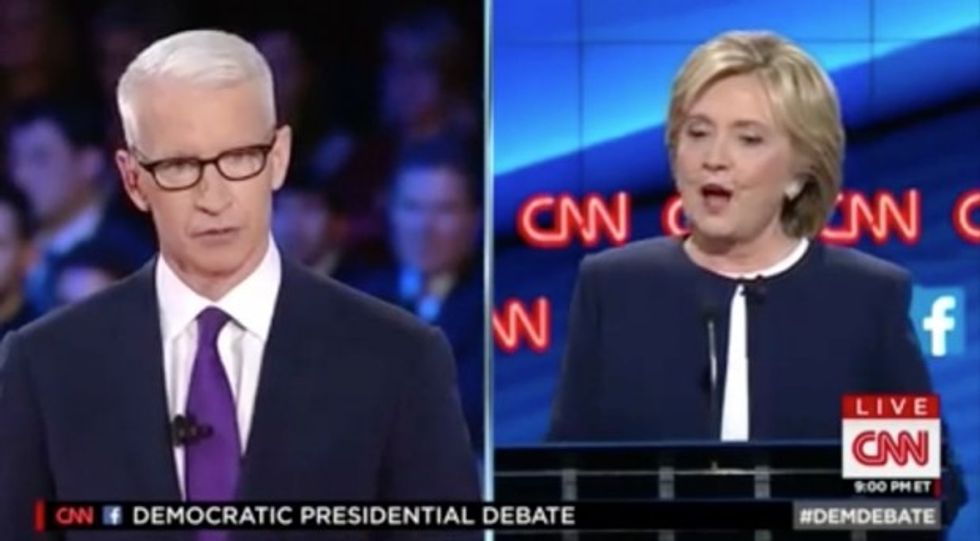 Image source: CNN
"Even some Democrats believe you change your positions based on political expediency," Cooper said. "You were against same-sex marriage, now you are for it. You defended President Obama's immigration policies, now you say they are too harsh. You supported his trade deal dozens of times ... now suddenly last week you are against it."
"Will you say anything to get elected?" he asked.
Clinton responded saying she has "been very consistent" over the course of her life, but contended she has absorbed new information throughout her life. Clinton argued that she supported a trade deal, but didn't think the one negotiated and announced last week met her standards.
Cooper wasn't satisfied with the answer.
"Secretary Clinton, with all due respect, the question is really about political expediency," he said, asking her if she changes her political identity based on who she is talking to.
"I think like most people I know, I have a range of views, but they are rooted in my values and experience," she replied.
—
Follow the author of this story on Twitter and Facebook: