Manual High School's homecoming queen wore a frilly blue dress as she stood on the football field in Denver to receive her crown Friday.
But she wouldn't be participating in the typical high school homecoming festivities later that weekend. Instead of hitting the dance floor, she would be headed to bed. And that's because she's only a toddler.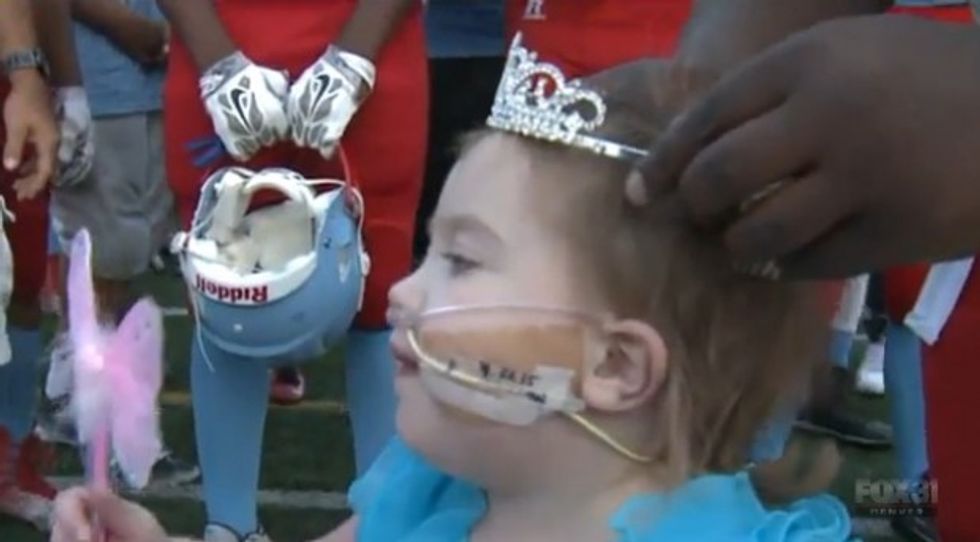 Avelynn was honored by a Denver high school as its homecoming queen Friday. (Image source: KDVR-TV)
Three-year-old Avelynn was honored by the Manual High School football team as its homecoming queen after they were especially touched by her situation.
According to KDVR-TV, Avelynn, who wasn't expected to live beyond just a few weeks after birth, has already had several open heart surgeries. The team met the toddler when they were asked to lay down grass  in her backyard as a community service project.
"When we saw that little girl walk out onto her new lawn it touched my heart so much. I wanted to cry," Losseny Kone, a senior running back, told the news station.
After that moment, the team didn't want to stop there.
"Our coach always has a saying: Choose life. That little girl chose life. She chose to move on," Kone told KDVR.
Watch the touching moment Avelynn was crowned in KDVR's report: