As the Democratic presidential candidates prepare to step under the bright Las Vegas lights and duke it out in their party's first debate, Kentucky Republican Sen. Rand Paul seemingly threw the first punches of Tuesday afternoon.
In an effort to draw stark comparisons between Paul and other presidential contenders — both Republicans and Democrats — the Paul campaign stole some of the limelight away from the Democrats ahead of the debate by allowing voters to follow along with him via a live-stream from sunup to sundown. And as voters tune into the campaign's live-stream, Paul will release a new ad aimed at Democrats ahead of the debate — targeting Hillary Clinton and Vermont Sen. Bernie Sanders specifically.
The ad, a copy of which was provided to TheBlaze Tuesday afternoon, criticizes Clinton and Sanders for "continuing the Obama legacy" and "fighting for the Washington machine" — the latter of which is the opposite of Paul's own campaign slogan, "defeat the Washington machine, unleash the American dream."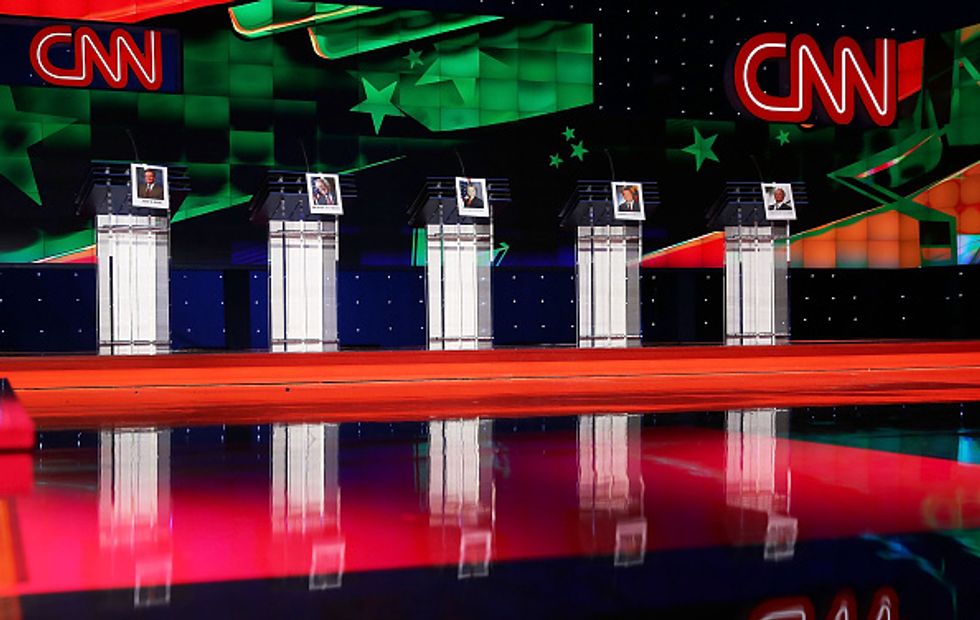 Photographs of Democratic Presidential candidates, left to right, former Sen. Jim Webb (Va.), Sen. Bernie Sanders (Vt.), former Secretary of State Hillary Clinton, former Maryland Gov. Martin O'Malley and former Rhode Island Gov. Lincoln Chafee hang on their debate podiums a day before the CNN Facebook Democratic debate at the Wynn Las Vegas on Oct 12, 2015, in Las Vegas, Nevada. (Joe Raedle/Getty Images)
Unsurprisingly, Paul's ad hit Clinton on her personal email server and her handling of the Benghazi attack — controversies that the senator said revealed a "lack of judgment." Paul also hit Sanders' promises of free college, health care and paid leave.
"It is a disservice to the country for Bernie Sanders to say he's going to give you all more Social Security and money is going to grow on trees and everybody will be rich and there will be a chicken in every pot," Paul says in a clip played in the ad.
"We're going to destroy the country if we do that," Paul said of Sanders' plans.
Paul's nearly two-minute-long ad goes after only Clinton and Sanders, the top two Democratic contenders, but Tuesday's debate will also feature former Rhode Island Gov. Lincoln Chafee, former Maryland Gov. Martin O'Malley and former Virginia Sen. Jim Webb who will all try to use the debate's exposure to gain prominence in the race.
Vincent Harris, Paul's chief digital strategist, told TheBlaze Tuesday that Paul's ad is a precursor to what he plans to discuss during his live-stream later Tuesday.
"Voters appreciate transparency, they don't appreciate Hillary Clinton's secrecy and lies," Harris said.
Harris said that the campaign's continuous live-stream Tuesday has "brought large numbers of new visitors to the website and spurred new interest" in Paul's campaign. According to the latest CBS News poll, Paul is in seventh place behind Donald Trump, Ben Carson, Texas Sen. Ted Cruz, Florida Sen. Marco Rubio, former Florida Gov. Jeb Bush and former HP CEO Carly Fiorina.
Trump, who is known for his bombastic and off-the-cuff comments throughout his 2016 presidential campaign already, has also announced that he will live-tweet his take on the Democratic candidates during Tuesday night's debate.
At the request of many, and even though I expect it to be a very boring two hours, I will be covering the Democrat Debate live on twitter!

— Donald J. Trump (@realDonaldTrump) October 13, 2015