Democratic National Committee Chair Debbie Wasserman Schultz had the "diversity" attack flipped on her Tuesday night when Fusion host Jorge Ramos pressed her on the lack of "diversity" among the 2016 Democratic candidates.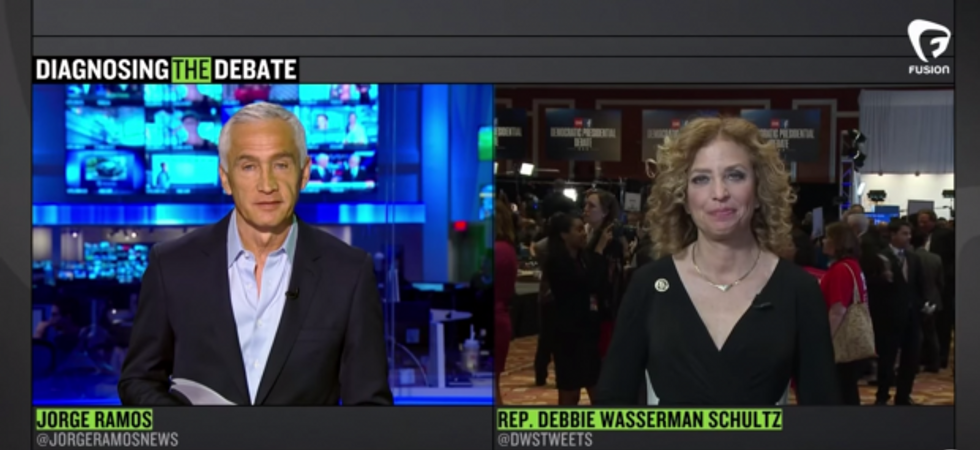 Fusion
"When I was watching the debate, what I was thinking was the Democratic Party lacked diversity. I didn't see a Latino, or an African-American, or an Asian on that stage," Ramos said.
Schultz first made sure to point out that President Barack Obama is "African-American" as proof that "we have an absolute demonstration of commitment to diversity." She said the Democrats nominated the first black president "not once, but twice."
However, the Democrat never got back to addressing whether the 2016 Democratic presidential candidates lacked diversity.
"We are the party of diversity," she claimed. "The Republicans are essentially the party of a monolithic view that is narrow-minded and says, 'Let's take this country backwards.'"
For context, among the 2016 GOP candidates are Ben Carson, a black man; Carly Fiorina; a woman; Ted Cruz, who is Hispanic; Marco Rubio, of Cuban heritage; and Bobby Jindal, who is Indian-American.
(H/T: Mediaite)
---