In an effort to stem a wave of Palestinian attacks targeting civilians on buses, light rail stops and on city streets, the Israeli government Wednesday decided to ease citizens' access to guns, calling legal gun owners a "force multiplier" in combating terrorism.
"In light of the security situation, I have decided to make it easier to obtain a gun permit," Public Security Minister Gilad Erdan said in a statement Wednesday. "In recent weeks, many citizens helped the Israel Police neutralize terrorists carrying out attacks. Citizens trained in the use of firearms are a force multiplier in the struggle against terror."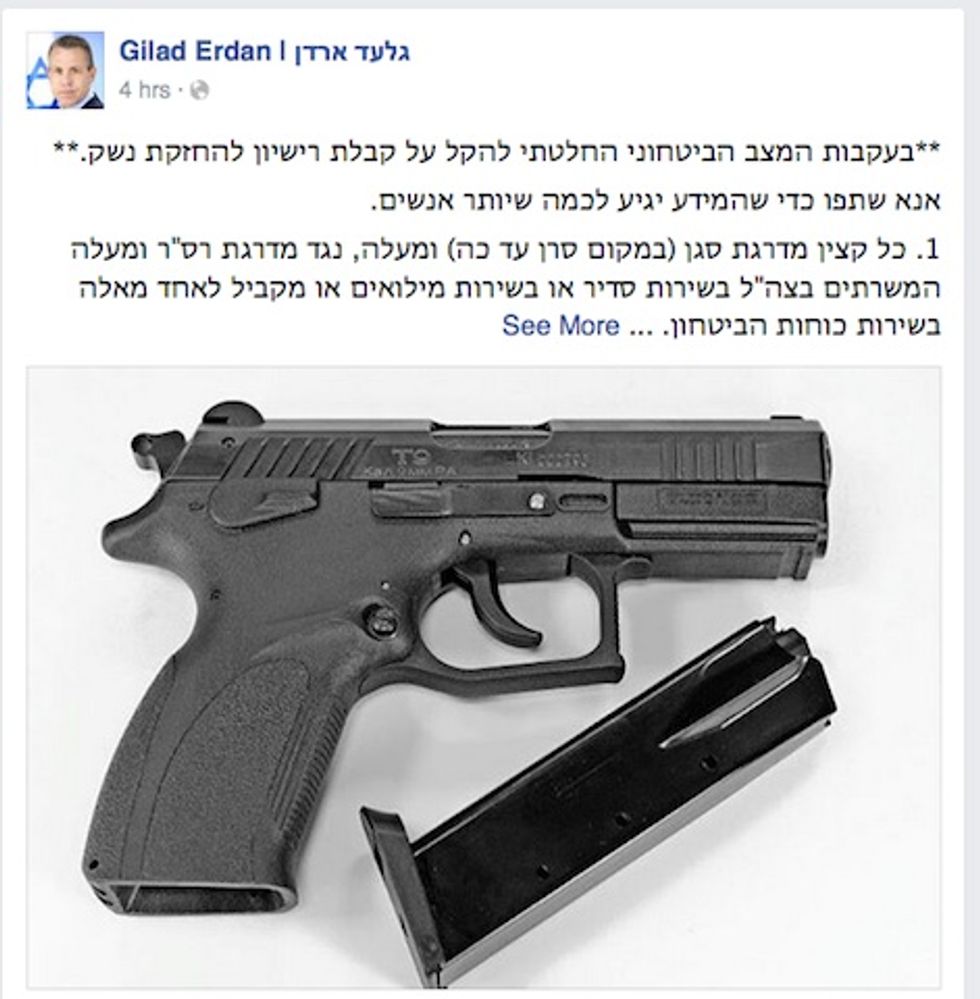 Israeli minister Gilad Erdan embellished his Facebook post announcing the eased gun permit regulations with a photo of a pistol.
The move followed a call last week from Jerusalem Mayor Nir Barkat – himself a licensed and trained gun owner – urging Israelis with gun licenses to carry their guns with them when they leave their homes.
In many of the attacks over the past week, Israeli citizens overpowered the perpetrators.
Gun permits are a requirement for owning a gun in Israel. While gun laws vary in different U.S. states, in Israel, licensed gun owners are free to carry their guns at all times.
In addition, off-duty police and IDF soldiers carry their guns off their bases.
Access to gun permits in Israel have been restricted to graduates of certain Israel Defense Forces and police units and those above certain ranks; those employed in jobs where cash is handled, like taxi drivers; and residents of Jewish settlements in Judea and Samaria — commonly known as the West Bank — who often encounter Palestinian stone-throwers on the road.
Under the new policy, as reported in the Israeli media including the Times of Israel, lower-ranking former officers will now be approved for licenses as well as residents of towns considered under heightened danger.
Gun licenses must be renewed every few years, which involves a medical and mental health exam and practice at a shooting range.
Under the new regulation, gun carriers will have to practice firing their weapons every year.
A Palestinian man was shot and killed by Israeli police Wednesday after he tried to stab police officers near Jerusalem's Damascus Gate, the Israel police said.
Pepper spray has been flying off the shelves in Israel as jittery Israelis aim for a sense of security during the rash of attacks. One Israeli man earlier this week subdued a Palestinian stabber in Jerusalem using the nunchuks he was carrying for self defense.