A Florida sheriff is taking his criticism of President Barack Obama public, claiming people will "die" due to the commander in chief's decision to ban some armored vehicles following riots in Ferguson, Missouri, and Baltimore earlier this year.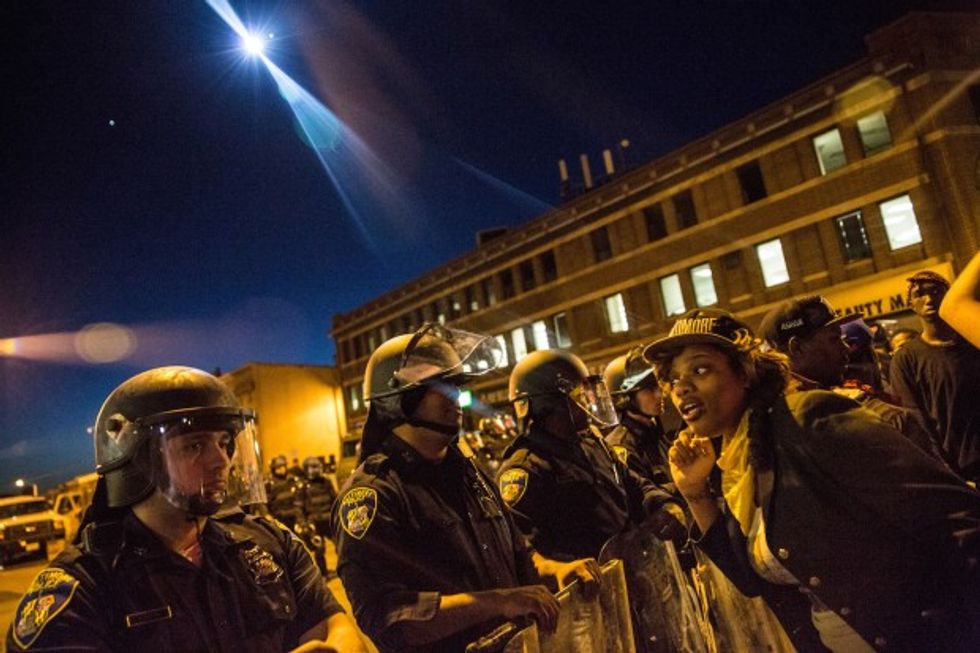 A helicopter with a spot light watches over police and protesters before a mandatory, city-wide curfew of 10 p.m. near the CVS pharmacy that was set on fire yesterday during rioting after the funeral of Freddie Gray, on April 28, 2015 in Baltimore, Maryland. (Photo by Andrew Burton/Getty Images)
Volusia County Sheriff Ben Johnson told the Orlando Sentinel that some police departments can only afford the armored vehicles that were given to some agencies by the federal government after they were declared "surplus" equipment.
With the vehicles, some officers will now be forced to embark upon "potential suicide missions," he said.
"People will die because of this decision," Johnson added.
The sheriff said the "valuable piece of equipment" that Obama is now taking away from them has already taken bullets for deputies, though the vehicle isn't used every day.
Missouri National Guard line up behind police officers monitoring protesters in front of the Ferguson Police Department Tuesday, Nov. 25, 2014, in Ferguson, Mo. Missouri's governor ordered hundreds more state militia into Ferguson on Tuesday, after a night of protests and rioting over a grand jury's decision not to indict police officer Darren Wilson in the fatal shooting of Michael Brown, a case that has inflamed racial tensions in the U.S. (AP Photo/David Goldman)
The Sentinel has more on the executive order in question:
The order put an emphasis on the need to better regulate the type of equipment law-enforcement agencies receive from the Department of Defense's 1033 program, which gives equipment no longer used by the military to local law enforcers.

That's how six agencies in Central Florida got their vehicles, which don't have cannons and do not fire shells.

[...]

Armored vehicles with wheels are allowed under the ban and are far more common than the recalled tanks with tracks.
Several other law enforcement agencies across Florida and the U.S. will also be affected by the executive order pertaining to "military-style equipment."
---