PLANO, Texas -- Rick Santorum earned a standing ovation for his response to a question about the Islamic State threat at the North Texas Presidential Forum in Texas on Sunday.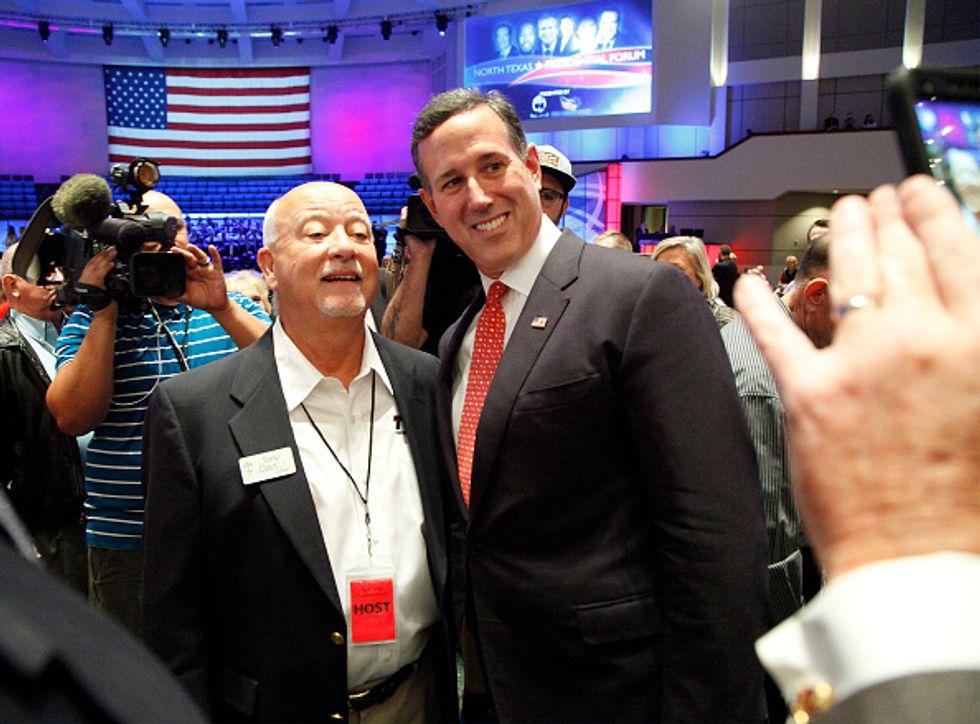 PLANO, TX - OCTOBER 18: Former Senator of Pennsylvania Rick Santorum (R) poses for a photograph with Tony Clayton of Coppell, Texas, as Santorum enters to participate in the North Texas Presidential Forum at Prestonwood Baptist Church in Plano, Texas. (Photo by Stewart F. House/Getty Images)
Santorum noted that he recently appeared in a magazine published by Islamic State militants. His photo appeared directly under the headline: "In the Words of the Enemy."
He strongly criticized the Obama administration for not being more clear about the enemy the U.S. is fighting in the Islamic State and what they believe.
But that would immediately change under a President Santorum, he argued.
"ISIS knows who I am. Iran knows who I am. And when I'm sworn in in January," they will know exactly what they have to deal with, Santorum said, resulting in an emphatic standing ovation from the audience at Prestonwood Baptist Church in Plano.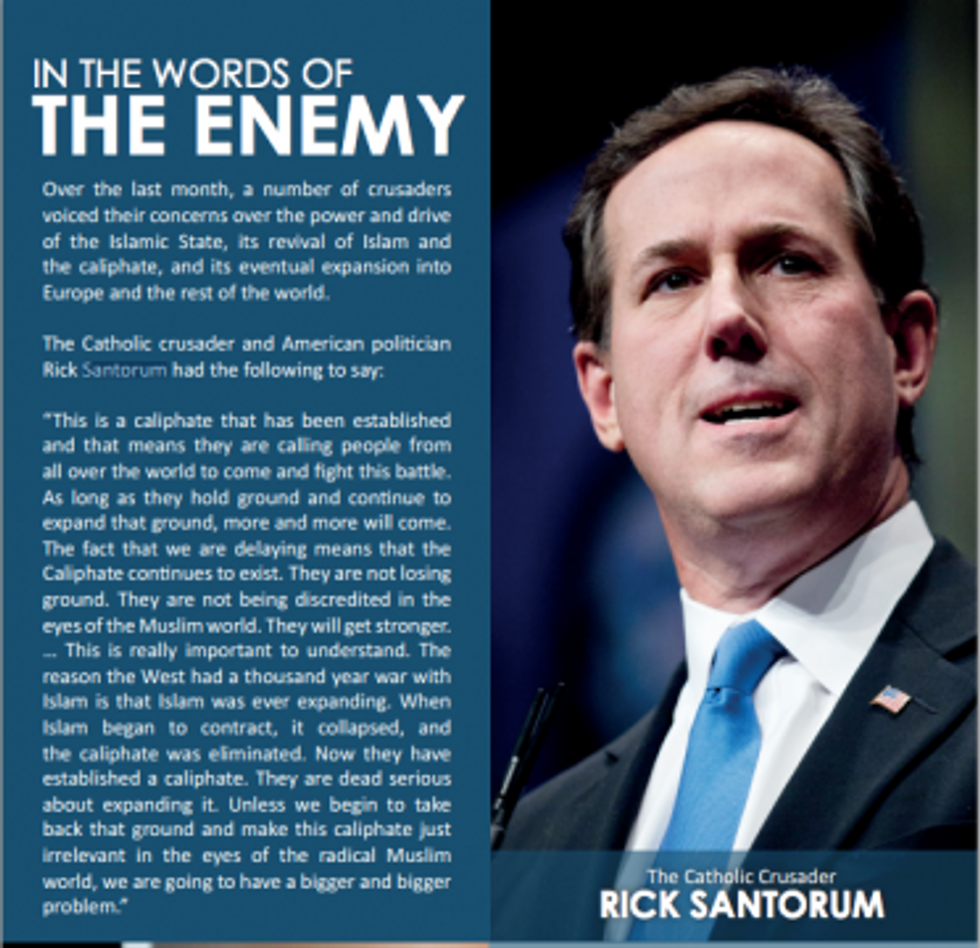 Here's what the propaganda magazine quoted Santorum -- the "Catholic Crusader" -- as saying:
"This is a caliphate that has been established and that means they are calling people from all over the world to come and fight this battle. As long as they hold ground and continue to expand that ground, more and more will come. The fact that we are delaying means that the Caliphate continues to exist. They are not losing ground. They are not being discredited in the eyes of the Muslim world. They will get stronger. … This is really important to understand. The reason the West had a thousand year war with Islam is that Islam was ever expanding. When Islam began to contract, it collapsed, and the caliphate was eliminated. Now they have established a caliphate. They are dead serious about expanding it. Unless we begin to take back that ground and make this caliphate just irrelevant in the eyes of the radical Muslim world, we are going to have a bigger and bigger problem."
Santorum appeared at the church along with five other GOP candidates, including Sen. Ted Cruz (R-Texas), Dr. Ben Carson, Carly Fiorina, Jeb Bush and Mike Huckabee. Each candidate delivered a brief speech and then engaged in a short Q&A session with Pastor Jack Graham.
---