Secretary of State John Kerry called for an immediate end to violence and incitement while meeting Thursday with Israeli Prime Minister Benjamin Netanyahu, but did not point specifically to Palestinians as being behind the new wave of daily attacks.
"We have to stop incitement, we have to stop the violence," Kerry said at the Berlin meeting with Netanyahu.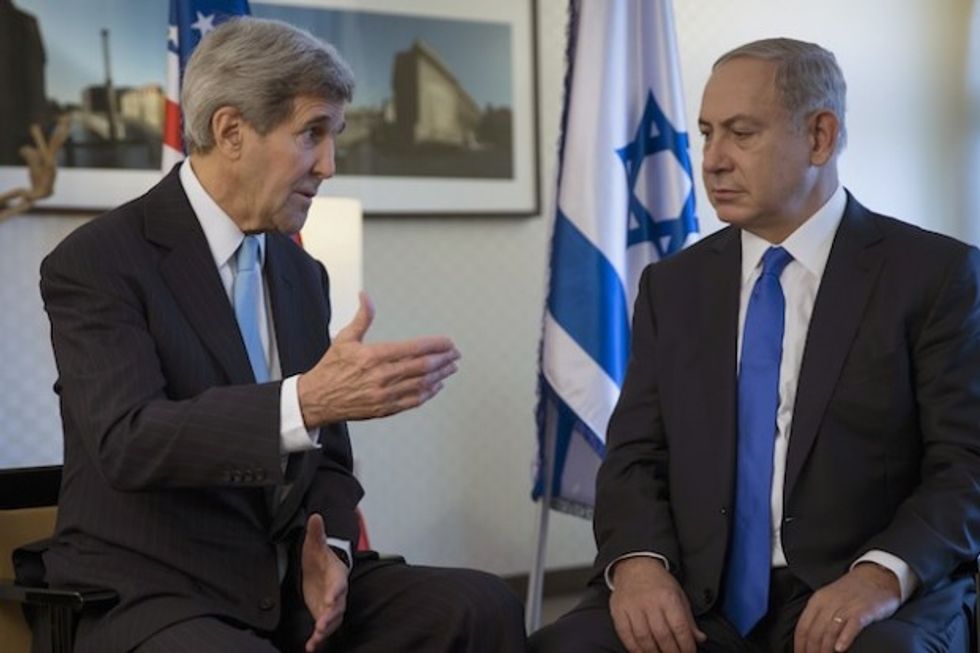 U.S. Secretary of State John Kerry speaks with Israeli Prime Minister Benjamin Netanyahu during a meeting in Berlin, Thursday, Oct. 22, 2015. (Carlo Allegri/Pool Photo via AP)
Referring to earlier conversations he had with Palestinian Authority President Mahmoud Abbas and Jordan's King Abdullah, Kerry said, "I believe people want this to de-escalate."
Netanyahu, on the other hand, was not circumspect about who is to blame.
"There is no question this wave of attacks is driven directly by incitement, incitement from Hamas, incitement from the Islamist movement in Israel and incitement, I am sorry to say, from President Abbas and the Palestinian Authority," Netanyahu said.
"To stop the terrorism, we have to stop the incitement," Netanyahu said. "I think it's time that the international community told President Abbas to stop the incitement and hold him accountable for his words and his deeds."
"I think it is time for the international community to say clearly to President Abbas: Stop spreading lies about Israel. Lies that Israel wants to change the status quo at the Temple Mount, lies that Israel wants to tear down the Al-Aqsa Mosque, and lies that Israel is executing Palestinians. All of that is false," Netanyahu added.
Netanyahu said Israel is committed to maintaining the "status quo" and that Israel protects all of the holy sites in Jerusalem.
The "status quo" refers to prayer arrangements at Jerusalem's Temple Mount — the holiest site in Judaism and the location of Solomon's Temple and the Second Temple — where Muslims are allowed to pray, but Jews and Christians may only visit but not pray. The Al-Aqsa mosque at the site is considered the third-holiest site in Islam after Mecca and Medina.
Kerry hinted during the meeting that he was working toward rekindling "a larger process," presumably Israeli-Palestinian peace talks, and said the sides need to take steps "beyond the condemnations and rhetoric."
Kerry expressed hope the adversaries could "rekindle that process."
Pro-Israel media and research organizations have documented abundant cases of postings in the official Palestinian Authority media glorifying assailants who have carried out stabbing, car-ramming and shooting attacks in Israel over the past month.
Israeli officials have pointed specifically at a statement by Abbas last month describing Palestinian violence as supported by Allah.
"Each drop of blood that was spilled in Jerusalem is pure blood as long as it's for the sake of Allah. Every shahid [martyr] will be in heaven and every wounded person will be rewarded, by Allah's will," Abbas said.
The Palestinian leader said on the same occasion that Israelis had "no right" to visit the Temple Mount and the Church of the Holy Sepulchre.
"They have no right to desecrate them with their filthy feet," he said.
Just hours before Netanyahu and Kerry met, two armed Palestinians stabbed and wounded an Israeli man in Beit Shemesh, outside Jerusalem.
An eyewitness told Israel's Channel 2 that the assailants had initially tried to board a a bus carrying school children, an account later confirmed by police.
Israeli police spokesman Micky Rosenfeld said the attackers were shot by police who responded to the assault.
Knife used by Arab terrorists in bet Shemesh stabbing attack. Police units responded at scene, both terrorist shot pic.twitter.com/MjFOZ8tI8Z

— Micky Rosenfeld (@MickyRosenfeld) October 22, 2015
Kerry will meet with Abbas over the weekend.