Irene Moore, the mother of slain NYPD officer Brian Moore, penned a heart-wrenching letter in which she called for an end to the violence against police officers and reminded others that "blue lives matter."
The New York Post published the piece Wednesday, just one day after the death of NYPD officer Randolph Holder. Holder, who was shot in the head Tuesday night, became the fourth NYPD officer killed in the line of duty in 11 months.
"Almost six months after the slaying of my son, Brian, I cry for the family of Randolph Holder. Another funeral. Another wake. Another family in pain that no one can ever take away," Moore wrote. "It must stop. Blue lives matter."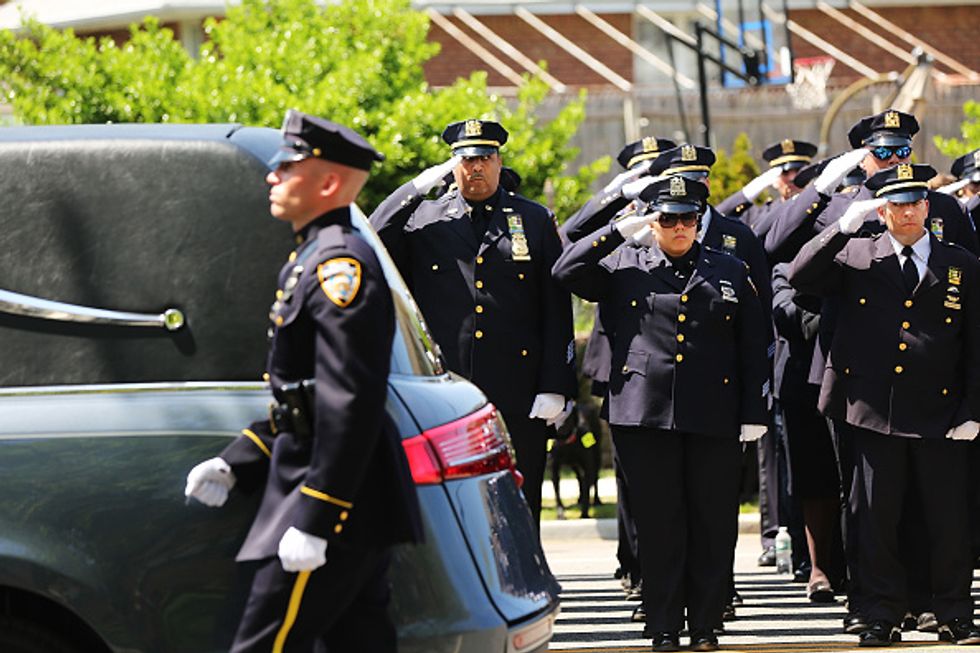 The hearse carrying the casket for fallen New York City police officer Brian Moore leaves a Long Island church on May 8, 2015. Moore died after being shot in the head while on duty in Queens. The 25-year-old officer and his partner stopped a man suspected of carrying a handgun when the man opened fire on them. (Spencer Platt/Getty Images)
Officer Brian Moore died in May. Two other officers, Det. Wenjian Liu and Det. Rafael Ramos, were killed in December.
"At my son's wake, I asked pointedly what has changed since the murders of Detective Wenjian Liu and Detective Rafael Ramos," Moore wrote. "I wasn't prepared to speak after my son's death, being in such a state of deep grief. But now that it's happened to someone else, I know that they can't speak out."
"I know what the family is going through, and it's time somebody speaks out against the fact that our elected officials have done nothing since Detective Liu and Detective Ramos lost their lives, and my son lost his life," Moore added.
The grieving mother called on elected officials to "step in front of the TV cameras" and explain what they're going to do about the slaying of cops who put their lives on the line every day to protect the public.
"It's on our elected officials. They owe us some change. They owe us some consideration," Moore wrote.
–
Follow Jon Street (@JonStreet) on Twitter