Hillary Clinton was welcomed back from a full day of questioning before Congress on the Benghazi attacks with a rousing ovation from her base supporters Friday.
"It's been quite a week, hasn't it?" Clinton said at the Democratic National Committee Women's Leadership Forum in Washington.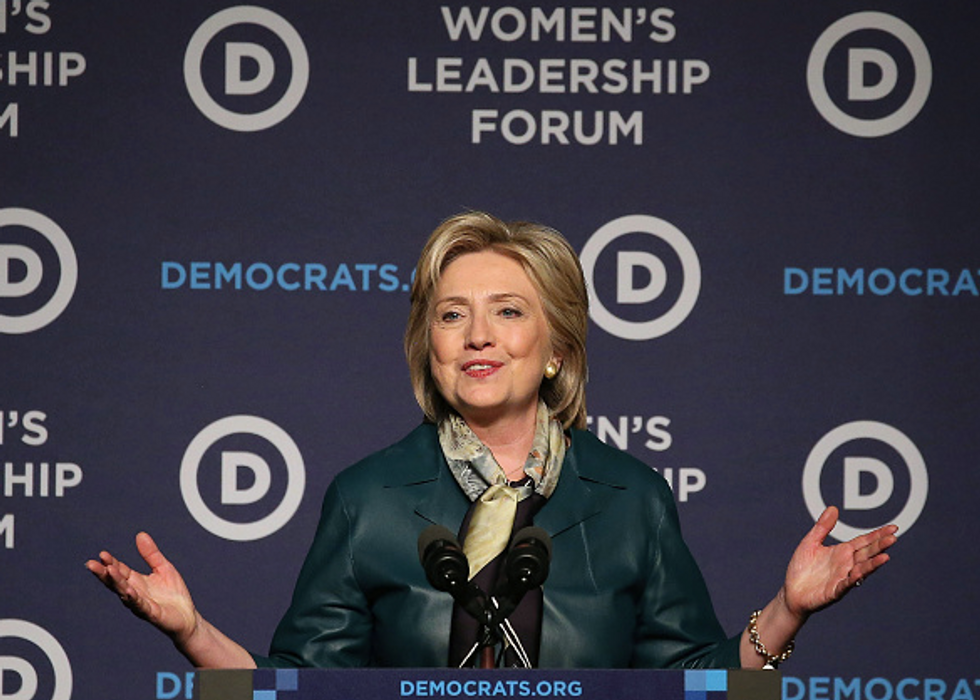 Democratic presidential candidate and former Secretary of State Hillary Clinton speaks at the Democratic National Committee's Women's Leadership Forum, Oct. 23, 2015 in Washington. (Photo by Mark Wilson/Getty Images)
"As some of you may know, I had a pretty long day yesterday," Clinton said, one day after she appeared before the House Select Committee on Benghazi. "But, I finally got to answer questions, something I've been pushing for literally a year and I am just grateful I've recovered my voice, which I lost a little bit."
"As I said at the start, I wanted to rise above partisanship and reached for statesmanship. That is what I tried to do," Clinton said.
Clinton ends the week not only putting the Benghazi testimony behind her, but also after Vice President Joe Biden announced he would not challenger her for the Democratic presidential nomination, and after two Democratic rivals, former Rhode Island Gov. Lincoln Chafee and former Virginia Sen. Jim Webb, exited the contest.
The delay in her testimony was based largely on the committee's difficulty in retrieving her email, revealed during the course of the investigation to have been housed on a private server.
Clinton talked about several women's issues, but also talked about gun control – giving it a gender spin.
"When we fight to stop the epidemic of gun violence that is fighting for men and women every day," Clinton said. "People say I'm shouting about gun violence. I'm not shouting. It's just when women talk, some men think we are shouting."
She further criticized congressional Republicans for seeking to defund and investigate Planned Parenthood, the nation's largest abortion provider. She said talk of a special committee to investigate the organization "code" for partisanship.
"We have to defend Planned Parenthood against the attacks that are being waged," Clinton said. "For people who say they hate big government, Republicans spend a lot of time trying to restrict women's reproductive rights."