Glenn Beck unloaded on Rep. Barry Loudermilk (R-Ga.) on his radio show Friday over the House Freedom Caucus' support of Rep. Paul Ryan (R-Wis.) for House speaker, saying his leadership will only result in "same business as usual" and could doom the GOP.
The interview was so tense that Beck's on-air colleagues later said it was the "meanest" he's "probably been to anybody" in 30 years.
[mlbvideo content_id= 525476883]
Loudermilk, a member of the House Freedom Caucus, voted to support Ryan's bid for the speakership and, according to Beck, was the only member who "had the guts" to defend his position on the radio program.
When pressed on whether Ryan is the right leader to fix the problems plaguing the House of Representatives, Loudermilk claimed Ryan is "frustrated" too with the current "top down approach" and would like to see it flipped upside down.
"What happened was John Boehner and the GOP have destroyed the process. Now is Paul Ryan telling you that, oh, hand over his heart, he's red, white, and blue, constitutional red-blooded American who is going to restore this process? And if so, why do you believe him?" Beck asked.
"Because, look, when we met in the room with him yesterday, we asked him some very pointed questions," Loudermilk responded. "And there's other people I would love to see -- but the reality is Jim Jordan is not running. Ronald Reagan is dead."
Co-host Pat Gray interrupted the Republican congressman to disagree with his assertion that Ryan is the only choice available. He also confronted him about the Freedom Caucus' short-lived endorsement of Rep. Daniel Webster (R-Fla.).
"Barry, there are people other than Ronald Reagan and Jim Jordan. I mean, I don't know that Jim Jordan is the answer to cancer either," Gray said. But we were told by so many members of the Freedom Caucus that Daniel Webster was the guy who was going to restore the process…then all of a sudden, you sell Daniel Webster down the river and it's Paul Ryan now?  How can that be?"
Loudermilk claimed he never supported Webster because he did some research on his voting record and "wasn't that impressed."
At that point, Beck bluntly told Loudermilk, "I don't believe any of you guys in Washington!" He then asked what occurred in their meeting with Paul Ryan that caused the Freedom Caucus have such a change of heart.
"I did my own homework…I turned over every single stone," Beck said. "What happened in the meeting that made you say, 'You know what? He's not the big GOP Mitt Romney guy that we all know. He's not the Karl Rove pick — he's something entirely different!'"
Here's how he responded:
"It's, are we going to empower the individual members of Congress?  He said, 'yes, I want to support you guys rewriting the rules to restore it back to the way it was.' …One thing I asked him, I said, 'Are we going to take a fight to the administration?' I said, 'I think we've wasted a lot of opportunity.  We should have been fighting -- we keep handing a black check to Barack Obama through continuing resolutions. Are you going to work with us to restore a budget process, to get a budget and appropriations process through so we restore the power of the purse and use it?' He said, 'Absolutely. That is going to be a top priority.' I said, 'Are we going to actually start fighting for the American people?' That's what I'm looking for.  He said, 'Absolutely.'"
"And if he doesn't…if he lies to you, how hard is it going to be to get him out?" Beck asked.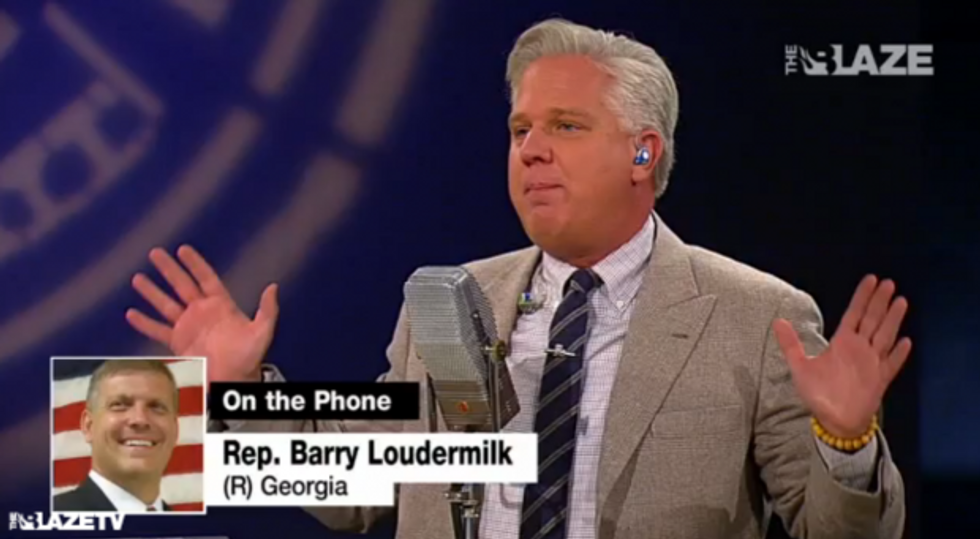 TheBlaze
Unsatisfied by Loudermilk's answer about the power of the Freedom Caucus, Beck snapped back, Yeah, we were going to replace him with another Boehner. OK. So what is it going to take?"
The Republican congressman said he hopes a "process" can be put in place that limits the power of the House speaker, a process where the majority can bring a "balance budget amendment" even if the speaker doesn't personally want it.
Beck was brutally honest with his guest toward the end of the interview, telling him he disagrees with him and believes he's "naive."
"The only reason why I'm so upset about this is because we're running out of time. There's only so much runway. And so if you've made a mistake on this, if you guys have made a mistake on this and you have given this back to the GOP, the GOP is over. You've lost the presidential election because you won't stand for anything and no one will go out and vote — no matter who is running," Beck added.
Loudermilk said he'll be the first person to "stand up and admit" he was wrong about Ryan, but Beck again said it would be too late.
"Well, if you're wrong, we will all stand in poverty or slavery at some point down the road. So thank you," Beck said sarcastically.
After the commercial break, Beck addressed his on-air colleagues' "meanest" claim.
"Here's the thing: I don't want to be mean. I am disgusted. I am disgusted by all of them," Beck said.  "So I have no time. You're wasting my airtime, quite honestly. But I wanted to give him a chance to have himself heard."
---