If you saw a middle school student being bullied by her peers, what would you do?
That's what Up TV, a channel that is dedicated to promoting uplifting television, wanted to find out during this month of Bullying Prevention Awareness.
With the help of creative director Rob Bliss (the same guy behind the drone delivering gifts video, the mysterious piano video and a viral homeless man makeover video), the team set-up an anti-bullying PSA that filmed the reaction of strangers when a girl was bullied at a bus stop.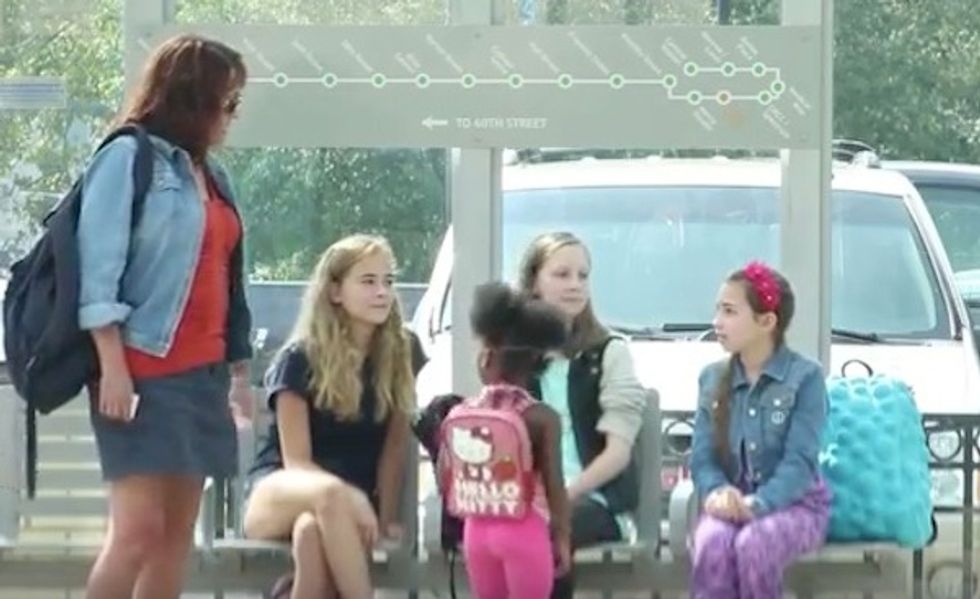 Image source: YouTube
Up TV's goal, as stated in the video, is to ask the question of "In an increasingly disconnected world, who will stop the bullying?"
Here's what they found out:
The girls in the video, Bliss told TheBlaze, were actors and they revealed to the strangers "after the scene was more or less over," that this was part of a social experiment.
"The girls went over to them and told them, thanked them for being a good Samaritan," Bliss said.
While some of the reactions from people in the video appear somewhat mild toward the girls, Bliss said some other moments got heated.
"Some people got a little bit more worked up than what you saw in the video," he said. "The girls were very good at not breaking character when people got upset."
Check out Up TV's website for anti-bullying tips. Stopbullying.gov, a website run by the U.S. Department of Health and Human Services, has information as well.