A Georgia farm plows its cornfield into a themed maze every year, but this year they decided to pay tribute to those in the military — specifically 'American Sniper' Chris Kyle.
Corn Dawgs farm owners Misty and Lamar Duren decided to pay tribute to Kyle with their seven-acre maze this year — a decision that has propelled them into the national spotlight and has caught the attention of Kyle's wife, Taya. The maze features Kyle's face with the words "God Bless America" and "Chris Kyle."
"We decided to honor Chris Kyle and all military men and women in the military because with everything that is going on in the world today we wanted to do something patriotic," Misty told Patch.com of their maze.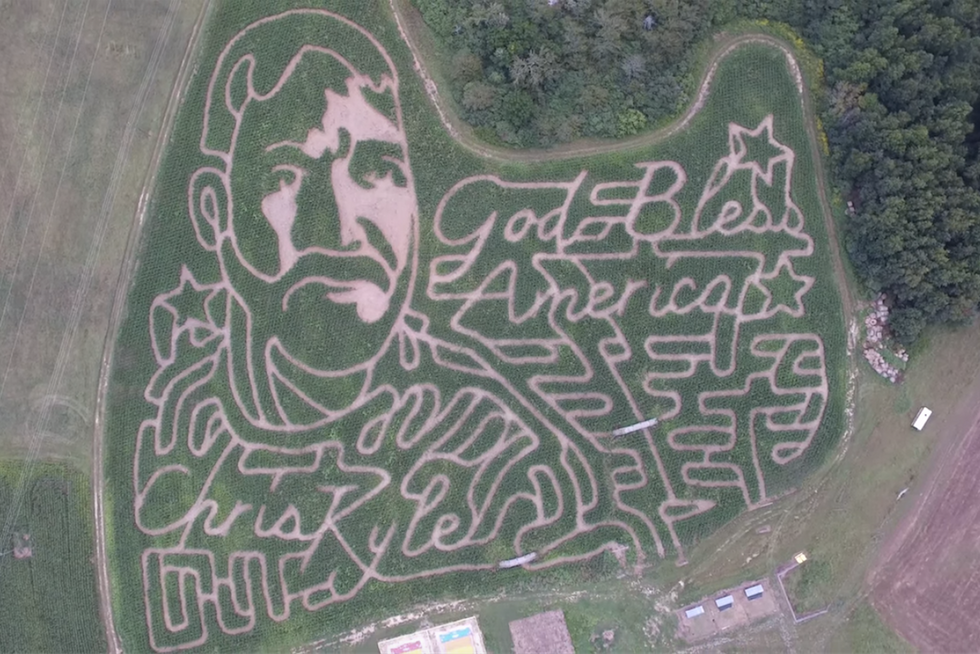 Image source: YouTube
According to Gwinnett Daily Post, Taya Kyle plans to visit the Duren's maze next week and will sign copies of her book, "The American Wife," at a special evening event.
"Chris was a true American hero," Misty said. "His wife Taya continues his service, acting as an advocate for women and those who have lost family members while serving our country."
Corn Dawgs in Loganville, Georgia also includes a petting zoo, bungee jump and games for families of all ages.
The Durens aren't the only farm owners who decided to pay tribute to Kyle and the military this year. As WGN-TV reported, the Siegel's Cottonwood Farm in Lockport, Illinois also decided to theme their annual corn maze in honor of Kyle. In the middle of the cornfield is the skull worn by Kyle's SEAL team with the word "hero" carved into the field. The display also includes six targets with one target, that has the word "ISIS" carved into it, hit by a bullet.
"I thought it was about time that we actually honored a hero, not a sports figure; no basketball players, no football players," Zach Siegel, the farm's manager, told WGN. "An actual hero who put his life on the line everyday."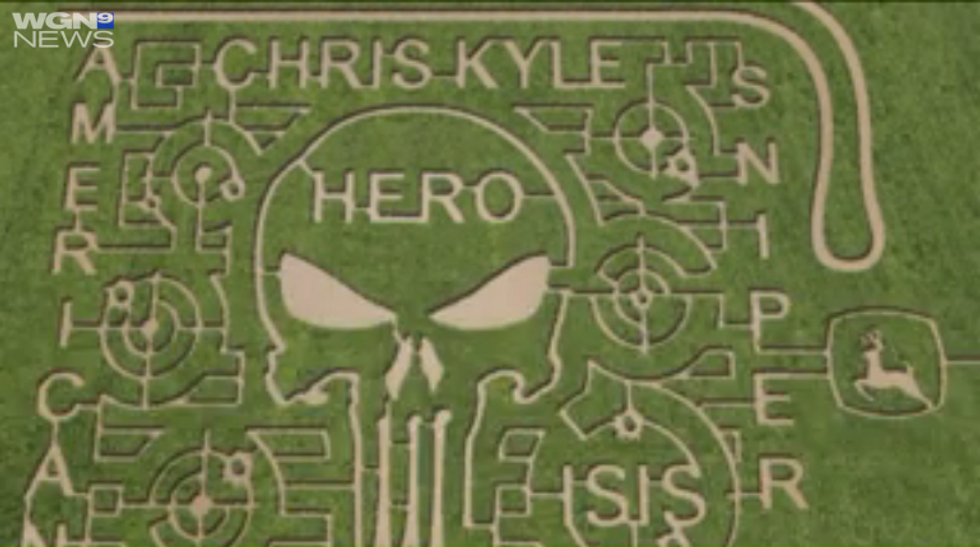 Image source: WGN-TV
According to WGN, the Siegels have received praise for their tribute, but they have received criticism as well.
"They don't like it because they think that he's a murderer," Kaity Seigel said. "We don't see him that way. We see him as a hero. Everybody has their own opinion. This is what ours is."
The Siegels told WGN that they hope the maze serves as a reminder for those to honor the military. They also said they are not afraid of any retaliation from the Islamic State or the group's supporters because of their message in the cornfield.