The World Series broadcast on Fox was disrupted during Game One Tuesday evening due to technical problems.
We apologize for technical difficulties with our #WorldSeries broadcast. We are working on fixing the issue ASAP

— FOX Sports (@FOX Sports)1445995307.0
Viewers were suddenly greeted with a message that explained the network was "experiencing technical difficulties" about half way through the game.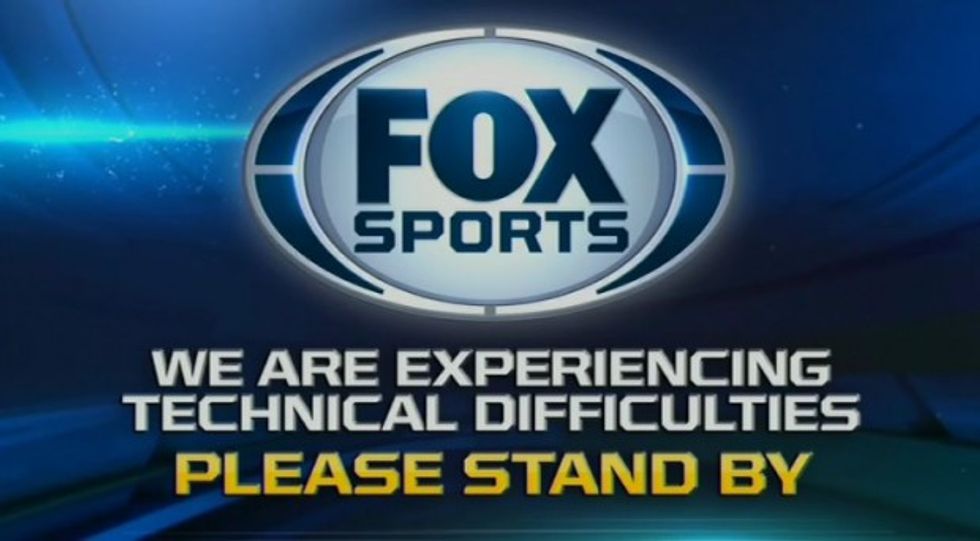 Image source: Screen grab
After briefly flashing the message on the screen, Fox cut away to three anchors in a studio who explained the technical glitch was the result of a loss of power to a broadcast truck.
"We have lost our picture," one of the broadcasters said.
Watch this awkward Live TV moment at the #WorldSeries -- "Uh Hi" 😂😂 too funny. https://t.co/K9G3h5RMwf

— Jeff Garcia (@Jeff Garcia)1445995547.0
Fox just went down live during the World Series they are so confused https://t.co/8uLkw8aQ74

— wyatt case (@wyatt case)1445995595.0
The game was delayed as officials worked to stream a useable feed to American viewers. Ultimately, Fox started streaming Major League Baseball's international feed while it attempted to fix its own.
According to a Fox reporter, both teams agreed to resume play without a replay ability during the fiasco.
Evidently both teams agreed to go without replay for now. Trying to find out more.

— Ken Rosenthal (@Ken Rosenthal)1445995629.0
Later in the game, with Fox still using the international feed, the problem occurred again. A black screen was flashed before the feed cut away to the three anchors. Fox fixed the problem quickly, again putting the international feed back on screen.
—
Follow the author of this story on Twitter and Facebook: