Donald Trump made a surprise promise to the a wounded veteran and his family at a campaign rally in Iowa on Tuesday followed by thunderous applause by the crowd.
Trump was taking questions from supporters in Sioux City, Iowa, when he called on a wounded veteran named Todd. The veteran explained his frustrations he's experienced with the Department of Veterans Affairs following his 21 years of active service in the Army.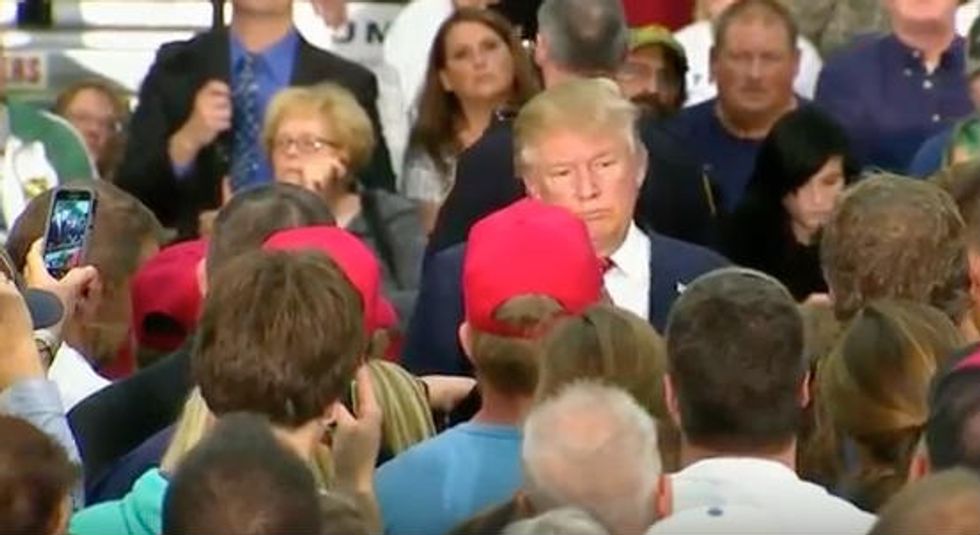 Image source: YouTube
"With the current administration, warrior care is lacking to say the least, and especially post-service," Todd said to Trump. "What will the Trump administration do better than the Obama administration?"
Todd's wife went on to explain how they've been unable to get an appointment so that Todd can receive the care that he needs. Trump responded by not only promising to fix the problems as president, but also by making a surprise promise that could have an even more immediate impact.
The billionaire businessman then instructed the family to write down their information and give it to him so he can help.
"You're going to write out your card, and I am going to put pressure on the VA like you won't believe," Trump said to major applause from the crowd. "As president, I can guarantee it. As Trump I can say, 'I'll probably be able to pull it off anyway.'"
[sharequote align="center"]As president, I can guarantee it. As Trump I can say I'll probably be able to pull it off anyway.[/sharequote]
The Republican presidential candidate also laid out what he would do as president to fix the VA.
"The waits are unbelievable," Trump said. Five, six, seven days sometimes."
Trump said that, as president, he would allow veterans to get care from their private doctors at the government's expense if they can't get an appointment with the VA. Trump said that would end up costing less money and patients would end up getting better care.
See the moment when Trump surprises the wounded veteran's family:
(H/T: Red State Watcher)
–
Follow Jon Street (@JonStreet) on Twitter