WASHINGTON (TheBlaze/AP) -- After a steady string of mass shootings and a revival of the political fight over gun control, Americans are slightly more likely than they were two years ago to say gun laws should be made stricter, a new Associated Press-GfK poll found.
Despite the uptick in favor of tighter gun laws, Americans remain deeply divided along party, gender and geographic lines on an issue that has ricocheted into the presidential campaign. Eight in 10 Democrats favor stricter gun laws, while 6 in 10 Republicans want them left as they are or loosened.
Still, the results show the calls for tighter laws have some bipartisan appeal, with 37 percent of Republicans, including 31 percent of conservative Republicans, favoring stricter gun laws.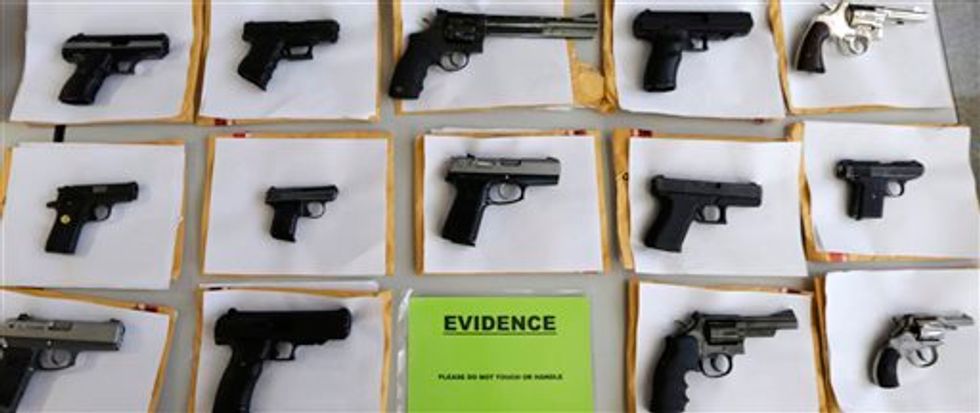 In this Monday, July 7, 2014, file photo, Chicago police display some of the thousands of illegal firearms they have confiscated so far this year in their battle against gun violence in Chicago. The recent mass shooting at an Oregon community college has put the debate over gun violence and gun control into the center of the presidential race. (AP Photo/M. Spencer Green))
The new poll was taken two weeks after the shooting rampage at Umpqua Community College in Roseburg, Oregon, thrust the discussion of gun control into the country's attention and the presidential campaign. Polls regularly find a rise in support for tighter gun laws after such shootings - although that support often levels off as the headlines fade.
In December 2013, one year after a mass shooting at an elementary school in Newtown, Conn., 52 percent of Americans said gun laws should be made tighter. That number was 58 percent in the new poll, while 27 percent said they think laws should be left as they are and 12 percent favored making gun laws less strict.
Over a third of Americans said gun laws should be made much stricter, up from 29 percent who said so in the 2013 poll.
And they were slightly less inclined to see laws limiting gun ownership as an infringement on the 2nd Amendment right to bear arms. Forty-five percent saw such laws as an infringement; 51 percent did not. In the 2013 poll, 50 percent said gun laws infringe on the right to bear arms and 47 percent said they did not.
Gun control has become one of the top issues in the Democratic presidential primary, as front-runner Hillary Rodham Clinton has promised to take executive action to expand background checks and accused Republicans of bowing to the powerful gun lobby. President Barack Obama has said he plans to use his bully pulpit to press lawmakers to pass tougher laws, although there's little sign of momentum in the Republican-run Congress.
On Tuesday, Obama, speaking in Chicago to the International Association of Chiefs of Police, said he did not want people to "believe this notion that somehow I'm out to take everyone's guns away."
"Nobody is doing that," the president added. "We're talking about commonsense measures to make sure that criminals don't get them, to make sure we are protecting ourselves."
The poll finds Democratic politicians are in line with their party's loyalists. Democrats are more likely than Republicans - 69 percent to 55 percent - to say gun laws are very or extremely important to them.
"The idea of being able to have a concealed weapon on a college campus is frightening to me, absolutely frightening to me," said Mary Robins, a retired career counselor in Menlo Park, California, who said she favored a ban on assault-type weapons and restricting access to large magazines.
Robins was among the 66 percent of women who said gun laws should be made stricter, compared with 50 percent of men. Women also were more likely to give the issue high priority.
"I think we need to enforce the ones we have and prosecutors and judges should be getting tougher," said Harry Masse, a 59-year-old police chief in Metropolis, Illinois.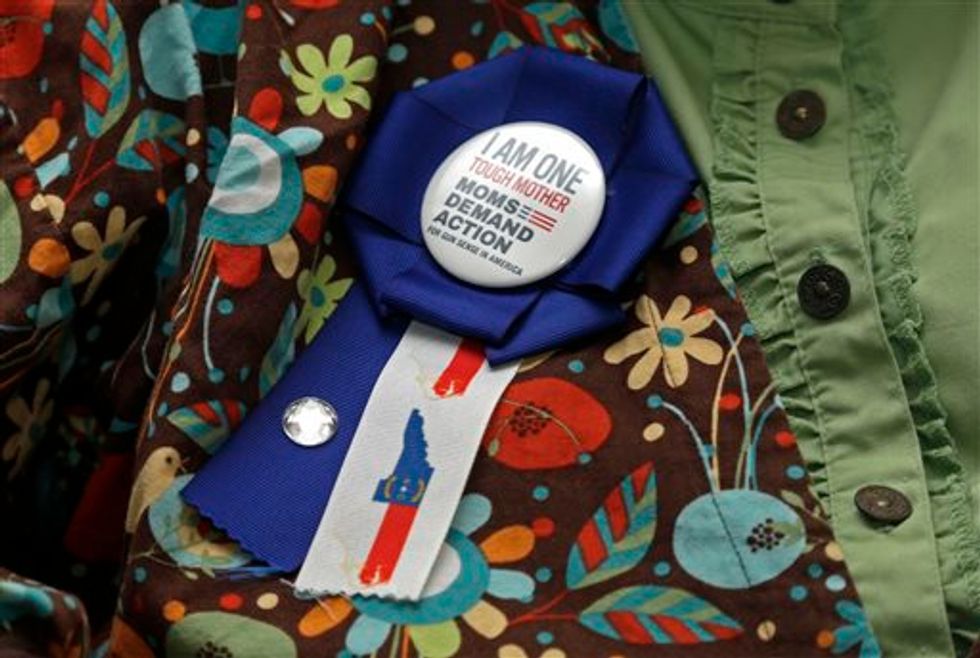 In this photo taken Tuesday, Oct. 20, 2015 in Cary, N.C., gun-control activist Kim Yaman wears a Moms Demand Action button. Yaman and her children survived a mass shooting at a university in 1991, and she became active in gun-control efforts after the Newtown shooting. (AP/Gerry Broome)
City and suburban dwellers are more likely to back tighter laws than rural Americans.
Americans are equally divided over which party they trust to do a better job handling the issue. Twenty-nine percent say they trust the Republicans more and 27 percent trust the Democrats more, while 13 percent say they trust both equally. An additional 30 percent say they trust neither party on handling the issue.
Obama received notably tough marks on the issue, even from some in his own party. The president made a push for a tighter gun laws in 2013, but failed to persuade Congress. He then issued several executive actions, but until recently has sidelined the issue. Six in 10 Americans disapprove of his handling of the issue, the new poll finds, including 35 percent of Democrats.
"I don't think he's done enough," said Ryan Dupont, a college professor in from Smithfield, Utah. He said he understands Obama must work with "less-than-ideal" people in Congress but "I think that issue needs to be moved more aggressively."
Unchanged since 2013 is the share of Americans living in a household where at least one person owns a gun - about one-third. About half of Republicans live in households with a gun, compared with less than a third of Democrats or independents.
The AP-GfK Poll of 1,027 adults was conducted online Oct. 15 to Oct. 19, using a sample drawn from GfK's probability-based KnowledgePanel, which is designed to be representative of the U.S. population. The margin of sampling error for all respondents is plus or minus 3.3 percentage points.
Respondents were first selected randomly using telephone or mail survey methods, and later interviewed online. People selected for KnowledgePanel who didn't otherwise have access to the Internet were provided access at no cost to them.