Bioethicist Dr. Dennis Sullivan laid out key observations about the latest undercover Planned Parenthood video, taking aim at what he called "callousness and indifference" and explaining why he's left with the "unavoidable conclusion" that some fetuses might be "born alive."
The key question surrounding the 11th video that was released this week by the Center for Medical Progress, a pro-life group, surrounds whether Dr. Amna Dermish, the subject who was secretly recorded, is actually admitting to performing illegal partial-birth abortions.
Dermish is seen in the video seemingly describing how she sometimes turns a baby breech — a position in which the fetus emerges feet-first rather than head-first — during abortion procedures.
"I can if I need to. I generally don't have to do that. I don't usually do it in the 16 to 18 weeks," she seemingly said after being asked if she can convert to that position during abortions. "With a further gestation I will sometimes do that if it's a cephalic presentation [head-first], just because it's easier to get."
See the latest clip featuring Dermish below (caution: disturbing themes and content):
Sullivan, director of the Center for Bioethics at Cedarville University Cedarville, Ohio, said that it is "tempting" to combine statements made by Dr. Deborah Nucatola, Planned Parenthood Federation of America's senior director of medical services, in the first undercover video with those made by Dermish in this new clip; Sullivan had previously wondered whether Nucatola, too, was discussing partial-birth abortions.
Here's what Nucatola reportedly said in an undercover clip that released during the summer:
"So then you're just kind of cognizant of where you put your graspers, you try to intentionally go above and below the thorax, so that, you know, we've been very good at getting heart, lung, liver, because we know that, so I'm not gonna crush that part, I'm going to basically crush below, I'm gonna crush above, and I'm gonna see if I can get it all intact. And with the calvarium, in general, some people will actually try to change the presentation so that it's not vertex, because when it's vertex presentation, you never have enough dilation at the beginning of the case, unless you have real, huge amount of dilation to deliver an intact calvarium. So if you do it starting from the breech presentation, there's dilation that happens as the case goes on, and often, the last, you can evacuate an intact calvarium at the end."
But Sullivan said that it's important to be cautious in addressing the most recent comments made by Dermish.
"It is tempting to combine statements by Dr. Nucatola with Dr. Dermish's comments," he told TheBlaze. "This is certainly what the [Center for Medial Progress'] editing strongly implies, but I will try to be more objective."
Sullivan went on to explain that the technical term for partial-birth abortion is "intact dilation and extraction," noting that the procedure involves turning the fetus from a headfirst to a foot-first position.
"This allows delivery of the still-alive fetus without much dilation of the woman's cervix," he said. "Typically, then, in a D&X abortion, scissors are inserted into the back of the skull and suction used to evacuate the brain, thus collapsing the skull (killing the fetus), and making it easy to deliver the head without further dilation."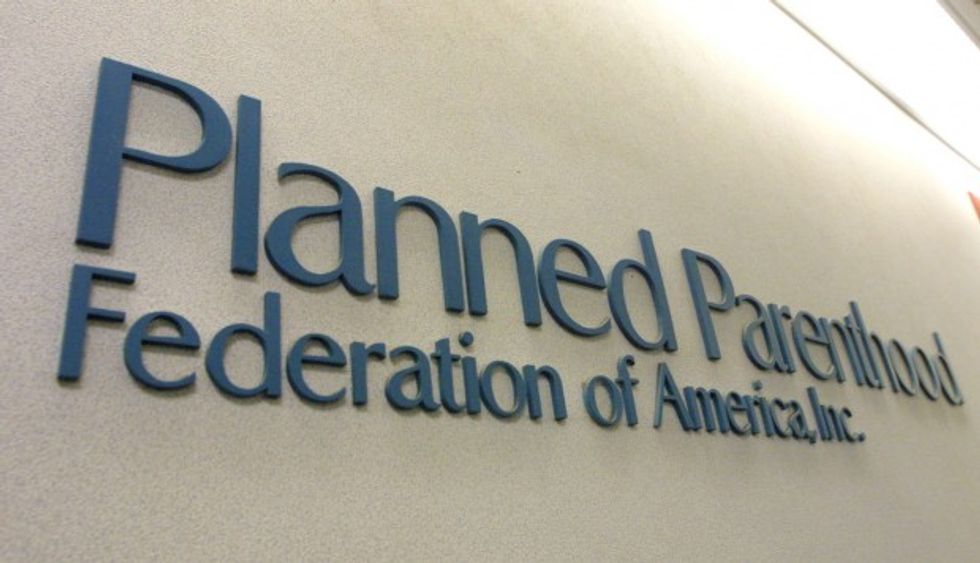 A sign hangs in the offices of the Planned Parenthood Federation of America December 7, 2001 in New York City. (Mario Tama/Getty Images) 
The problem with the 11th video from the Center for Medical Progress, according to Sullivan, is that the dialogue presented seems to show that doctors want to provide researchers with intact calvariums, or brains.
To do this, he said they would not be able to use the aforementioned method, as it would destroy the tissue that they are looking to procure.
"So how do they insure that the fetus dies before delivery? In the video, Dr. Dermish clearly states that she does not use digitalis to stop the heart unless the fetus is 20 weeks or older," Sullivan said. "So I'm left with the unavoidable conclusion that some of these fetuses are born alive, then killed after birth. If true, this is a clear violation of federal law."
He continued, "Nonetheless, Dr. Dermish does not explicitly admit this."
As far as the discussion about making a fetus breech to make it easier to complete an abortion, Sullivan said that, legally speaking, it could be appropriate if the baby is already deceased.
See the first undercover Planned Parenthood video that features Nucatola below (caution: disturbing themes and contents):
"Dr. Dermish comes very close to admitting that she wants to get an 'intact calvarium,' though she has not yet," he said. "It seems to me that her goal is to perform an illegal act. This does not sound ethical to me."
Sullivan said that both sides of the abortion debate have obviously taken very different sides on the tactics used by the Center for Medical Progress — specifically the heavy editing of the clips.
"Those who would de-fund [Planned Parenthood] will point to this as one more bit of evidence, though I do not believe that Dr. Dermish actually admits to breaking the law," he said. "The other side will (rightly) point out the clever editing of CMP. By juxtaposing the interview with Dr. Dermish with the earlier interview with Dr. Nucatola, they make the case that they perform partial-birth abortions appear stronger."
In the end, he said that the "heavy handed editing" hurts the impact of the videos, though flatly dismissing statements shown by the doctors, he believes, is also an inappropriate approach.
Follow the author of this story on Twitter and Facebook: