A leaked internal document from the Jeb Bush campaign that suggested 2016 rival Marco Rubio could have something concerning hidden in his past was cast into doubt Thursday night by a Romney advisor who was involved in vetting the Florida senator for Mitt Romney during the 2012 campaign.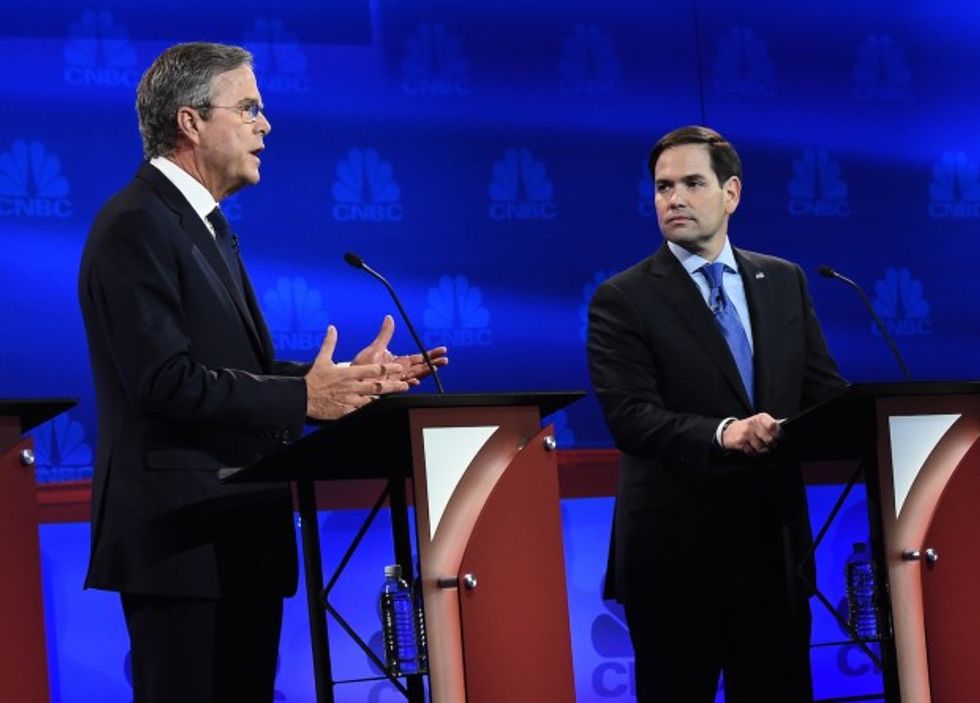 ROBYN BECK/AFP/Getty Images
Hours earlier, U.S. News & World Report obtained a 112-page internal document from the Bush campaign used to brief donors earlier this week. Three slides in particular targeted Rubio, with a bullet point on one raising some eyebrows.
"Those who have looked into the Marco's background in the past have been concerned with what they have found," the slide stated.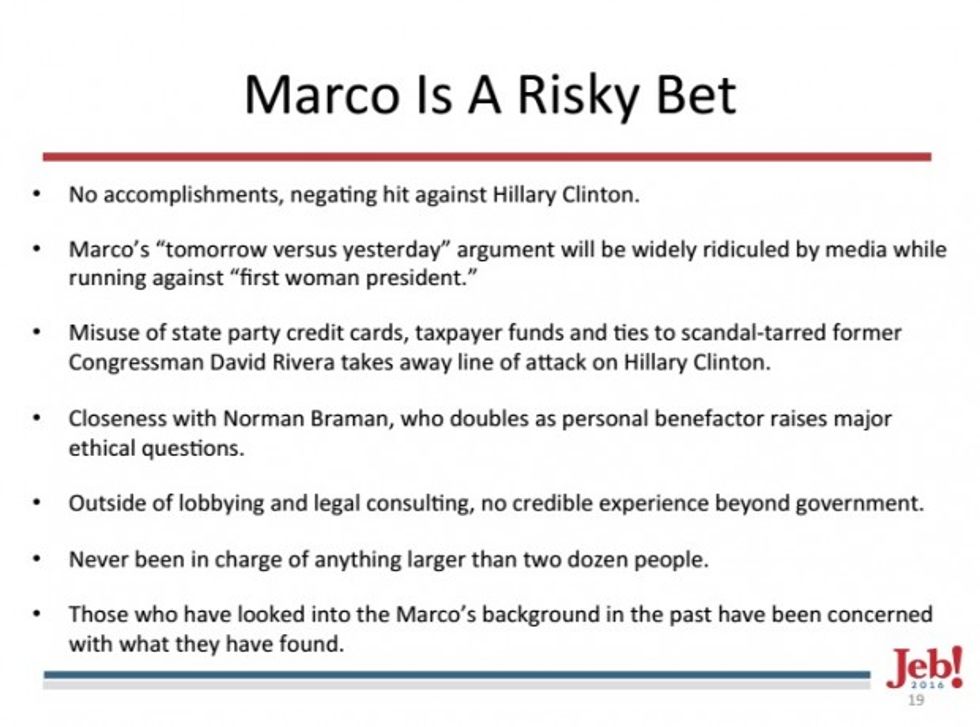 Image source: Screen grab
But Beth Myers, a Romney advisor who oversaw vetting of Rubio as a possible selection for Romney's running mate, told TheBlaze that the Florida senator "passed" without any serious trouble.
"Nothing we found would have disqualified him from serving as VP," Myers said, adding she had first-hand knowledge of all the vetting documents.
[sharequote align="right"]"Nothing we found would have disqualified him from serving as VP."[/sharequote]
The leak of the 112-page memo came one day after Bush attacked Rubio on the national stage during CNBC's presidential debate. Rubio, by most accounts, exited the exchange as the clear victor.
The New York Times reported that Bush's campaign manager, Danny Diaz, has said he still would like to increase attacks on Rubio. That feeling was echoed by Mike Murphy, an adviser to Bush, according to The Times.
Appearing on the Fox News Channel Thursday, Bush insisted he would not target Rubio in a personal way.
"This is not personal. I am not attacking his character," he said. "This is not a personal attack at all."
The leak of the document, however, raised questions on whether the former Florida governor would stray from that path.
Neither a spokesperson for the Bush or Rubio campaign responded to a request for comment Thursday night.
—
Follow the author of this story on Twitter and Facebook: