Shortly after Wednesday night's CNBC Republican presidential debate, criticism of the network began to pile up and the debate moderators were starting to feel the heat on their chartered flight back to New York.
Reports from competing media outlets, the GOP candidates and the Republican National Committee were declaring CNBC the evening's biggest loser.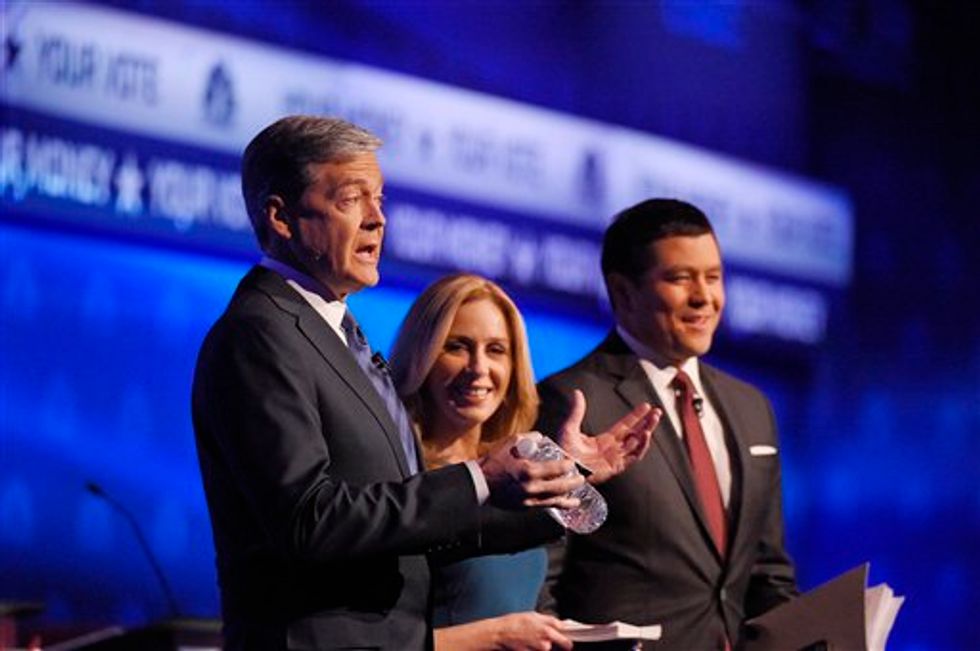 Debate moderators John Harwood, left, Becky Quick, center, and Carl Quintanilla take the stage during the CNBC Republican presidential debate at the University of Colorado, Oct. 28, in Boulder, Colo. (AP Photo/Mark J. Terrill)
"We were shell-shocked," a source close to the network told CNN.
According to NBCUniversal — CNBC's parent company — the disparaged debate was the most-watched event in the network's history, garnering 14 million viewers with advertisements ringing in at $250,000 apiece. But that didn't stop the internal criticism.
"Everyone feels pretty embarrassed," one CNBC staffer said of the debate.
Several network employees, who spoke on condition of anonymity, told CNN they wished for a "do-over," some assigning the blame to CNBC President Mark Hoffman.
Others did praise debate moderators Carl Quintanilla, Becky Quick and John Harwood, saying they were proud of their colleagues' pointed questions to the candidates. However, several employees wondered if it would be the audience boos and pundits' comments that CNBC "lost control" of the event that viewers would remember most.
According to one CNBC employee, an internal memo was circulated through the network offices instructing producers to move on.
Since Wednesday's debate, there have been calls to reformat future primary debates and even predictions that CNBC will be nixed from the list of possible debate hosts moving forward.
Around the same time the RNC released its statement saying CNBC should be "ashamed," the network released its own one-sentence statement.
"People who want to be president of the United States should be able to answer tough questions," CNBC spokesman Brian Steel said in an email.
By Thursday evening, stories about the GOP debate had been overtaken on the CNBC website's front page by Wall Street news.
(H/T: CNN Money)
—
Follow Tré Goins-Phillips (@tregp) on Twitter