Republican presidential campaign leaders are scheduled to meet Sunday in Washington, D.C., to discuss how they can overthrow the Republican National Committee's control of the primary debate process.
The gathering comes less than two days after Wednesday's highly criticized GOP presidential debate on CBNC.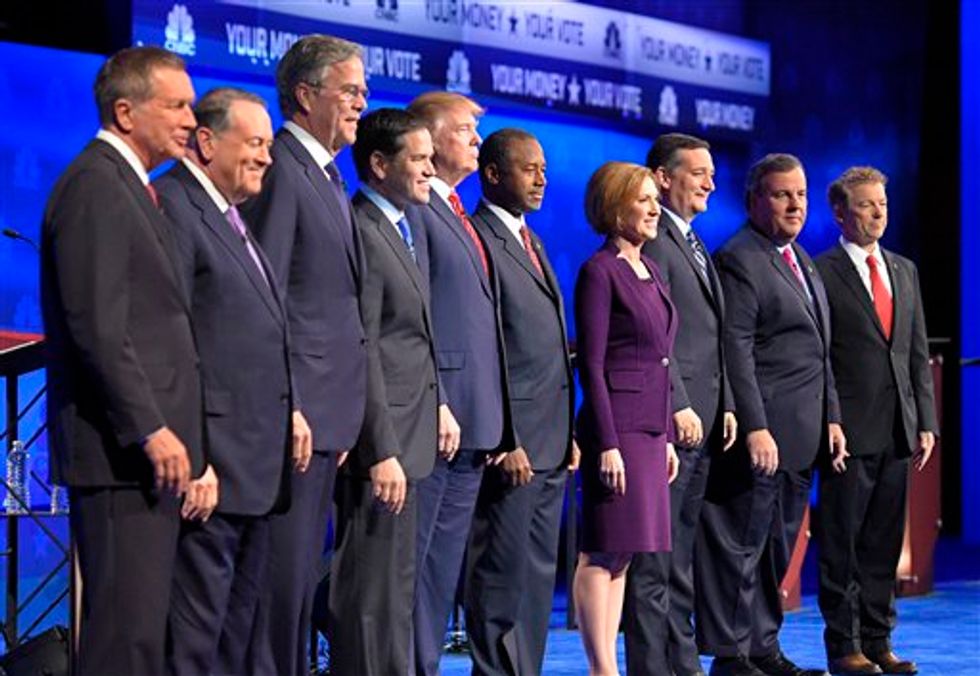 Republican presidential candidates, from left, Ohio Gov. John Kasich, former Arkansas Gov. Mike Huckabee, former Florida Gov. Jeb Bush, Florida Sen. Marco Rubio, businessman Donald Trump, Dr. Ben Carson, former HP CEO Carly Fiorina, Texas Sen. Ted Cruz, New Jersey Gov. Chris Christie and Kentucky Sen. Rand Paul take the stage during the CNBC Republican presidential debate at the University of Colorado Oct. 28 in Boulder, Colo. (AP Photo/Mark J. Terrill)
Advisers from the campaigns of Donald Trump, Bobby Jindal, Ben Carson and Lindsey Graham have scheduled the Sunday meeting. The organizers have said they are expecting representatives for Rand Paul, Mike Huckabee, Carly Fiorina, Rick Santorum and Marco Rubio to also be in attendance.
Graham campaign manager Christian Ferry told Politico that the campaigns have "a number of concerns" and a "right to talk about it" together.
The candidates' representatives are bringing a laundry list of complaints to the meeting, including frustrations over speaking time, qualifications for the primetime debates and the way in which the moderators have questioned the presidential hopefuls.
Jindal spokeswoman Gail Gitcho has suggested the debate qualification criteria are "delusional," and Graham's campaign has said there should be two debates, each having seven or eight randomly-selected candidates.
Of the debate format so far, Carson said, "It's not about me and gotcha questions. It's about the American people and whether they have the right to hear what we think."
Carson campaign manager Barry Bennett said the current structure under the RNC is "not helping the party."
Fox Business Network, host of the next Republican debate, which is set for Nov. 10, said Thursday afternoon that they had not heard from any of the candidates but are not concerned, pointing to the positive reviews of the first debate hosted by Fox News.
(H/T: Politico)