Glenn Beck revealed on his radio show Monday why he believes former President George W. Bush dislikes GOP presidential hopeful Texas Sen. Ted Cruz.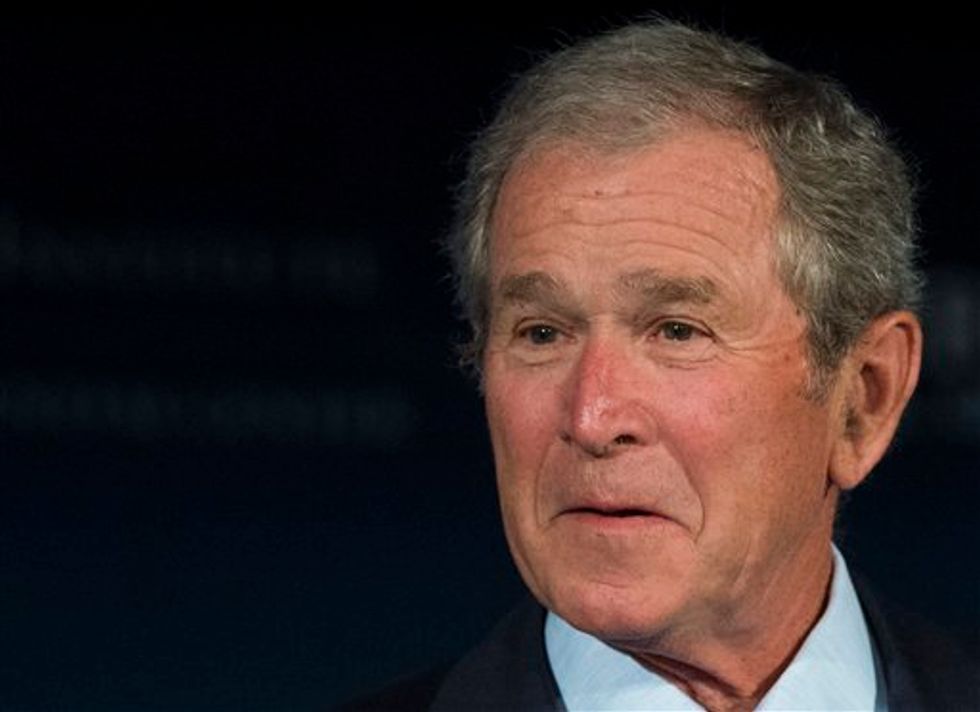 AP photo/Molly Riley
"I just don't like the guy," Bush reportedly said of Cruz last month at a small gathering of donors for his brother former Florida Gov. Jeb Bush's presidential bid.
Beck noted that the former president has never "attacked" President Barack Obama, saying, "[He's] the same sitting Democratic progressive Marxist president who has made a career out of attacking and blaming him for everything — nearly daily — for eight years now."
According to Beck's theory, the former president's disdain for Cruz is linked to a 1993 rape and murder case, where Cruz sided against Bush on an international stage.
José Medellín and five other young men brutally raped and murdered Jennifer Ertman and Elizabeth Peña, two teenagers from Houston, Texas, in June 1993, when the two girls stumbled upon the men's gang initiation on their way home.
Within three hours of his arrest, Medellín admitted to the crimes with which he had been charged and the Texas Department of Criminal Justice issued him a death sentence. However, Medellín appealed his execution, saying he informed the police he was a Mexican national, but was never given the chance to confer with the Mexican consulate.
Medellín issued an appeal regarding the issue in 1998, but it failed.
Several years later, the International Court of Justice issued a ruling, siding with Mexico, stating the hearings be held because Medellín had been denied his consular rights. However, the ICJ demand for a hearing also failed.
Following the case closely, then-President Bush involved himself in the case, siding with Mexico and the International Court in 2005, requesting the hearings be held.
"Frankly, it was at this moment that was my final straw with George W. Bush," Beck said. "It was at this moment that I said, 'There's something wrong here. This guy is not who we think he is.'"
After Texas had already denied Medellín's request and the International Court's appeal, the case went all the way to the U.S. Supreme Court to battle the president's request.
"So Governor Rick Perry and Texas, again, said 'no' to Bush and the International Court," Beck said. "It became Medellín v. Texas."
Cruz, the 37-year-old solicitor general of Texas at the time, argued the case for the state, "against the brutal killer, Mexico, and the International Court, and George W. Bush."
In the end, the Supreme Court ruled only Congress had the power to order hearings to be held, and in July 2008, Medellín was executed.
"Along with Rick Perry, it was Ted Cruz who saw that it was justice that was served against the full-frontal efforts and attacks of George W. Bush," Beck concluded.
Complimentary Clip From TheBlaze TV
The full episode of The Glenn Beck Program, along with many other live-streaming shows and thousands of hours of on-demand content, is available on just about any digital device. Click here to watch every Glenn Beck episode from the past 30 days and receive a Roku Streaming Stick FREE with your subscription!