The premiere group that researches the buying and spending habits of American Christians has revealed the top seven brands that are most in-tune with Bible-believers, using an innovative, new system to rank how compatible each company is with faithful consumers' wants and needs.
Faith Driven Consumer has officially launched the Faith Equality Index — a new index that ranks more than 300 major brands to see which are the most likely to cultivate Bible-minded buyers.
The top seven companies that ranked highest in the first wave of the index are as follows: Chick-fil-A, Hobby Lobby, Interstate Batteries, Tyson Foods, Cracker Barrel, Walmart, and Thrivent Financial, though none of these companies came close to a perfect index score of 100.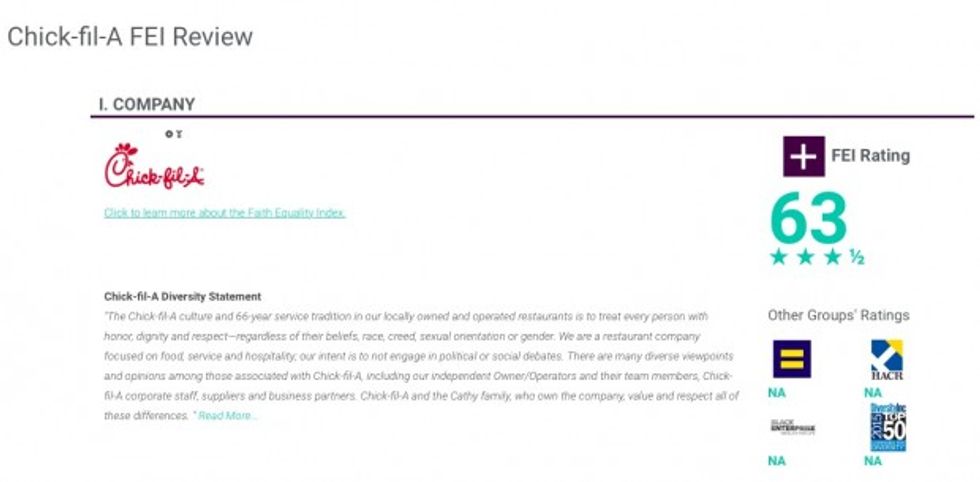 A screen shot from Chick-fil-A's review page
Brand strategist Chris Stone, founder of Faith Driven Consumer, is hoping that the Faith Equality Index helps connect businesses with Christians who are highly motivated by their faith in how they buy and spend, as he contends that there are 41 million Christian consumers who spend $2 trillion annually — a substantial force that companies can tap into.
"Faith Driven Consumers want America's brands to include them at parity with their other prioritized communities," Stone told TheBlaze. "The Faith Equality Index provides a transparent baseline for both brands and consumers to measure the relative degree which brands choose to engage Faith Driven Consumers and allow [them] to steward their spending by preferring companies that welcome, embrace and celebrate them."
Faith Driven Consumer has repeatedly noted that it believes that tens of millions of Americans are deeply motivated by their biblical worldview and will, in turn, make consumer decisions based upon that paradigm.
That in mind, the concept behind the Faith Equality Index isn't all that different from other indexes created by special interest groups, including the Human Rights Campaign, which runs the Corporate Equality Index — a "national benchmarking tool on corporate policies and practices pertinent to lesbian, gay, bisexual and transgender employees."
Clearly, Stone and his Faith Equality Index have starkly different end goals from that of Human Rights Campaign and its Corporate Equality Index, but that hasn't stopped Stone from calling the Human Rights Campaign a "gold standard" in the ranking arena.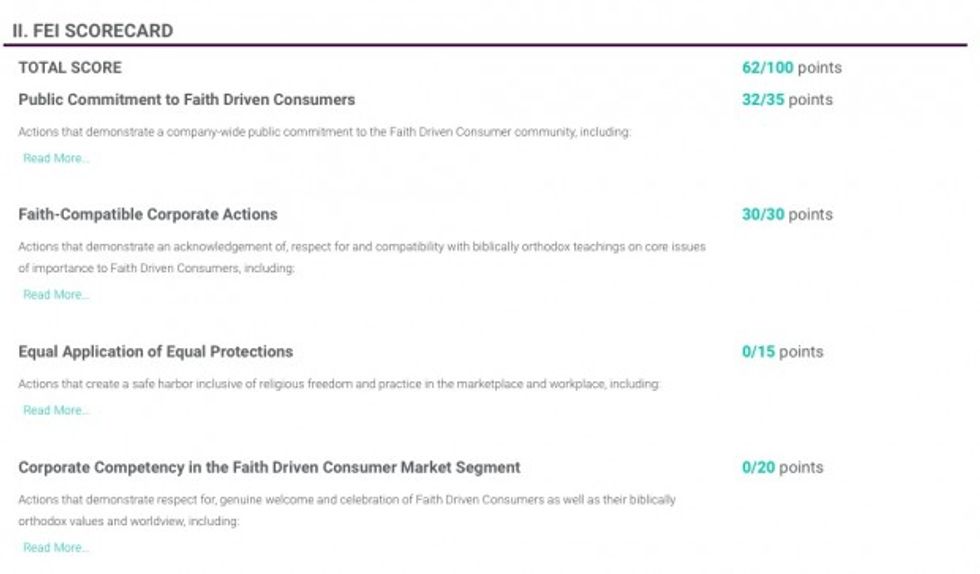 Screen shot from the detailed scorecard for Hobby Lobby
"They have been fabulously successful in getting companies to prioritize both their Corporate Equality Index and their community. We simply ask corporate America to extend their equality proof of performance to Faith Driven Consumers," Stone said. "Brands that have neither prioritized our community nor the Faith Equality Index habitually prioritize other communities."
The Faith Equality Index rates companies on a scale from zero to 100, though a quick look at the top seven companies in the first wave of the index might cause some pause. Chick-fil-A, which tops the list, comes in at just 63, with Hobby Lobby at 62, Interstate Batteries at 61, Tyson Foods at 60, Cracker Barrel at 53, Walmart at 51 and Thrivent Financial at 50.
None of these companies come close to a perfect score of 100 on the Faith Equality Index, with Stone explaining that this is due to an overall lack of effort — even among the top brands in the index — to court the faith community.
"Some companies have a culture that is naturally compatible with Faith Driven Consumers; however, few if any of the companies in the survey are overtly engaging Faith Driven Consumers with any level of parity to their other communities," Stone told TheBlaze. "They have not prioritized Faith Driven Consumers. The scores from the other rating validate that clearly."
In order to get closer to 100, brands like Chick-fil-A and Hobby Lobby, among others, will need to "look at their engagement gaps and proactively fill them," according to Stone.
"Their Faith Equality Index score effectively measures the quality of and the priority they place on their engagement with Faith Driven Consumers," he said.
Find out more about the Faith Equality Index here.
Follow the author of this story on Twitter and Facebook: