Latausha Nedd, the woman who was arrested after she waved a gun and a machete on camera while declaring an "open season" on white people and law enforcement officials, is now defending her actions as a response to those threatening her.
Nedd, appearing on Fox News' "The Kelly File" with her lawyer, contended that someone stole the videos of her speaking during an online chat and edited them before releasing them to the public. However, the activist and her lawyer said her rhetoric that was captured in those videos was in response to those who threatened her and called her racial slurs despite the generalization of her wording.
Host Megyn Kelly confronted Nedd about the context of the video and asked her straightforwardly, "How do you feel about white people?"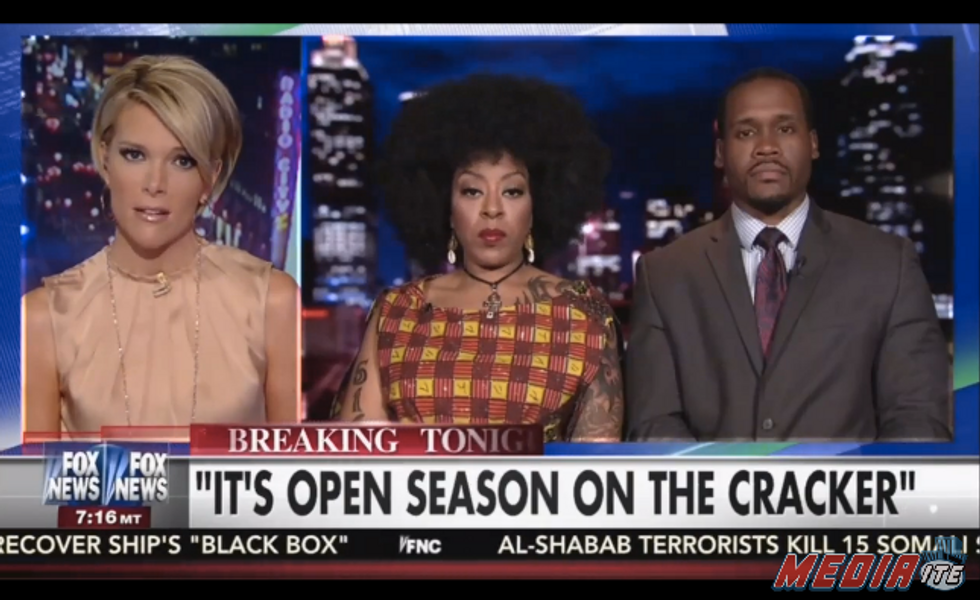 Image source: Fox News
"I don't hate white people, if that's what you're asking me," Nedd said. "I don't hate white people. I hate injustice, and I hate corruption, and I feel that the systematic killing of black people has to be addressed."
Nedd admitted that she has used terms such as "cracker" in the past — not just in the video.
"The etymology of the word cracker comes from slavery when field slaves would notify each other when the overseer was coming," Nedd said. "The sound of the crack of the whip, that's where it comes from. Now, if I'm being called a n****r, and no one seems to have a problem with that, when I use the word cracker, now I become a terrorist?"
Kelly continued to confront Nedd on her show, pointing out that when Nedd says "it's open season on the cracker," it appears to be a derogatory threat toward white people in general.
Nedd's attorney argued that she was just responding to threats from hackers in her online chat as is her "free speech right" and said that Georgia's laws allow people to defend themselves from others. He also said that if someone had hacked into Kelly's show that she would respond in the same manner.
"A lot of people who are watching this say if that happened, if somebody hacked into my Google chat and started saying nasty things about me, I would not respond by using the terms 'cracker' and 'it's open season' and all the stuff we went through, pointing the gun at the camera, finger on the trigger," Kelly said, continuing on with more things Nedd said in the video.
Nedd's lawyer said the court does have a copy of the unedited videos which depict the hackers specifically targeting and threatening her.
(H/T: Mediaite)