Kentucky voters on Tuesday elected just the second Republican in four decades to hold the governor's office, in a race that hinged largely on President Barack Obama's signature legislation, the Affordable Care Act.
The result was a potentially troubling sign for Democrats ahead of next year's presidential election and represented a big win for the GOP as it continues to consolidate political power across the South. Democrats also were thumped in Virginia, where they made a costly push to win a majority in one chamber of the state Legislature.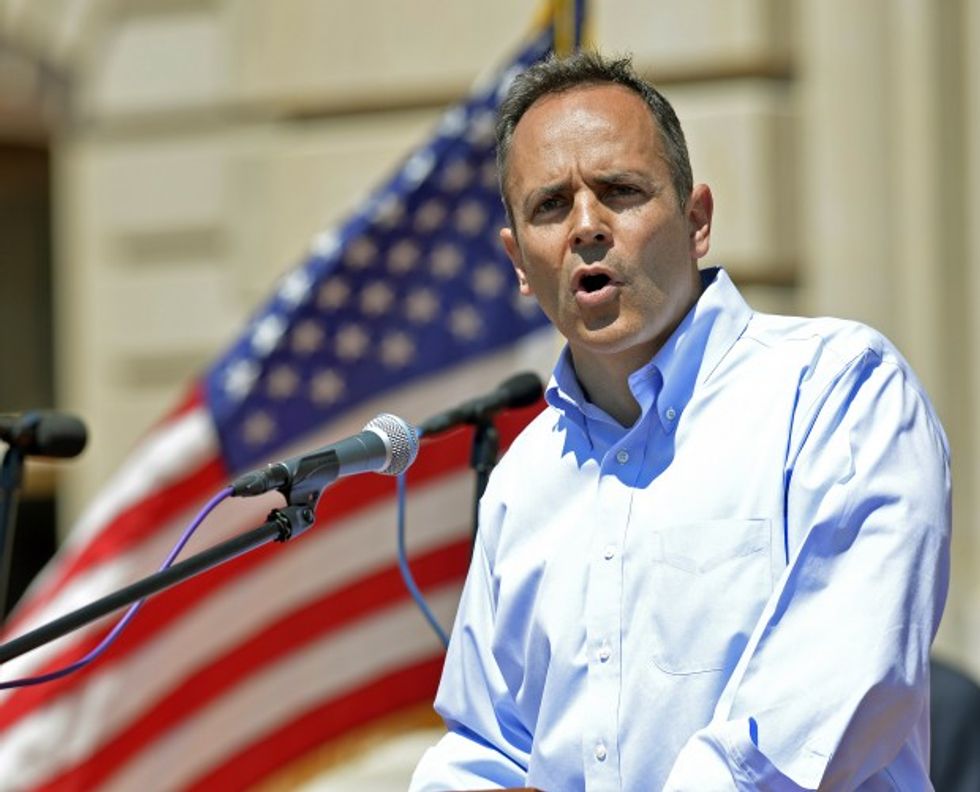 AP Photo/Timothy D. Easley
The governor's race in Kentucky was the highest profile contest in Tuesday's off-year elections. The only other gubernatorial campaign was in Mississippi, where Republican Gov. Phil Bryant easily won re-election.
Elsewhere, Houston voters defeated a closely watched ordinance that would have established nondiscrimination protections for gay and transgender people in the city, and Ohio voters rejected an initiative that sought to legalize the recreational and medicinal use of marijuana.
Congratulations to Kentucky's Governor, @MattBevin ! #kygov

— Senator Rand Paul (@Senator Rand Paul) 1446599836.0
Congratulations to Kentucky Governor-elect @MattBevin!

— Ted Cruz (@Ted Cruz) 1446599872.0
In Kentucky, Republican businessman Matt Bevin had waged a campaign to scale back the state's Medicaid expansion that was made possible under the federal health care overhaul. Some 400,000 lower-income people who gained health coverage under the expansion could be affected.
Bevin ran as an outsider, emphasizing his Christian faith along with his support for Kim Davis, the Rowan County clerk jailed for refusing to issue marriage licenses to same-sex couples.
My view from @ConwayforKY camp. Expecting concession speech soon as @AP calls race for @MattBevin. #kygov https://t.co/C12uLa8PmD

— Sean Moody (@Sean Moody) 1446600104.0
His Democratic opponent, two-term Attorney General Jack Conway, embraced Obama's health care reforms, saying hundreds of thousands of residents could lose access to taxpayer-funded insurance if Bevin won.
Around the country, several high-profile ballot initiatives tested voter preferences on school funding, marijuana, gay and lesbian rights and the sharing economy. Despite the relatively low number of races, the results could be an important bellwether of sentiment ahead of next year's presidential elections.
In Virginia, a swing state, Democrats failed in an expensive bid to take control of the state Senate and empower Democratic Gov. Terry McAuliffe in negotiations with Republicans who control the state House. With the losses in Virginia and Kentucky, it was a rough Election Day for Democrats.
"I don't think you can point to one singular issue as to why these defeats happened tonight, but it's an opportunity for Democrats to recalibrate and continue to develop a plan and a strategy to win in 2016," said Tharon Johnson, who led Obama's 2012 re-election effort in the South and helps oversee finances for the Democratic National Committee.
The governor's race in Mississippi was overshadowed by a fight over a constitutional amendment that would allow people to sue the state to increase funding for public schools. Critics say it would take budget decisions away from Mississippi lawmakers and give the courts too much power. The Legislature has put forward its own ballot measure that would prohibit "judicial enforcement" of school funding.
The outcome, which appeared close late Tuesday, could prompt similar efforts in other states where education remains a key challenge for lawmakers as they look to balance their budgets with tax revenues that have yet to rebound to pre-recession levels.
In Houston, the nation's fourth-largest city, efforts to secure non-discrimination protections for gay and transgender people failed by a 2-to-1 margin. Now that same-sex marriage is legal, such laws have become a priority for gay, lesbian, bisexual and transgender groups. Opponents, including a coalition of conservative pastors, said the measure would have infringed on their religious beliefs.
Texas Gov. Greg Abbott praised the voters who defeated the measure, saying they "showed values still matter."
In the race for Houston's next mayor, veteran state Rep. Sylvester Turner and Bill King, a former mayor of a Houston suburb, will meet in a Dec. 12 runoff. It was one of more than 300 mayoral races happening across the country. In Philadelphia, former longtime Councilman Jim Kenney was elected mayor on a promise to fight poverty and push for universal pre-kindergarten education.
The Salt Lake City mayoral race featured a tight race between two-term incumbent Ralph Becker, one of President Barack Obama's appointees on a climate change task force, and former state lawmaker Jackie Biskupski. A crush of last-minute, mail-in ballots could delay results. If Biskupski wins, she will be the city's first openly gay mayor.
State judicial elections in recent years have become a focal point for political parties and interest groups seeking to influence the courts. Tuesday's election to fill three open seats on the Pennsylvania Supreme Court was the latest judicial contest to attract heavy attention and spending.
Campaign contributors poured at least $11.5 million into the race, which saw Democrats win all the seats.
San Francisco voters were deciding a citizen-backed initiative to restrict the operations of Airbnb, the room-rental site, and a $310 million bond package for affordable housing.
In Washington state, a proposal backed by Microsoft co-founder Paul Allen would add state penalties for anyone who imports certain animal products for commercial purposes, such as elephant ivory or rhino horns.
And Colorado voters decided to let the state keep $66 million in tax revenue generated from the sale of recreational marijuana. An existing state law requires excess tax revenue to be returned to taxpayers, but on Tuesday voters agreed to make an exception with the marijuana revenue and direct it instead toward public education and drug-prevention programs.
—