The Republican gubernatorial victory in Kentucky breathed new life into the Tea Party — but the No. 2 spot on the ticket has dominated much of the news.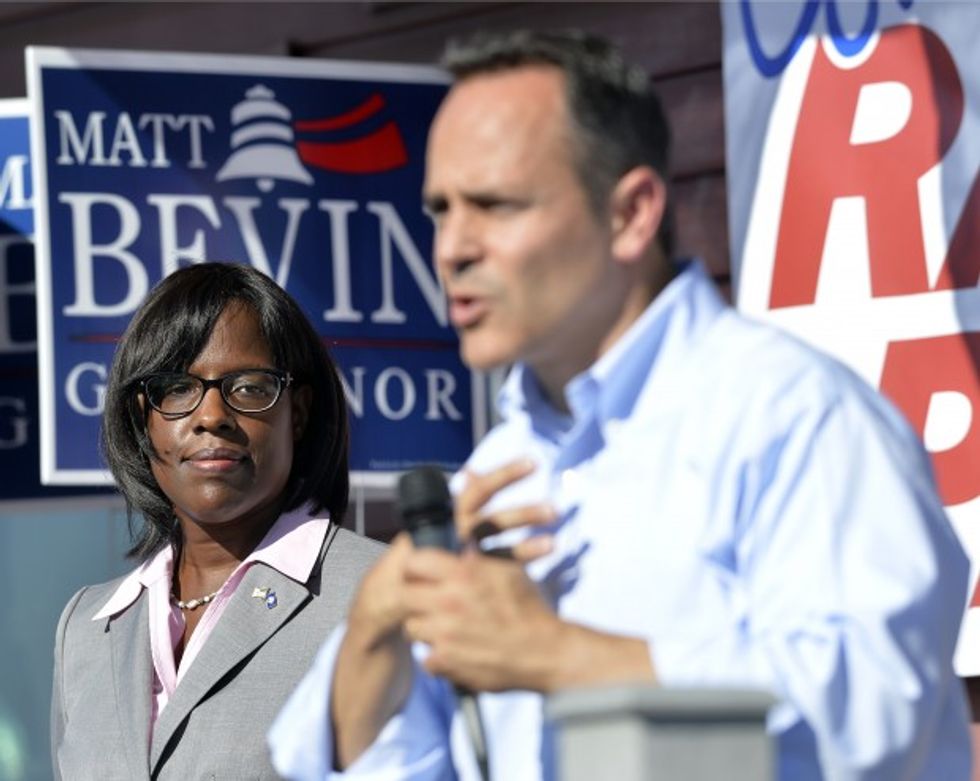 Kentucky Republican candidate for lieutenant goveror Jenean Hampton, left, looks on as her running mate, gubernatorial candidate Matt Bevin, addresses their supporters from the steps of the Bevin campaign headquarters in Somerset, Kentucky. (AP Photo/Timothy D. Easley)
It's rare that the election of any lieutenant governor — a constitutionally weak office in most states — gets any attention. But in the case of Jenean Hampton, elected to the No. 2 spot in Kentucky on a ticket with Gov.-elect Matt Bevin, it made history.
Hampton is the first African-American to be elected to statewide office in the Bluegrass State. Being a female makes it even tougher for Democrats to paint the party as standing only for white males.
The Bevin campaign did not immediately respond to a request from TheBlaze to interview Hampton.
Republicans reacted nationally, as the Republican State Leadership Committee Chairman Matt Walker, who oversees the Republican Lieutenant Governors Association, praised the win.
"The RLGA is particularly proud to have supported Jenean Hampton, a candidate whose passion and dedication to public service surfaced long before she ran for elected office," Walker said in a statement. "An Air Force veteran, businesswoman, and active civic leader, her character and experience speak for themselves. Kentucky made the right choice today."
Here are five things Americans should know from her life in politics, business, the military and the Tea Party.
Lt. Gov.-elect Jenean Hampton is a Tea Party Republican…and the 1st black Kentuckian ever to win statewide office. https://t.co/6H592jwExf

— Jeff Jacoby (@Jeff Jacoby) 1446609045.0
1. Personal Background
Hampton grew up in the west side of Detroit in a single-parent family after her parents divorced when she was 7 years old. She was one of four children. Doing without new clothes, a TV and a car, she said learned about living on a tight budget.
Born in 1958, she was a child when NASA was still new and was inspired by space mission launches.
She worked in the auto industry for five years to pay for college, earning an industrial engineering degree from Wayne State University in 1985.
LIBERAL HEADS EXPLODE: Kentucky's New Lieutenant Governor Jenean Hampton: https://t.co/WfaIgXu3bv via @PunditFaP #PJNet #TCOT #TLOT #CCOT

— Q Trump Patriot 🇺🇸 (@Q Trump Patriot 🇺🇸) 1446648208.0
2. Military Service
After finishing college, she joined the Air Force as a computer systems officer writing computer code. She served for seven years and was deployed to Operation Desert Storm in Saudi Arabia, where she wrote radar software used for search and rescues missions and for tracking Iraqi planes.
She retired from the Air Force at the rank of captain and has been married to Dr. Doyle Isaak, also a retired Air Force officer, for 14 years.
Huge congrats to Jenean Hampton (Rep.), KY's Lt. Gov. elect, who just became 1st African-American ever elected statewide in KY. #GameChanger

— Erika Harold (@Erika Harold) 1446610241.0
3. Why She's a Conservative
Hampton told the Louisville Courier-Journal that her own family was puzzled about her conservative political leanings, but she said she reached her perspective early in life. She said her father "went to his grave" angry with her.
"That I'm conservative, Republican, didn't support Obama — he just could not wrap his arms around that," she told Bailey.
"A huge part of what formed my opinions was the peer pressure that I got to fail," she told the newspaper. "These were kids who questioned my good grades, questioned the way I spoke, questioned my choice in music and the fact that I was reading all the time. I just remember wondering, 'Well, jeez, when do I get to just be Jenean with my own likes and dislikes?'"
Meet Jenean Hampton, the first black statewide officeholder in Kentucky. And she's a Republican. https://t.co/00CYzaepZN

— Chris Cillizza (@Chris Cillizza) 1446643109.0
4. Before Politics
After the Air Force, she earned an MBA at the University of Rochester and moved to Bowling Green, Kentucky, working for 19 years in the corrugated packaging industry, beginning as a crew supervisor and later becoming the plant manager.
But it was after she lost her job in 2012 that she became directly involved in politics.
Congratulations to JENEAN HAMPTON, our friend and fellow Tea Party activist, the new Lt. Governor-Elect of Kentucky. https://t.co/TvM73uKTjA

— Nashville Tea Party (@Nashville Tea Party) 1446641812.0
5. Long Shots in a Brief Political Life
Hampton was named this year to the Republican State Leadership Council's "15 in '15: Races to Watch," focusing on women and diverse GOP candidates across the country.
But her political career seemed less than a sure thing as she entered long-shot political campaigns.
Like her running mate Bevin — neither of whom ever held public office before — she also lost a campaign in 2014. Bevin lost a Republican primary to Senate Republican Leader Mitch McConnell.
Her first campaign was in 2014, as one of the few Republicans to challenge state Democratic Rep. Jody Richards, who held the seat for about four decades and had served as speaker of the House. She ran with the endorsement of Sen. Rand Paul, also a Bowling Green resident, but she lost the race. But it's the only long shot race she lost.
The Bevin-Hampton ticket was also a long shot to win the 2015 Republican primary in May, squeaking by with 83 votes, defeating a field that included a statewide elected agriculture commissioner and former state Supreme Court justice.
During the campaign, she acknowledged the unique aspect of her candidacy.
"I'm aware of the historical significance. People point it out … Really, I just never think about it," she said. "We're different races, different sexes, he grew up in the country, I grew up in the city. We represent a broad range of the Kentucky demographic."
Give Her A Standing Ovation...#JeneanHampton https://t.co/lKSMAC2Ltf

— Kenneth A. Moultry (@Kenneth A. Moultry) 1446617413.0