Does defiant Kentucky Clerk Kim Davis stand to benefit from Tea Party favorite Matt Bevin's gubernatorial victory on Tuesday?
Both Davis — who has attracted national attention for her refusal to grant gay marriage licenses in her name — and her attorneys with the  Liberty Counsel absolutely think so, releasing a statement on Tuesday night, congratulating Bevin and thanking him for his past support.
"I congratulate Matt Bevin on his win. I am ecstatic. He is such a genuine and caring person," Kim Davis said. "I will be forever thankful that he came to visit me while I was in jail. At a clerks' meeting he hugged me and said he was praying for me."
Davis said that she's looking forward to Bevin's leadership as the state's new governor.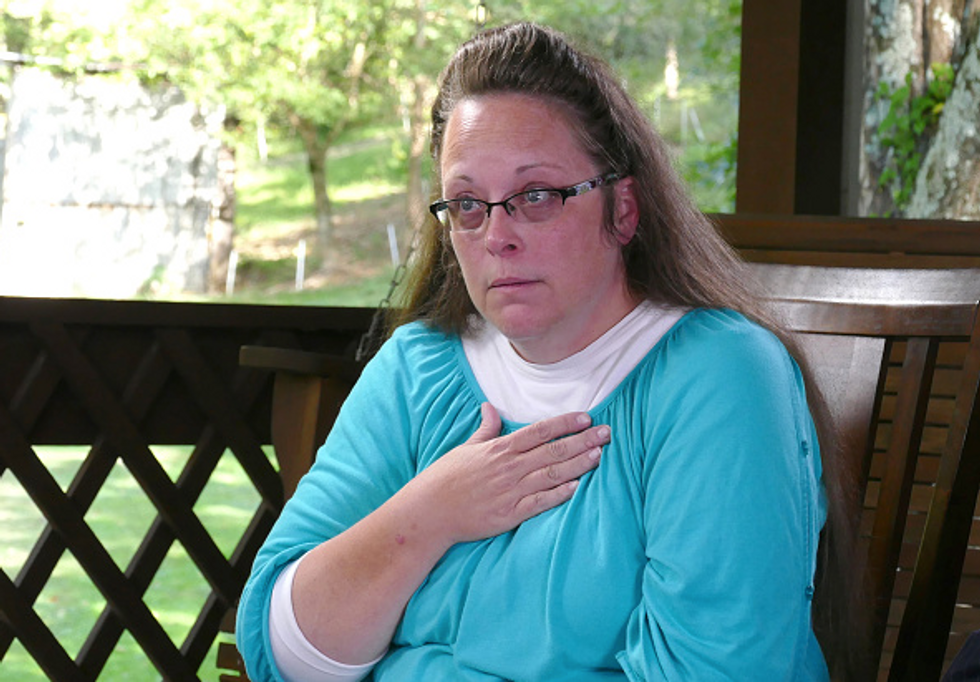 Paula Faris speaks to Kim Davis, the Kentucky court clerk who went to jail because she refused to issue gay marriage licenses. (Photo by Ida Mae Astute/ABC via Getty Images)
Bevin has been a strong supporter of Davis, releasing a statement following her September arrest for refusing to issue same-sex marriage licenses in which he called her detainment "utterly unnecessary."
"Kim Davis, is sitting in a jail cell, when there is a simple solution that would respect the rights of every Kentuckian," he said. "I first put this solution forward many weeks ago."
And he wasn't done there. Bevin accused Democratic Attorney General Jack Conway, his opponent in the gubernatorial race, of "cowardly silence" on the issue and said that Conway had violated his oath of office by not defending the state's stance on same-sex nuptials.
"The double standard applied in this case is reprehensible. Jack Conway refused to defend our state constitution and now he is refusing to stand up for the religious liberties of our county clerks," Bevin continued. "This is unconscionable and, as governor, I will stand up for all Kentuckians, not just the ones who agree with me."
Liberty Counsel cofounder and attorney Mat Staver also released a statement alongside Davis', proclaiming that he believes that there is "no question that the issue of religious freedom and same-sex marriage played a role in the results."
Kentucky Governor Elect Matt Bevin (R-Ky) (AP Photo/Timothy D. Easley)
Staver also seemed optimistic that Bevin will take action to help Davis and others like her who are seeking exemptions.
"We look forward to working with Governor Elect Matt Bevin to accommodate the religious convictions of Kim Davis and other Kentucky clerks," he continued. "Finally, we will have common sense and the Constitution prevail in Kentucky."
As TheBlaze previously reported, support for exemptions for public employees has dwindled in recent months, according to at least one poll.
Just three months after 49 percent of Americans favored exempting religious public employees from being forced to issue gay marriage licenses, that proportion has notably dropped in a recent Associated Press-GfK poll, coming in at just 41 percent.
The 47 percent who wanted to require public officials to grant licenses regardless of religious objections back in July is now up to 56 percent in the latest wave of polling.
Follow the author of this story on Twitter and Facebook: