MRC TV's Dan Joseph was recently kicked out of a "public" pro-illegal immigration rally at the University of Colorado-Boulder -- the site of the recent CNBC GOP debate -- when he started asking questions about Kate Steinle and "Kate's Law."
After speaking with several attendees, Joseph was approached by so-called "security" for the rally and told to leave.
"I don't like you asking people here the questions that you're asking," the man said.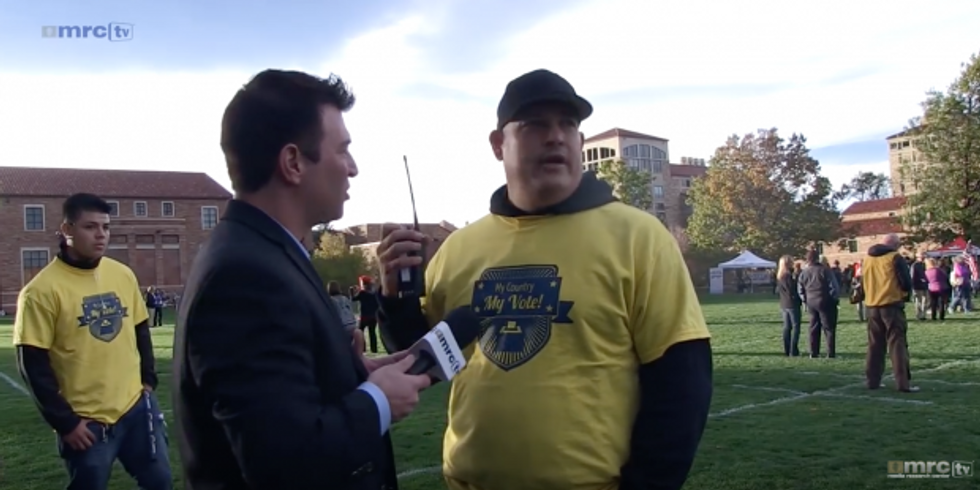 YouTube
"Why are alternative view points and asking people these really tough questions about a really tough [issue] — why don't you like that?" Joseph pressed.
"You won't ask these questions to anybody else here," the man responded. "You are not welcome here…it's a special event."
Joseph defiantly told him he is allowed to ask any questions he wants, but "fortunately," they already had plenty of material. Then, seemingly just to make a point about freedom of the press, Joseph conducted another interview just feet away from the man who just told him he "won't" ask any more questions.
Watch the entertaining exchange below:
Steinle was murdered by an illegal immigrant felon who was released from prison. The killer was able to remain free due to San Francisco's so-called "sanctuary city" status as city officials refuse to cooperate with federal authorities who wanted him detained and deported.
Republican lawmakers later introduced Kate's Law to impose mandatory minimum sentences for illegal immigrant felons. The Senate version of the bill, which was blocked by Democrats, also included provisions punishing sanctuary cities.
---