The San Francisco sheriff who championed the city's controversial sanctuary policy was trounced by a challenger in his re-election bid Tuesday night.
Sheriff Ross Mirkarimi, who was elected in 2011, was thrown out of office by Vicki Hennessy, a retired sheriff's official who carried the endorsement of Mayor Ed Lee and the local sheriff's association.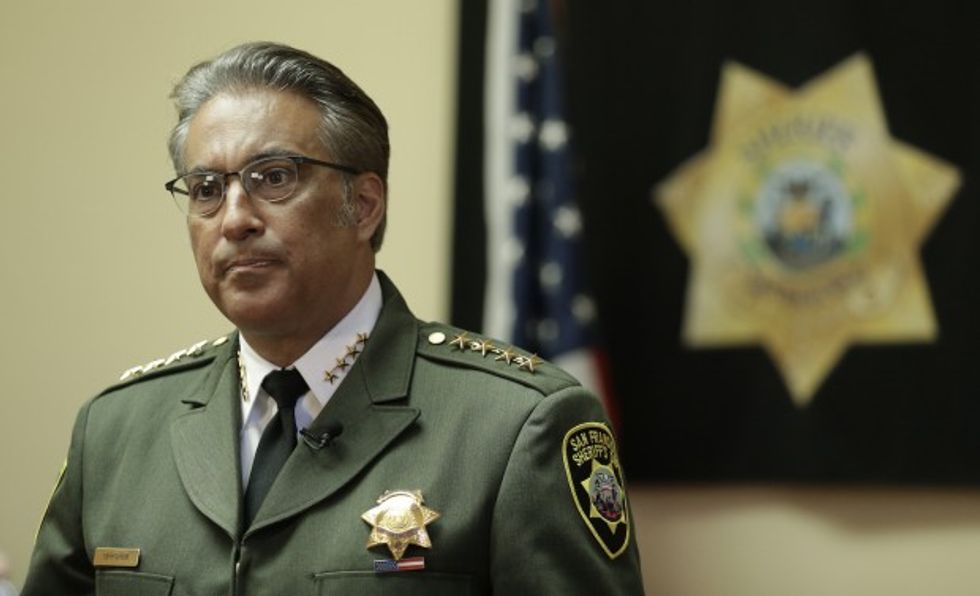 FILE - In this Monday, July 6, 2015, file photo, San Francisco Sheriff Ross Mirkarimi fields questions during an interview in San Francisco. Mirkarimi was already fighting for his political life. (AP Photo/Ben Margot, File)
With all the votes tallied, Mirkarimi was easily defeated by Hennessy. Of the 121,978 votes cast, 61.09 percent of voters supported her, compared to the 32.9 percent for Mirkarimi.

Image source: Screen grab via SF Elections
Mirkarimi had faced an uphill battle for re-election, dogged by personal issues and his controversial stance on immigration.
The 54-year-old was heavily criticized earlier this year for releasing an illegal immigrant from jail, despite a request from federal law enforcement asking him to hold the individual. That illegal immigrant later went on to allegedly kill 32-year-old Kate Steinle, triggering a national debate on the city's sanctuary status. Mirkarimi, nonetheless, repeatedly defended his decision.
[sharequote align="right"]"I would have never written that policy."[/sharequote]
Hennessy criticized Mirkarimi's hard-nosed behavior and refusal to cooperate with federal authorities on immigration during the election. She told the San Francisco Chronicle that she would "get rid" of a "gag order" forbidding contact between the department and federal immigration officials.
"I would have never written that policy," she told the newspaper.
Hennessy also told the Chronicle that, while she thought the city's sanctuary status had an honorable purpose of establishing trust with the immigrant community, the 32-year-old who allegedly killed Steinle should have been deported.
"He was not part of the community," she said. "He was a serial offender who had committed multiple felonies."
Mirkarimi also faced other controversies that likely contributed to his downfall. After the shooting, he had his drivers license suspended over an incident related to driving a department-issued vehicle. Mirkarimi was unable to carry a firearm after flunking a marksmanship test. In 2012, he also faced accusations of domestic violence against his wife — charges that were later dropped.
Mirkarimi's campaign did not immediately respond to a request for comment from TheBlaze.
—
Follow the author of this story on Twitter and Facebook: