Members of nearly every major Christian cohort have become more accepting of homosexuality over the past seven years, according to the Pew Research Center's 2014 Religious Landscape Study.
There were big changes among Catholics, with 58 percent saying in 2007 that "homosexuality should be accepted by society" and 70 percent saying the same in the latest wave of the study.
Likewise, mainline Protestants moved from 56 percent in 2007 to 66 percent in 2014, with historically black Protestants also increasing support from 39 percent in 2007 to 51 percent in 2014.
Overall, Christians as a collective moved from 44 percent agreeing that "homosexuality should be accepted by society" in 2007 to 54 percent saying the same in the latest wave of the survey.
Evangelicals, Mormons and Jehovah's Witnesses all fell under 50 percent in 2014, though each group did experience upticks in agreement over the seven-year period.
See the table showcasing the results below: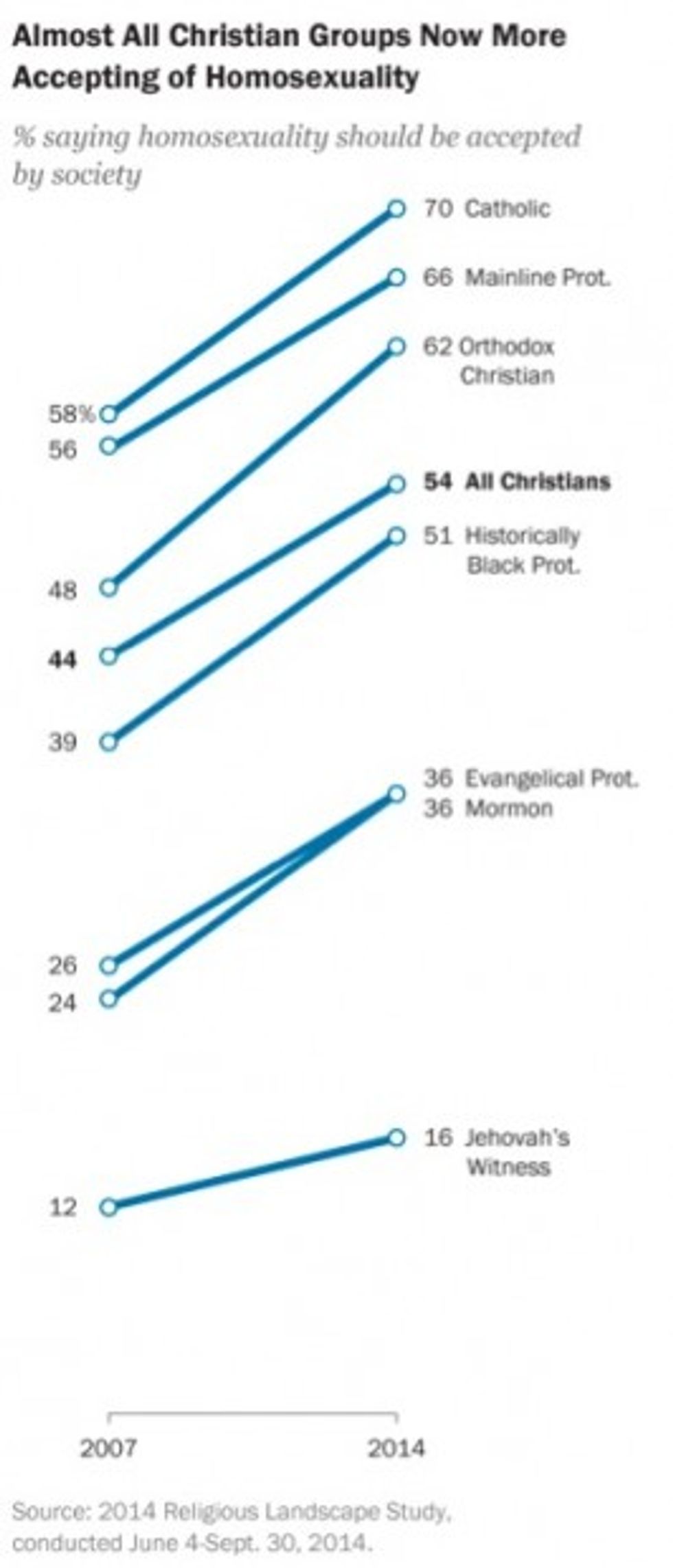 Pew Research Center
Generational replacement — the notion that younger Americans are swaying the statistics as they enter adulthood — appears to account for at least some of these changes, according to the Pew report.
"Changing attitudes about homosexuality are linked to the same generational forces helping to reshape religious identity and practice in the United States, with Millennials expressing far more acceptance of homosexuality than older adults do," the report read. "Fully half of Millennials who identify as evangelical Protestants, for instance, now say homosexuality should be accepted by society."
As TheBlaze previously reported, the new report, titled, "U.S. Becoming Less Religious" — a follow-up to a highly publicized report that the research firm released in May — also found that the growth of the "nones" has had a "particularly pronounced impact on the Democratic Party coalition," as it now accounts for the largest single religious group among those on the left.
The results also showed a key difference between Christianity and every major religion surveyed when it comes to opinions on whether God is a person with whom people can have a relationship or an "impersonal force."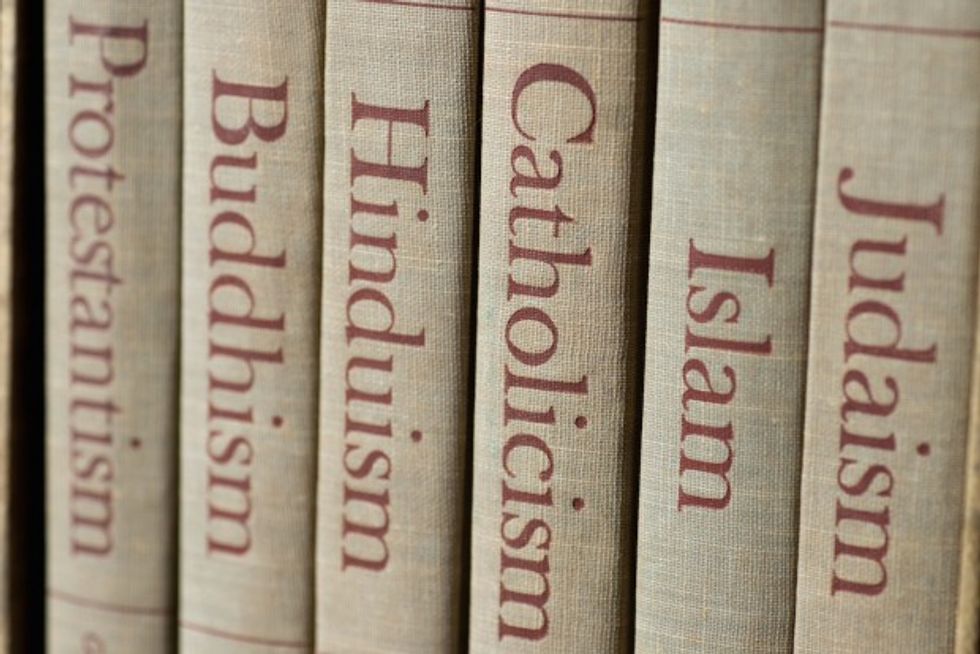 Photo credit: Shutterstock
Seventy percent of Christians view God as a person, with 22 percent seeing him as an impersonal force and six percent choosing "other." Among non-Christian faiths, though, just 26 percent labeled God a person, with 44 percent selecting "impersonal force" and 11 percent selecting "other."
Christianity is on its own when it comes to perceptions of God being a person versus an impersonal force, as more people selected the latter over the former in every other cohort, including among Jews (25 percent vs. 45 percent), Muslims (32 percent vs. 53 percent), Buddhists (23 percent vs. 42 percent) and Hindus (32 percent vs. 49 percent).
Follow the author of this story on Twitter and Facebook: