What started as a fight between teen boys on a Florida school bus, ended with two teen girls being arrested after they allegedly hit and kicked police officers.
Video taken on a Lyman High School bus in Seminole County, Florida, showed the driver radioing for police support Monday afternoon in light of the fight. It then recorded officers boarding the bus and taking two boys off it and out of the camera's field of view.
According to WKMG-TV, one of the officers had to take down one of the boys, which lead to a continued ruckus on the bus, especially involving two teen girls.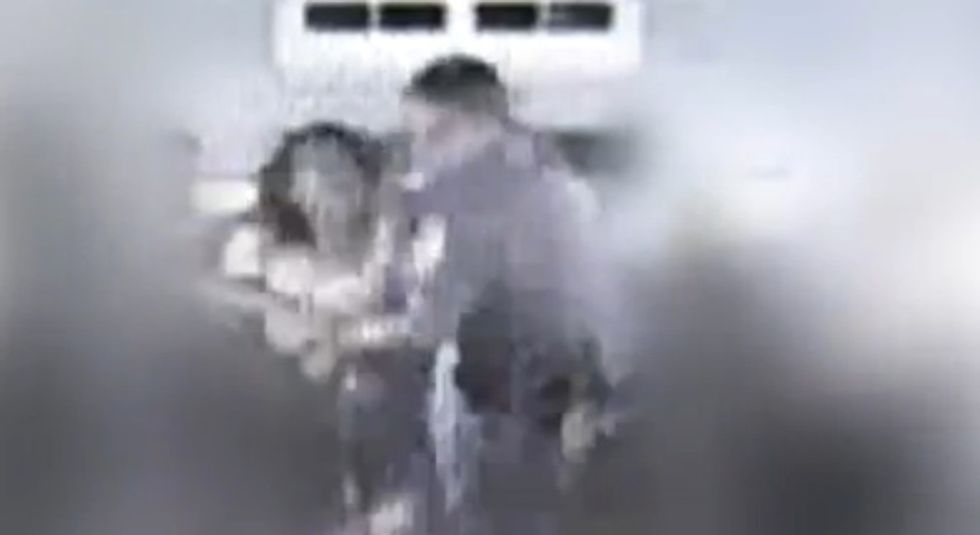 Image source: WFTV-TV
"And of course you see it in the video where the two females were asked to calm down, sit down, again, verbally abusive, tensed up, hit the officer and the fight was on," Lt. Rob Pelton of the Altamonte Springs Police Department told WFTV-TV.
Watch the footage:
According to WESH-TV, the police report said an officer put his hand on one of the girl's shoulders, which spurred physical resistance. Police said that's when the teen's sister became involved as well.
"Every officer goes through the same training and that training is to subside, talk down and eliminate the threat that sometimes is through physical force," Pelton told WESH.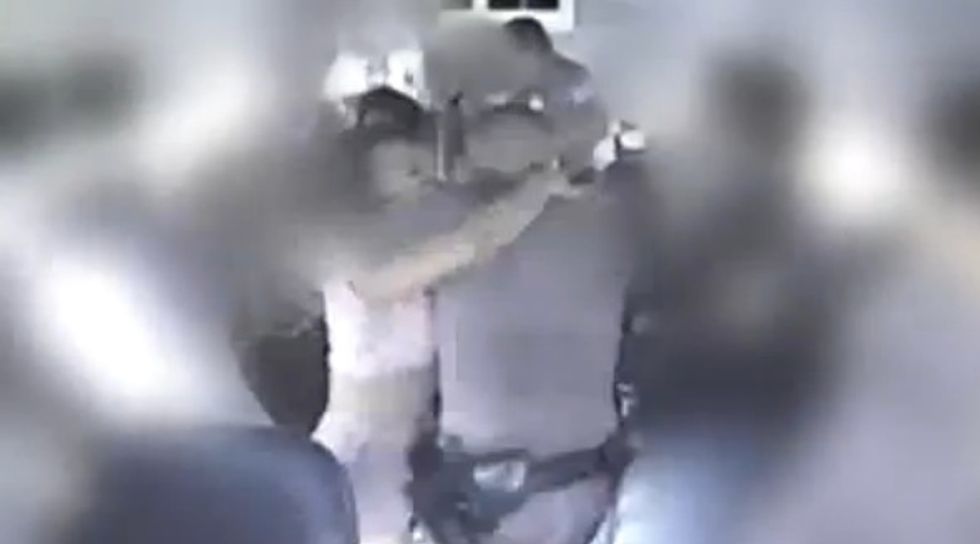 Image source: WFTV-TV
The girls' mother though counters that the video showed her daughters acting in self-defense.
"You can clearly see they were just standing there, they are not doing anything at all," Cynthia Taylor, the mother of the two teens, told WFTV. "And he grabs her by her neck and put her in a chokehold, like she had done something very bad and she did not. There was no reason for that at all."
Of the other teen, Taylor told WESH she stepped in to protect her sister.
"She was hitting his hands. Trying to get his hands from around her neck. His arms rather, trying to get them from around her neck because she couldn't breathe," Taylor said.
Watch WFTV's report with Taylor and Pelton's perspectives:
According to WFTV, the girls were arrested and charged with felony counts of battery of a police officer and resisting with violence. The boys who started the incident were not arrested, WKMG reported, but could face misdemeanor charges, according to WFTV.
"Anybody on this bus that doesn't want to listen to your bus driver, I'm going to take you to jail," one of the officers in the video informed the other students after the incidents. "Sit down, put the windows up now or you're going to go to jail."