Republican Sen. Mike Lee (Utah) looked visibly stunned at Politico's "Getting to Yes" event Thursday when Politico editor Susan Glasser asked him if he would endorse GOP presidential hopeful Donald Trump.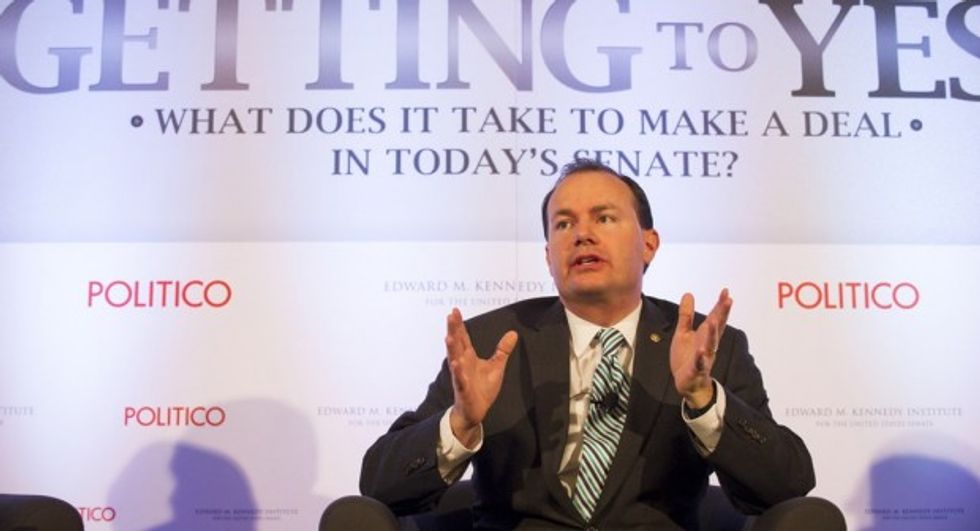 Sen. Mike Lee (R-Utah) at Politico's "Getting to Yes" event Nov. 5, 2015. (Politico)
After pressing Lee on whether or not he will be endorsing several different candidates, Glasser asked the senator, "You're not endorsing president-to-be Donald Trump?"
"Speechless senator — it happens once in a while," Lee said to audience laughter after several seconds of awkward silence.
Lee has told his family it is "one of the weirdest things that can ever happen to a guy" to have three close Republican friends running for president at the same time, noting his relationships with Florida Sen. Marco Rubio, Kentucky Sen. Rand Paul and Texas Sen. Ted Cruz.
"So, I'm not inclined to get into that at this point," Lee told Glasser. "Mostly because of the awkwardness of doing this. I mean, we work with these people, they're good friends of mine, and I think that process is going to play itself out."
(H/T: Politico)
—
Follow Tré Goins-Phillips (@tregp) on Twitter