Dr. Ben Carson went after CNN anchor Alisyn Camerota Friday when pressed about his violent childhood past and the cable network's "investigation" into certain violent incidents.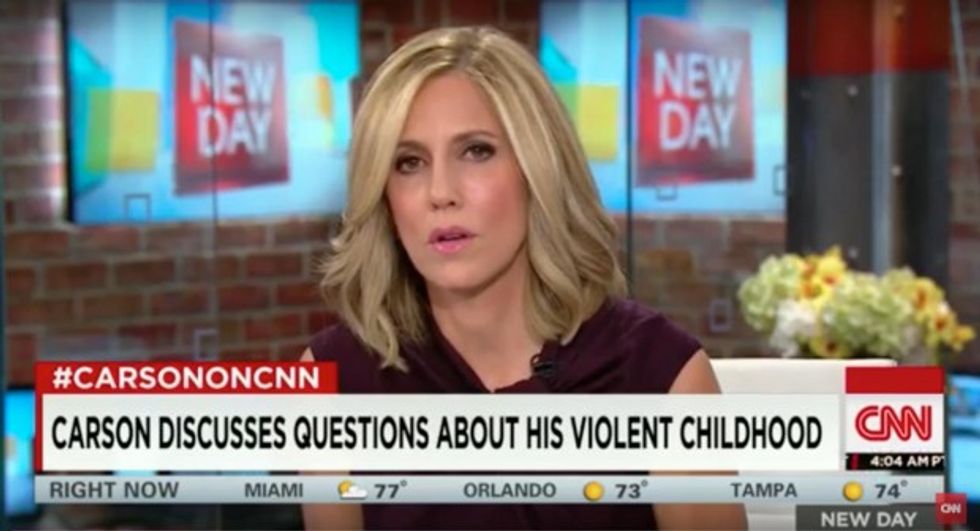 Image source: YouTube
"Let's talk about this investigation into your childhood and your past" Camerota said to Carson, referencing several violent episodes in Carson's past to which he now admits. "As you know, CNN has been trying to find people who were involved in these incidents or witnessed these. They've tried to find Jerry..."
But Carson cut her off, calling into question the anchor's "methodology" for asking such questions.
"And tell me what makes you think you're going to find those specific people," Carson interrupted. "Tell me how your methodology works because I don't understand it."
The Republican presidential candidate then accused the CNN anchor of saying that he was lying.
"I don't understand how talking to people who knew me, particularly after the time I had become a much more calm person, how does that corroborate the story that I'm lying about this," Carson asked. "I want to know what the methodology is there."
Camerota responded by saying that she was "happy to explain" it to him, and attempted to do so, just before Carson interjected again.
"This is a bunch of lies. That's what it is," Carson said. "Attempting to say that I'm lying about my history. I think it's pathetic. And basically, what the media does, is try to get you distracted with all of this stuff so that you don't talk about the things that are important."
"I'm not proud of the fact that I had these rage episodes, but I am proud of the fact that I was able to get over them," Carson added.
Camerota then pointed out that CNN went to Carson's campaign to try to find those who were involved, but that the campaign wasn't willing to make them available. Carson said he didn't want to make them available because he didn't want those people to be "victimized."
Camerota rebutted that point, however.
"How is it victimizing by saying, 'tell us more about this story, we're interested,'" Camerota asked.
Watch more from the tense exchange below:
–
Follow Jon Street (@JonStreet) on Twitter