BERLIN (AP) — Germany's vice chancellor said Saturday he considers a proposal the interior minister made, then shelved, to give many Syrians a restricted asylum status finished — signaling that he doesn't want to set off a new round of political infighting over it.
Interior Minister Thomas de Maiziere said Friday many Syrians should get "subsidiary protection," which comes with only a one-year renewable residence permit and wouldn't allow them to bring relatives to Germany for two years. Hours later, he shelved the idea, saying things will remain unchanged for now.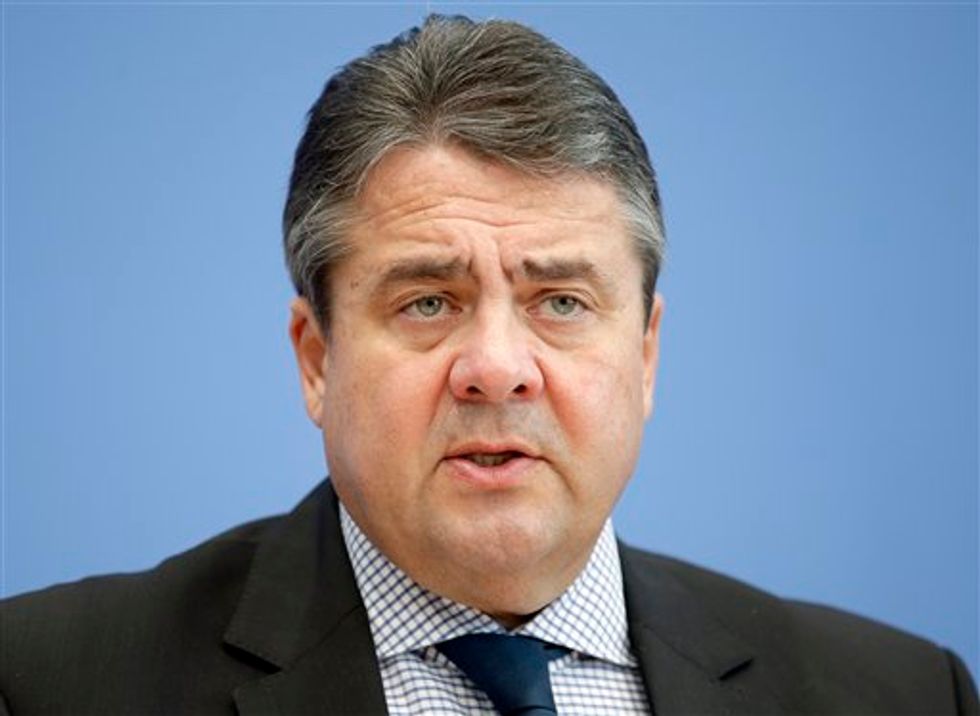 German Economy Minister Sigmar Gabriel speaks during a press conference in Berlin, Germany, Wednesday, Nov. 4, 2015. (AP Photo/Michael Sohn)
Members of Vice Chancellor Sigmar Gabriel's center-left Social Democrats sharply criticized the conservative de Maiziere.
Gabriel told ZDF television the plan appeared to have been produced at the Interior Ministry "without consultation, and it is smart that it was taken back again."
He added that de Maiziere "took back the measure. And I think the measure is finished with that," the broadcaster reported on its website.
De Maiziere's idea was that Syrians who don't present evidence of individual persecution but are fleeing the civil war in general should be given "subsidiary protection," rather than full asylum status that comes with a three-year residence permit and allows recipients to bring family members.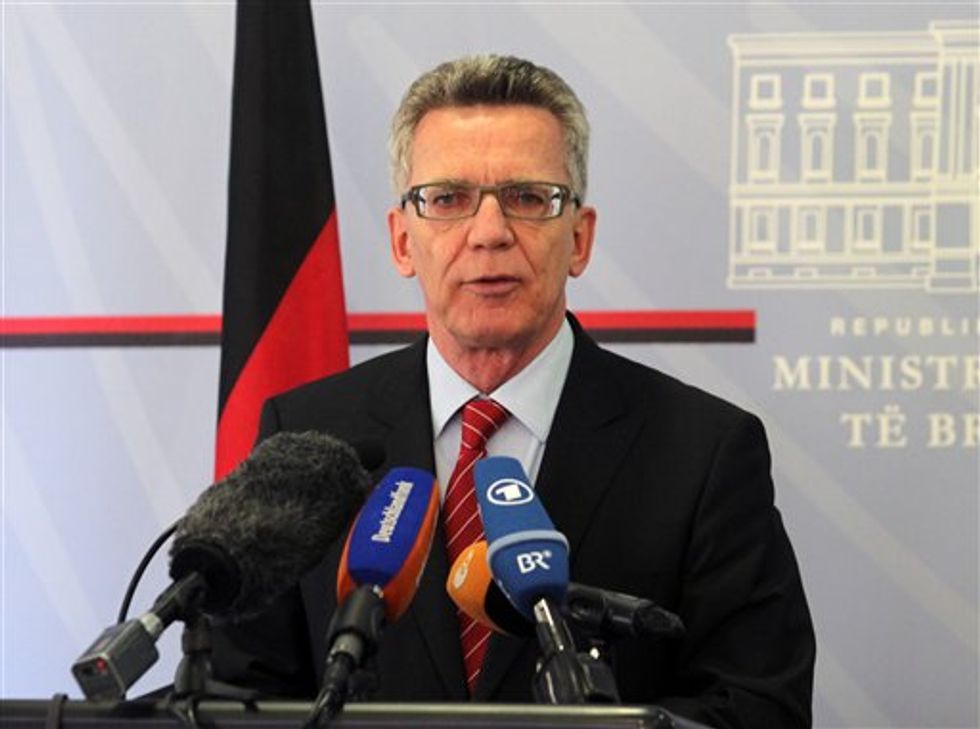 German Interior Minister Thomas de Maiziere speaks at a news conference after meeting with Albanian counterpart Saimir Tahiri, in Tirana, Friday, Nov. 6, 2015. De Maiziere calls on Albanians to stop asking for political asylum in Germany as there is no ground for their claims. (AP Photo/Hektor Pustina)
De Maiziere announced his idea only a day after leaders of Chancellor Angela Merkel's coalition ended weeks of argument over how to process more quickly people who have little hope of asylum, such as those from Balkan countries. They agreed to set up new processing centers, and also said people with "subsidiary protection" shouldn't be able to bring relatives for two years — something that was thought to apply only to a few people.
Still, applause from the Christian Social Union — the tough-talking Bavarian branch of Merkel's conservative bloc — suggested that the issue may fester.
"Nothing is off the table for the CSU," general secretary Andreas Scheuer told ZDF. "Thomas de Maiziere is right when he says that Syrian civil war refugees should get a different a different status."
Germany saw 758,000 migrants arrive between January and October. Syrians are the biggest single group arriving.