COLUMBIA, Mo. (TheBlaze/AP) — Black Missouri football players announced Saturday night on Twitter that they will not participate in team activities until the university president is removed from office.
The statement from the athletes was tweeted out Saturday by several members of the football team, including starting running back Russell Hansbrough.
The move aligns the team with campus groups who have been protesting the way university president Tim Wolfe has dealt with issues of racial harassment during the school year. Jonathan Butler, a black graduate student, is in the sixth day of a hunger strike to call attention to the issue.
BET News: Black Student on Hunger Strike at University of Missouri https://t.co/xoljwaGXHr pic.twitter.com/BV8W97lkOC

— Jason S (@theluckyman) November 6, 2015
The statement from the players included a photograph of 32 black men, including Butler. In the photo, two players have their arms linked through his: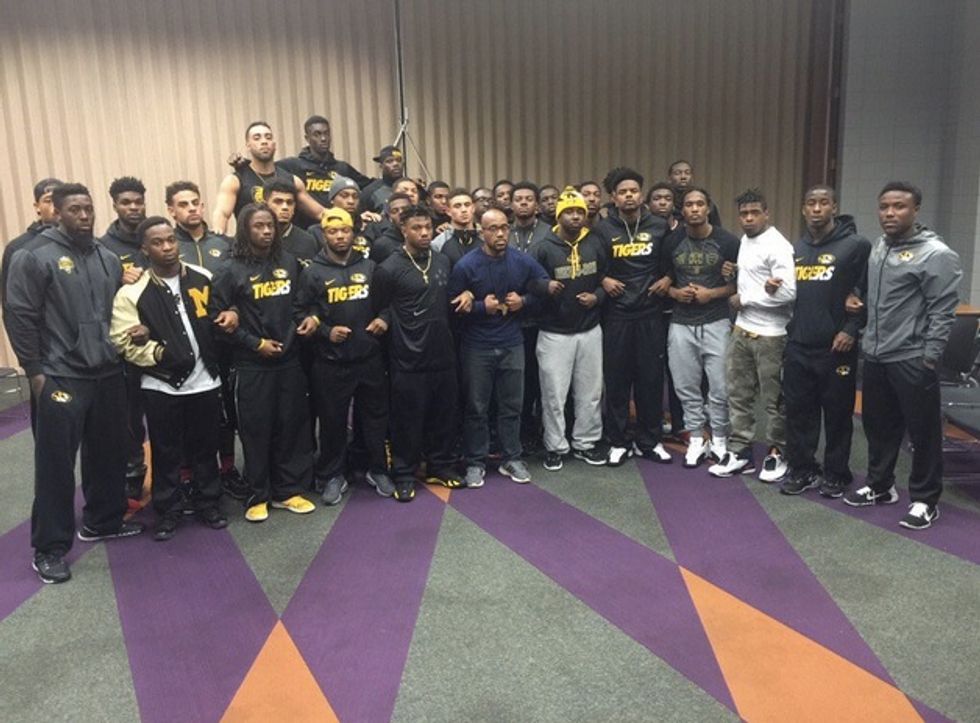 Image source: Twitter
The message reads: "The athletes of color on the University of Missouri football team truly believe 'Injustice Anywhere is a threat to Justice Everywhere' We will no longer participate in any football related activities until President Tim Wolfe resigns or is removed due to his negligence toward marginalized students' experience. WE ARE UNITED!!!!!"
Wolfe met with Butler and student groups on Friday to discuss the university's handling of racial harassment cases.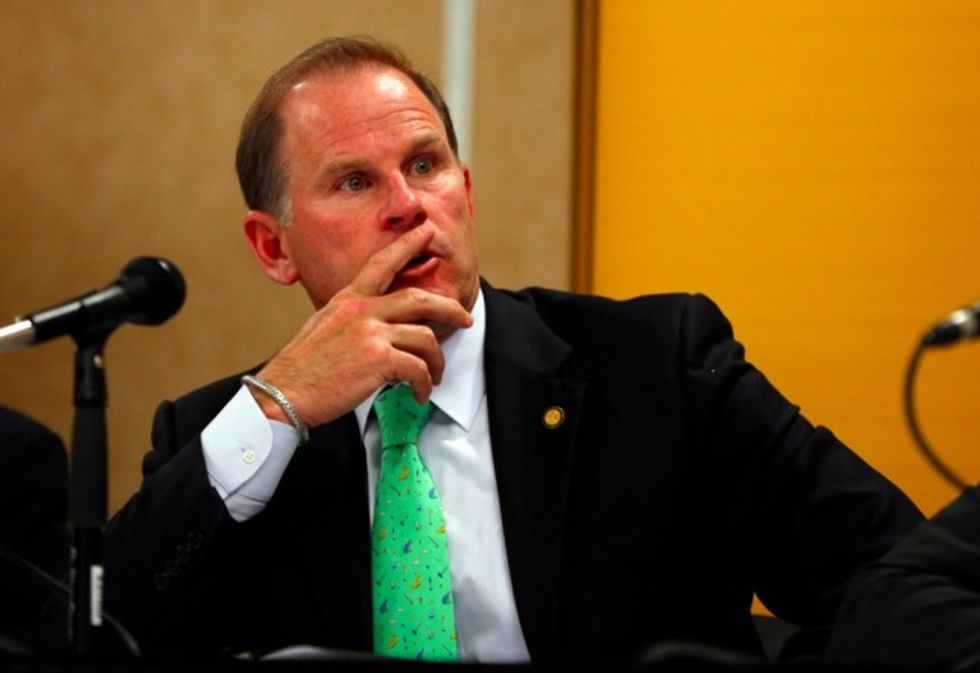 University of Missouri President Tim Wolfe in a April 11, 2014, file photo. (AP Photo/Jeff Roberson, File)
Butler also has expressed concern about other student issues, including the removal of graduate student health care subsidies and an end to university contracts with a Planned Parenthood clinic.
Student groups have been critical over how Wolfe has handled issues of race and discrimination and blocked his car at homecoming to make their "presence known."
They have complained that the use of racial slurs is prevalent. In April, a swastika was found in a Missouri dormitory, and officials said last month they were investigating another act of vandalism that targeted minorities.
Why A Black Student Formed a Hunger Strike At The University of Missouri - https://t.co/sa7AxkdPO9 pic.twitter.com/WlKmJD3T18

— Your Black World (@YourBlackWorld) November 7, 2015
The campus of 35,448 is mostly white. Approximately 17 percent of the student population identifies with a minority group, according to the university website.
Missouri last played Thursday night at home, losing to Mississippi State to fall to 4-5 on the season. The Tigers have three more games left, including next Saturday at home against BYU.
UPDATE 12:17 p.m. Sunday ET: In a text message statement to the Associated Press, the Missouri athletic department said it was aware of the statement by "many of our student-athletes."
"We all must come together with leaders from across our campus to tackle these challenging issues," the message read, "and we support our student-athletes right to do so."
This story has been updated.
—
Follow Dave Urbanski (@DaveVUrbanski) on Twitter