Disturbing new video shows the moment a 14-year-old girl was run over by a car outside a Texas middle school, crushing her pelvis, breaking her hips, ribs and one leg — and splitting her liver in two.
The video shows a car running over Dr'Breanna Hunter, a Houston eighth-grader, after a school yard brawl erupted among a number of teenage girls Friday outside Cullen Middle School, KTBC-TV reported.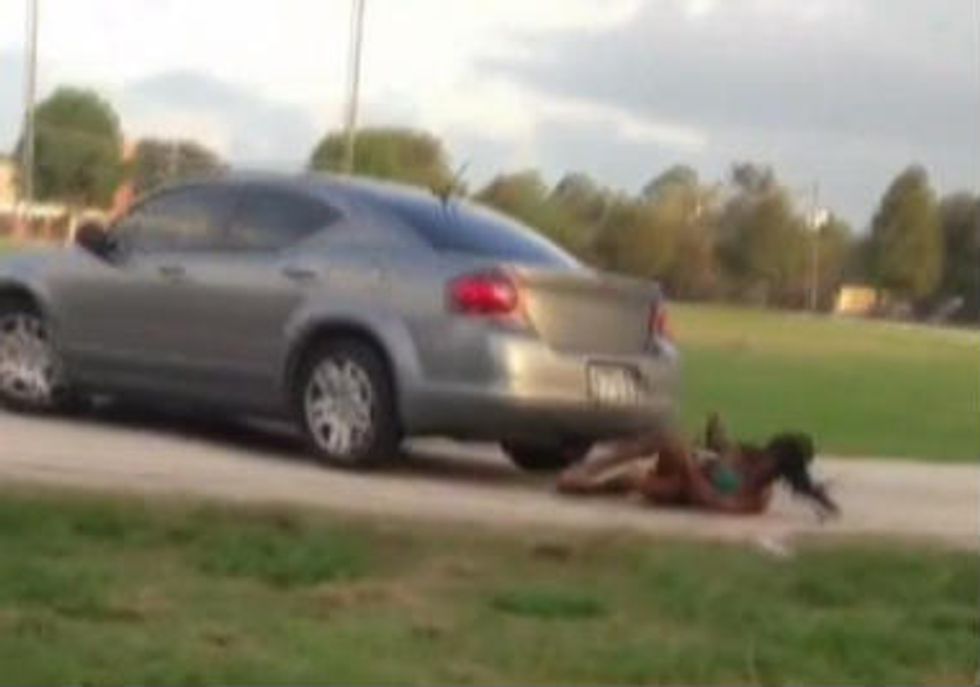 Image source: KTBC-TV
"This lady just literally ran her over like a piece of foil. Literally broke every piece of her body," Dr'Breanna's mother, Aurelia Hunter, said. "I wouldn't wish that on my worst enemy. I don't care who did what. I wouldn't do that to a child."
Hunter said she knows exactly who run her daughter over and vowed to hold that person accountable. She said she knows who the person is from working with detectives who ran the license plate number.
"You will go to jail, and you will look us in the face, and you will have to answer to a higher judge and say you didn't even stop to apologize, 'I'm sorry, I wasn't in my right state of mind,' nothing. You just up and left," Hunger said.
Meanwhile, Dr'Breanna remains in the hospital, fighting for her life. Aurelia Hunter has set up a Go Fund Me page to help pay for her daughter's medical expenses.
On the fundraising page, Aurelia Hunter identifies herself as a single mother of four children who was already facing eviction before the incident that injured her daughter. She said they are living at the hospital but can't afford to eat there and don't have anywhere to sleep.
But Aurelia Hunter isn't giving up hope on her teenage daughter's ability to fully recover.
"With gods help as well as Drs. hopefully they can turn back what was once a friendly preteen back," Aurelia Hunter wrote.
(H/T: KTBC-TV)
–
Follow Jon Street (@JonStreet) on Twitter