The University of Missouri's student body vice president did not mince words when she used an appearance on MSNBC Wednesday to say journalists who claim to be exercising their First Amendment rights while reporting on the Mizzou protests are actually creating a "hostile" and "unsafe" environment.
Brenda Smith-Lezama, vice president of the Missouri Students Association, advocated for more "safe spaces" on campus to provide a place for "healing" for students.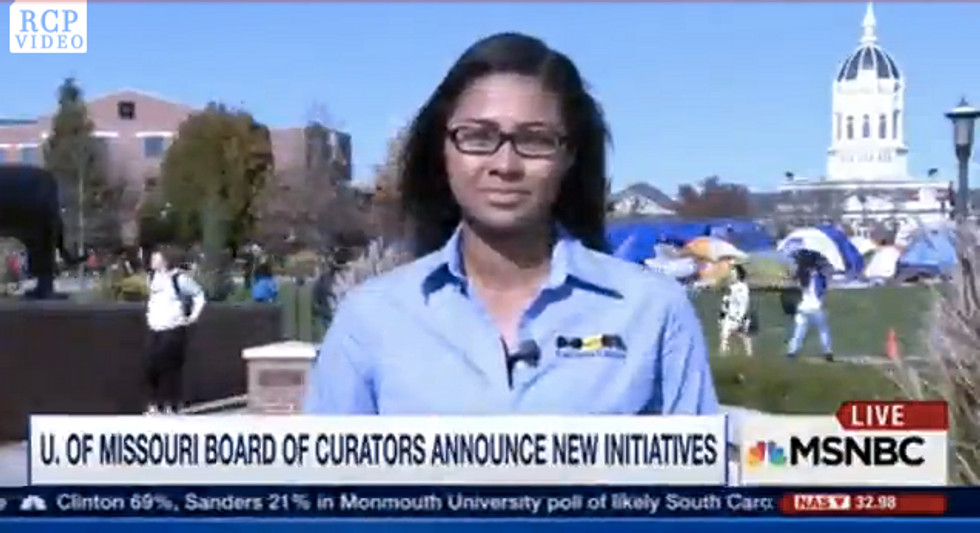 Image source: Real Clear Politics
When asked about complaints from professors that universities are becoming "places of censor and prohibition," Smith-Lezama said people are using the First Amendment to create a "hostile and unsafe learning environment."
"I personally am tired of hearing that First Amendment rights protect students when they are creating a hostile and unsafe learning environment for myself and for other students here," Smith-Lezama said. "I think that it's important for us to create that distinction and create a space where we can all learn from one another and start to create a place of healing rather than a place where we are experiencing a lot of hate like we have in the past."
The Mizzou student said the altercations between her school's faculty members and student journalists could be heralded as a "teachable moment" — including for members of the media. She said that what the now-viral video of a Mizzou journalism professor yelling at a student journalist didn't show was other members of the media who she described as "pushy" and "aggressive."
"As student journalists, you cannot approach these situations with hostility and anger as it only escalates the situation," Smith-Lezama told MSNBC.
Watch the college student's interview below.
(H/T: Real Clear Politics)