Graduate student Jonathan Butler became a central figure in racially charged protests on the University of Missouri campus when he announced he'd remain on a hunger strike until the the university system's president, Timothy Wolfe, resigned.
Shortly after members of the Missouri football team put their support behind the effort, Wolfe announced his resignation.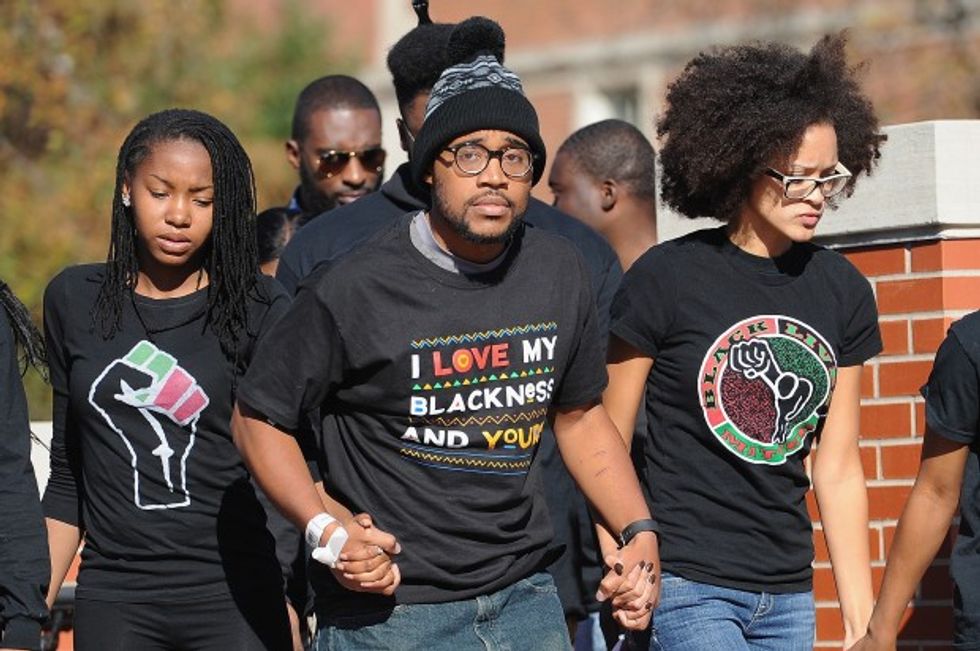 COLUMBIA, MO - NOVEMBER 9: Jonathan Butler, a University of Missouri grad student who did a 7 day hunger strike is greeted by the crowd of students on the campus of University of Missouri - Columbia on November 9, 2015 in Columbia, Missouri. Students celebrate the resignation of University of Missouri System President Tim Wolfe amid allegations of racism. (Photo by Michael B. Thomas/Getty Images)
In the aftermath, critics of the student protests are taking notice of Butler's family background.
The St. Louis Post-Dispatch reports:
Jonathan Butler played high-school football at Omaha Central High, where he won a state championship, and earned a bachelor's degree in business administration from Mizzou, the newspaper reports. He is working toward a master's degree in educational leadership and policy.

He is a member of a prominent Omaha family. The newspaper says that Butler's father is Eric L. Butler, executive vice president for sales and marketing for the Union Pacific Railroad. His 2014 compensation was $8.4 million, according to regulatory filings with the Securities and Exchange Commission.

Eric L. Butler and his wife, Cynthia Butler, serve as pastors ofJoy of Life Ministries, the newspaper reported. Along with Jonathan Butler, the couple has two other children.
Butler's family is rumored to be worth millions of dollars.
The graduate student reportedly declined an interview request by the Post-Dispatch.
There were an array of reactions on Twitter Wednesday:
In solidarity w/ #MizzouHungerStrike I will forgo whipped cream on my Latte & ask Jonathan Butler(D)'s dad for money pic.twitter.com/JCttivo9tb

— DANEgerus (@DANEgerus) November 11, 2015
I don't think Jonathan Butler's wealth invalidates his (basic) message, but I don't appreciate massive omissions when I'm asked to empathize

— Rob Fox III (@BaconTFM) November 11, 2015
@BroderickGreer Jonathan Butler's father made 8 million last year. Has he experienced this plight? It appears the "system has worked for him

— William Richardson (@william_the3rd) November 11, 2015
I don't get why it's so imperative to some of you that Jonathan Butler acknowledge a privilege that we all knows exists.

— Carrington Harrison (@cdotharrison) November 11, 2015
Still trying to figure how how Jonathan Butler's family net worth has anything to do with oppression and injustice....? I'll wait.

— Dystanié (@Simply_Dystanie) November 11, 2015
@samjcil @ABC @_JonathanButler just from my experience oppression is generally not something that happens to the rich.

— Andrew Jones (@gatorjonesCPA) November 11, 2015
---