Instead of being "more than happy to see Yale students make fools of themselves," a Harvard student decided to call out the actions of his college's rivals as participating in a "nascent form of fascism."
Bill Barlow wrote in an op-ed for the Harvard Law Record that it's not a problem that Yale students vehemently disagreed with a faculty member who suggested students simply "look away" from Halloween costumes they may deem offensive; the problem is how they've reacted to that faculty member — shutting him down and calling for his removal from the school.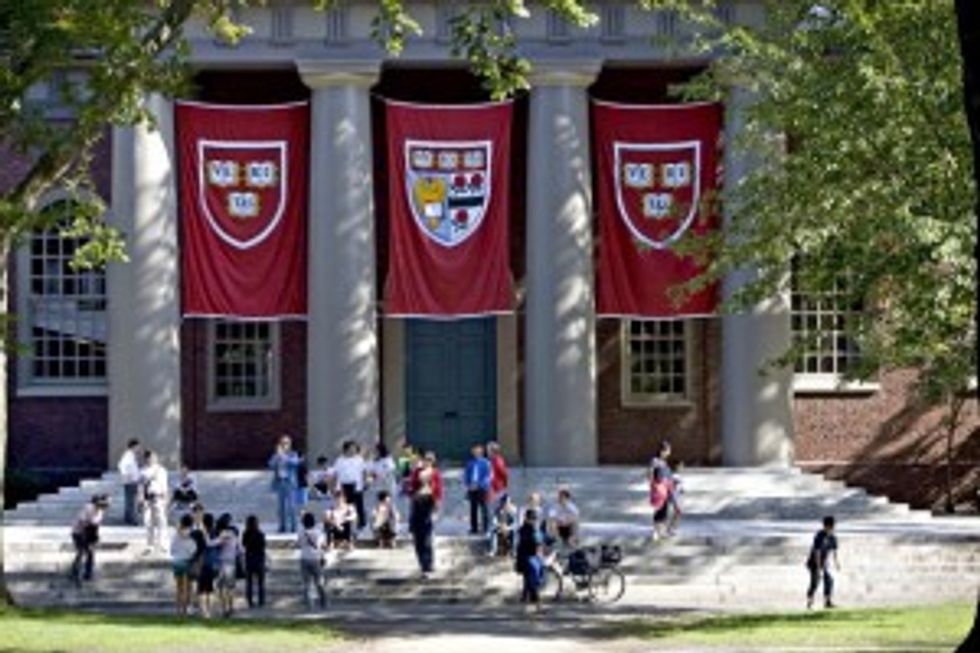 Harvard banners hang outside Memorial Church on the Harvard University campus in Cambridge, Massachusetts. (Michael Fein/Bloomberg via Getty Images)
"This recent movement of university students to use administrative procedures to punish speech with which they disagree should be called by its rightful name: proto-fascism," Barlow wrote.
He also cited a report in the Yale Daily News of students who protested a free speech event held by the William F. Buckley Jr. program by spitting at the event's attendees.
"[T]he problem isn't that you disagree with what the event said (though, if you disagree with an event about the importance of free speech, that might be a cause for concern itself), but that you are using a tactic — spitting — that constitutes battery, and should never be used against someone for expressing beliefs that you disagree with," Barlow said.
In his piece, Barlow included a table to help his fellow college students decide if something is fascist or not. The table includes tactics and explanations for why it is or isn't fascist, including "calling for people to be fired because of their beliefs" and "tearing down fliers you disagree with."
"Given the public outcry, it seems that the majority of people, including the majority of progressive liberals, believe that Yale students calling for the resignation of those professors have gone too far in punishing free speech," he wrote. "The problem is that no one is willing to stand up to them. If we are going to begin anywhere, we are going to begin by calling them by their rightful name. They are fascists."
Read more of Barlow's op-ed and see his table at the Harvard Law Record.